Why Should You Make Homemade Sauerkraut?
Naturally, fermented sauerkraut is incredibly healthy. It contains probiotics and vitamin K2.
Fermented Sauerkraut is low in carbs.
Homemade sauerkraut boosts your immune system.
May help your bones stay strong, thanks to the Vitamin K2
May help reduce heartburn.
Laco Fermented sauerkraut aids digestion.
Making your own sauerkraut is easy and inexpensive.
Why I Started Making Homemade Sauerkraut
I've been making Lacto fermented homemade sauerkraut for several years now. I got into making sauerkraut because my husband was suffering from a systemic yeast infection. He had rashes behind his knees, in his armpits, and he even had a red ring around his neck. It looked like he'd been hung with a noose, it was pretty bad!
He did a 30 day round of Diflucan, which didn't help at all. Everything the doctors gave him did not work. I finally got tired of his suffering and took his case on myself.
The first thing I did was make him do a yeast cleanse. He absolutely HATED doing the cleanse, I made him drink four drops of oregano oil in a glass of water each day (I don't really remember why) but he couldn't stand this part of the treatment.
I also made him take a candida cleanse product. He started taking pearls, which are probiotics. I also started making naturally fermented sauerkraut and pickles at home. Luckily he loves fermented foods and grew up eating them. He would eat a little homemade sauerkraut before each meal. Almost immediately he noticed he no longer had a "brain fog", his words, not mine. His rashes started going away too. All the probiotics were working!
When the Valley Fire hit, we were on mandatory evacuation for two weeks! When we were finally let back in, power had not yet been restored (the electric company was installing a new pole because the old one was lying on the ground burnt) and as you can imagine, everything in our refrigerators had to be tossed. I had to toss out all the homemade sauerkraut.
We've been so busy dealing with multiple insurance companies, I really haven't had much time to make another batch of sauerkraut. With all the fire-related stress, my husband ended up getting his first case of shingles, and now he's battling a skin infection from the shingles sore. He's done three rounds of antibiotics, which I'm sure the yeast in his gut must be loving. He's been taking a probiotic called Align every day but I think it's time to fire up the sauerkraut again!
How Long Should You Let The Cabbage Ferment?
It's been five days since I made this batch of sauerkraut. Today we tested it, and it's perfect! The sauerkraut has a nice sour taste, and it's nice and crunchy. The length of time the cabbage should ferment depends on what temperature your house is kept at. If your house is hot then it could take just a few days, if your house is cool it could take five days or more.
Do You Think You Don't Like Sauerkraut?
Before I started making sauerkraut, I thought I didn't like sauerkraut, but I had only had the store-bought canned and jarred variety. Fermented homemade sauerkraut is so much better tasting than commercial sauerkraut. Give it a try!
Making Sauerkrout is Easy With the Right Supplies
Things you will need:
5 pounds of cabbage
3 tablespoons 100% natural sea salt (

cannot

be iodized)
Glass quart jars (I used one big two-quart jar)
Ziplocks
Clean kitchen towels
Rubber bands
How to Make Homemade Sauerkraut
First, wedge the cabbage and remove the core.
Slice up all the cabbage and place it in a large glass or plastic bowl.
Keep in mind not all heads of cabbage are the same size. I used one and a half heads of cabbage. My cabbage was large and fairly tightly packed. I added three tablespoons of sea salt to the cabbage and tossed the cabbage with my hands to combine it. Pay attention to the size of your cabbage. If you are using less than 5 pounds, you need to adjust the salt.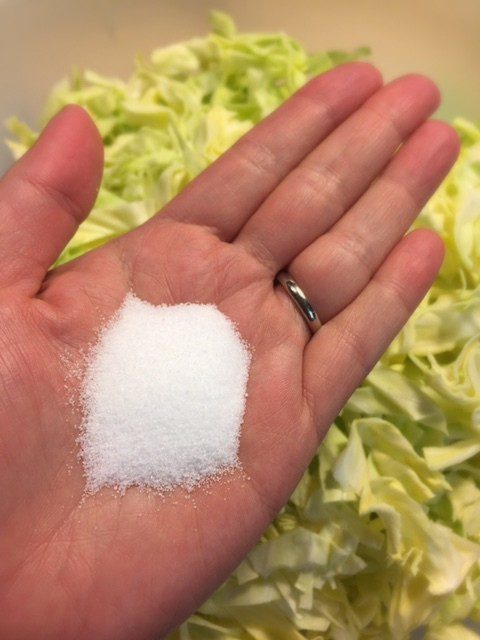 Let the cabbage sit with the salt for at least 10 minutes, sometimes I'll let the salted cabbage sit for 20 minutes and it's easier to work with. The cabbage will begin to sweat from the contact with the salt.
Now it's time to vigorously massage the cabbage. You want to really give it all a good squeezing and bruising for about five minutes or so, this helps the cabbage release its water. The cabbage should look like this picture below, wilted and a little wet.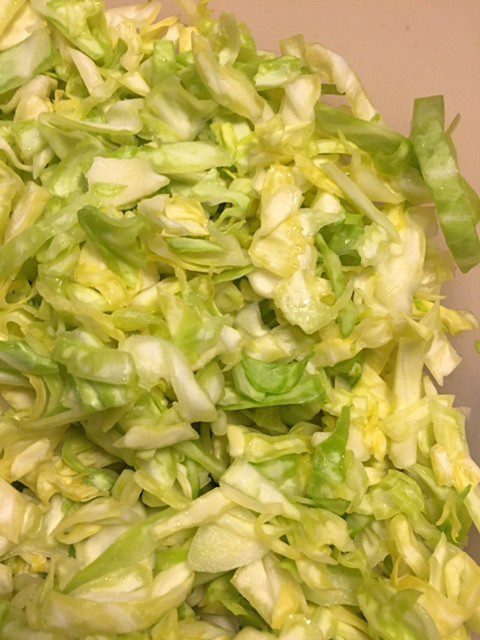 Now, it's time to pack the mason jar. I find using a canning funnel helps get the cabbage in the jar and not on the counter.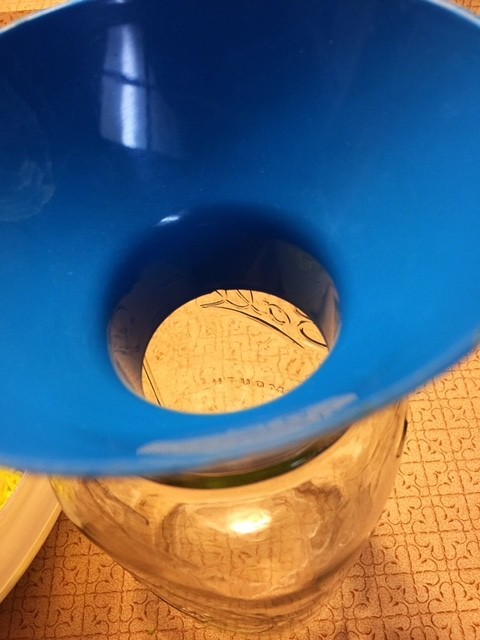 Pack the jar with cabbage. Put several inches of cabbage in the jar, then pack it down tightly with your fist, or a vegetable pounder. I use a pounder-looking thing that came with my LEM meat grinder. Repeat until all the cabbage is tightly packed into the jar.
The cabbage should have released enough liquid that the cabbage is submerged, if it isn't submerged try and pack the cabbage tighter. The cabbage will release more liquid as it sits in the salt.
Be sure to have at least a few inches of headspace, the cabbage liquid will sometimes over overflow the jar as it's fermenting and bubbling up.
Weigh the cabbage down so it stays submerged in the water. I use a quart ziplock bag zipped closed, filled half full of water, this keeps the cabbage submerged. The ziplock with water acts as a weight.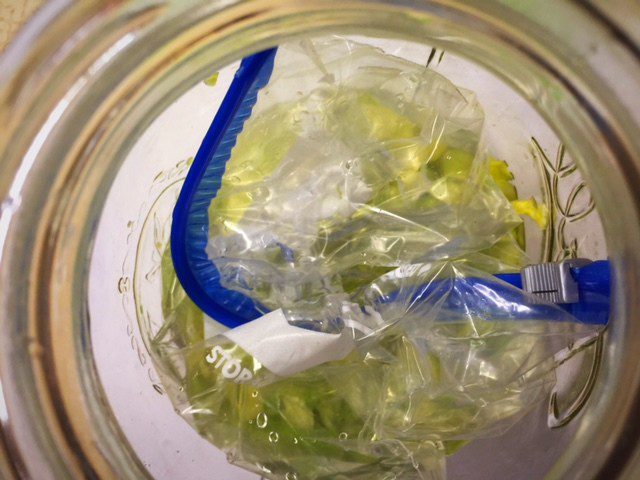 Top the jar with a clean kitchen towel and secure the towel with a rubber band.
Let the sauerkraut sit on your kitchen countertop for at least five days. If your house is kept cold, the sauerkraut could take a few extra days.
After fermenting for five days taste the sauerkraut and see if you like the flavor, if you do like it, discard the ziplock bag and put a lid on the jar. Store the sauerkraut in the refrigerator. If your kraut needs more time, place the ziplock bag back inside the jar, secure the kitchen towel, and let the sauerkraut sit on the counter another day. Repeat tasting daily until the sauerkraut is to your liking.
Optional Homemade Sauerkraut Addins
Remember the salt ratio of five pounds vegetables salted with three tablespoons sea salt.
One or two thinly sliced shallots mixed in with the cabbage.
Curtido (Salvadorian fermented cabbage) – slices of seeded jalapeno, a few shredded carrots, and thinly sliced onion mixed with the cabbage. For some reason, I've never had homemade sauerkraut with jalapenos turn out hot, something about the fermenting process neutralizes the capsaicin in the jalapenos.
Make pink sauerkraut by using half green cabbage and half red cabbage.
Thinly sliced seeded bell pepper mixed in with the cabbage.
More Infomation on Making Homemade Sauerkraut
This post contains Amazon affiliate links.
More Great Recipes