If you love southern greens then you'll love these turnip greens. One of the many great things about turnip greens is they cook up faster than collard or mustard greens.
Health Benefits of Turnip Greens
According to the NIH consumption of cruciferous vegetables (turnips and their greens, cabbage, bok choy, radishes, cabbage, mustard greens, collard greens, etc.) reduce the risk of lung, prostate, breast, and colon cancer.
Sulforaphane which is a phytochemical found in cruciferous vegetables may stimulate enzymes in the body that detoxify carcinogens.
They are a great source of fiber, one cup of boiled turnip greens is about 5 grams of fiber.
They provide vitamin C.
Stimulates immunity and reduces inflammation.
Helps to balance blood sugars.
How to Cook Southern Turnip Greens
Mince up one pound of uncooked bacon. Cook bacon in a pot or dutch oven ( I cooked this dish in a Calphalon non-stick 8.5 quart dutch oven), when bacon is almost done add one large diced onion.
While onion and bacon are cooking, mince up some garlic. Remove the stem from a jalapeno, cut it in half, and seed it.
Trim the cut ends of the greens. Rinse greens in water to remove all the sand and dirt. Cut greens into large pieces. I leave the stems, turnip greens are so tender, the stems cook all the way through.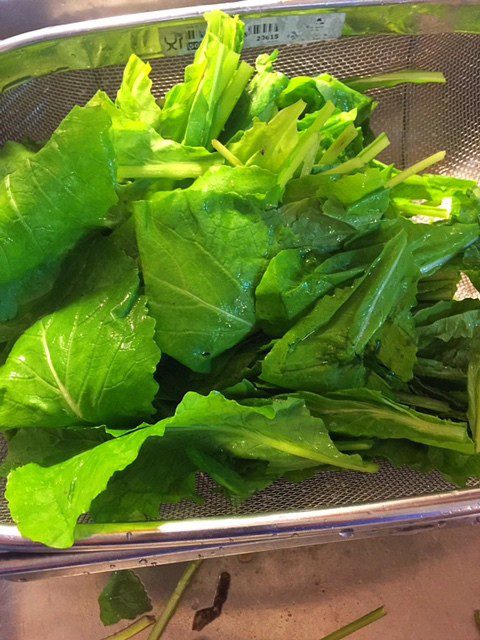 When bacon and onion are cooked, add in diced garlic and jalapeno halves. Cook the garlic for two minutes and then add six cups of chicken broth to the pot along with two to three tablespoons of white vinegar (trust me on this one, the vinegar makes this dish very special). Add in one teaspoon of seasoning salt and 1/2 teaspoon black pepper.
Cover and simmer on medium heat for 30-45 minutes or until the turnip greens are tender. Taste for seasoning. Remove the jalapeno halves before serving.
How to Cook Southern Turnip Greens
Southern Turnip Greens.
Ingredients
4

pounds

turnip greens - cleaned and cut into bite sized pieces

1

pound

uncooked bacon - chopped

1

large onion - diced

1

tablespoon

garlic - minced

1

large jalapeno - cut in half and seeded

6

cups

chicken broth

2

cups

water

1

teaspoon

seasoning salt

1/2

teaspoon

black pepper

2-3

tablespoons

white vinegar
Instructions
Cook chopped bacon in a pot or large dutch oven until more than half way done. Then add the chopped onion, and continue cooking until the onion is done.

Add minced garlic and jalapeno halves to the pot and cook two minutes.

Stir in chicken broth, water, seasoning salt, black pepper, and white vinegar.

Cover and simmer pot on MEDIUM heat for 30-45 minutes or until greens are tender. Stirring frequently.

Taste for salt.

Remove jalapeno halves before serving.
Disclosure: This post contains Amazon affiliate links.
More Great Recipes