Delicious perfect bacon is hard to beat for breakfast but it can be so time-consuming to cook enough bacon to feed a family. I can remember when I'd be stuck in the kitchen for what seemed like an hour cooking enough bacon to feed all my family.
I had a flashback to the late 1980s and the way my mom used to cook bacon in the oven for the cafeteria she ran.

She'd cook the bacon in the oven until it was a little more than halfway done and then she'd pull it.

When someone ordered a side of bacon, the fry cook would finish cooking the bacon on the commercial stovetop. Genius huh?
This is also how I cook bacon for my Jalapeno Poppers with Bacon recipe.
Benefits of Cooking Bacon in The Oven
10-12 slices are all done at the same time.
Easy cleanup, no spattered bacon grease.
No flipping bacon!
How to cook perfect bacon for a crowd? Use two oven sheets at the same time! Cook 20-14 slices at once!
Perfectly cooked bacon, every time!
Equipment to Cook Bacon in The Oven
Foil for easy clean up (Optional)
Baking sheet with sides
Tongs
How to Cook Perfect Bacon in The Oven at 375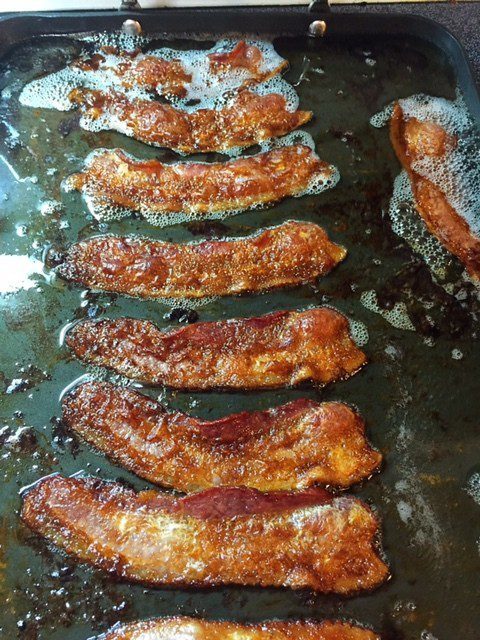 Bacon oven temp 375 degrees.
Use a

sheet pan with sides

to catch the bacon grease.
If your pan isn't non-stick, you may want to line it with foil for easy cleanup.
Go ahead and crowd your bacon together, it'll shrink as it cooks.
Cooking times vary. Keep in mind cooking time will vary depending on the number of things including – Thickness of bacon, and the heat of your oven.
The first batch of bacon will take a little longer than subsequent batches because the pan in cold, and the bacon doesn't start out cooking in some bacon grease.
Thick bacon will take about 17 minutes to cook, subsequent batches will take about 16 minutes.
Regular cut bacon will take about 10-15 minutes, the second batch will take less time.
If this is your first time cooking perfect bacon in the oven, check your bacon progress, don't assume your bacon is as thick or thin as mine.
Perfect Bacon To Flip or Not to Flip?
When we started cooking bacon in the oven we always flipped the bacon after about 12 minutes.

Then by accident, we forgot to flip the bacon and we found it really didn't make any difference if we flipped the bacon or not.

We are no longer bacon flippers.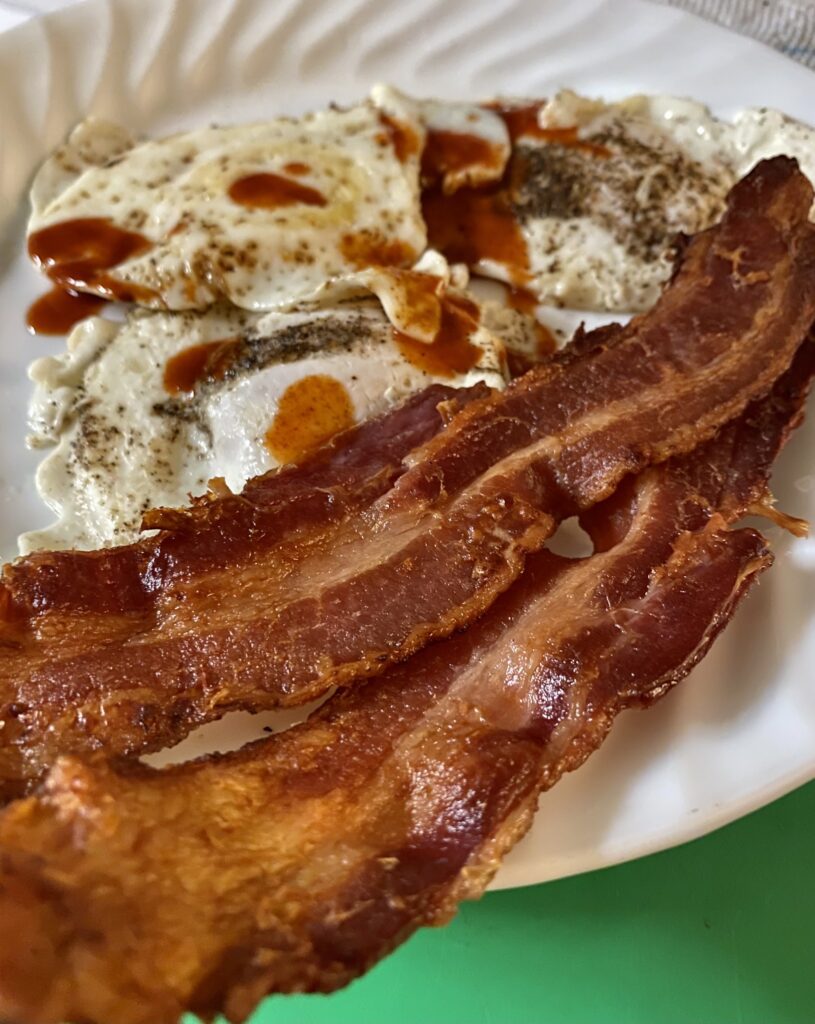 Scrambled Eggs with Chili Beans & Cheese and Perfect Bacon
I woke up this morning to this breakfast my husband made for me.

I love this breakfast, so do all four of my kids.

Scrambled eggs topped with warmed-up chili beans and cheese. We use Hormel Chili with Beans and my husband had no time or patience for making omelets at so scrambled eggs it is!

My Aunt Anita used to make a variation of this breakfast back in the early 1980s for me and my cousins whenever we'd spend the night at her house.

I think she'd make a regular egg omelet and then top it with a warmed-up can of chili beans.

Eating this simple meal is one of my favorite breakfast meals as a kid and now.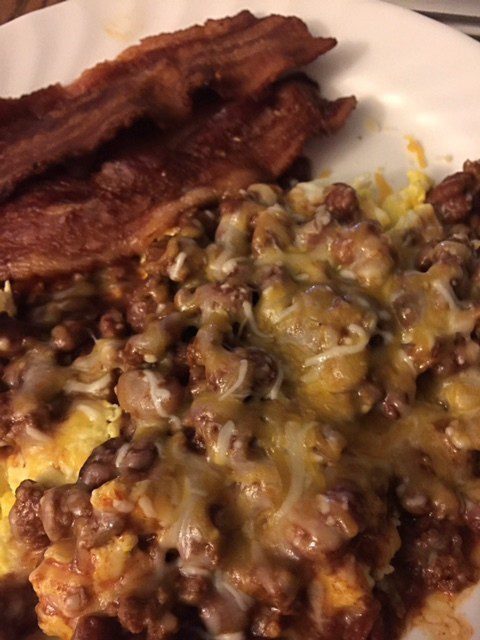 I also love eating a side of perfectly cooked bacon with scrambled eggs with the best homemade chili.

It makes the perfect work lunch and is so filling that it really hangs with you! You won't be getting hangry any time soon.
What to eat with perfectly cooked oven bacon
Disclosure: This post contains Amazon affiliate links.
How to Store Cooked Bacon?
Let bacon cool down. Store cooked bacon in a ziplock bag lined with paper towels. Paper towels absorb excess bacon grease.