Here's an easy Biscuits and Gravy recipe. I've been making this recipe for about 20 years!
My kids all look forward to this ultimate breakfast comfort food, I probably make it twice a month. Trust me, this is so much better than most restaurant's sausage gravy recipe and it goes together quickly. I normally double the recipe so that we have leftovers for the following morning.
Easy Sausage Biscuits and Gravy Ingredients
Here's what you'll need to make this amazing breakfast recipe.
Sausage
Flour
Milk
Cayenne Powder
Salt & Black Pepper
Tube of Refrigerated Biscuits
When shopping for sausage, remember not all sausages are created equal. If you have a favorite breakfast sausage then use that brand.
When it comes to cooking this easy biscuits and gravy recipe, I always prefer to use Jimmy Dean sausage, regular or hot. I made biscuits and gravy this morning for breakfast and took these pictures. I doubled the recipe and used one pack of Jimmy Dean regular and one pack of Jimmy Dean hot.
How to Make Easy Sausage Gravy Recipe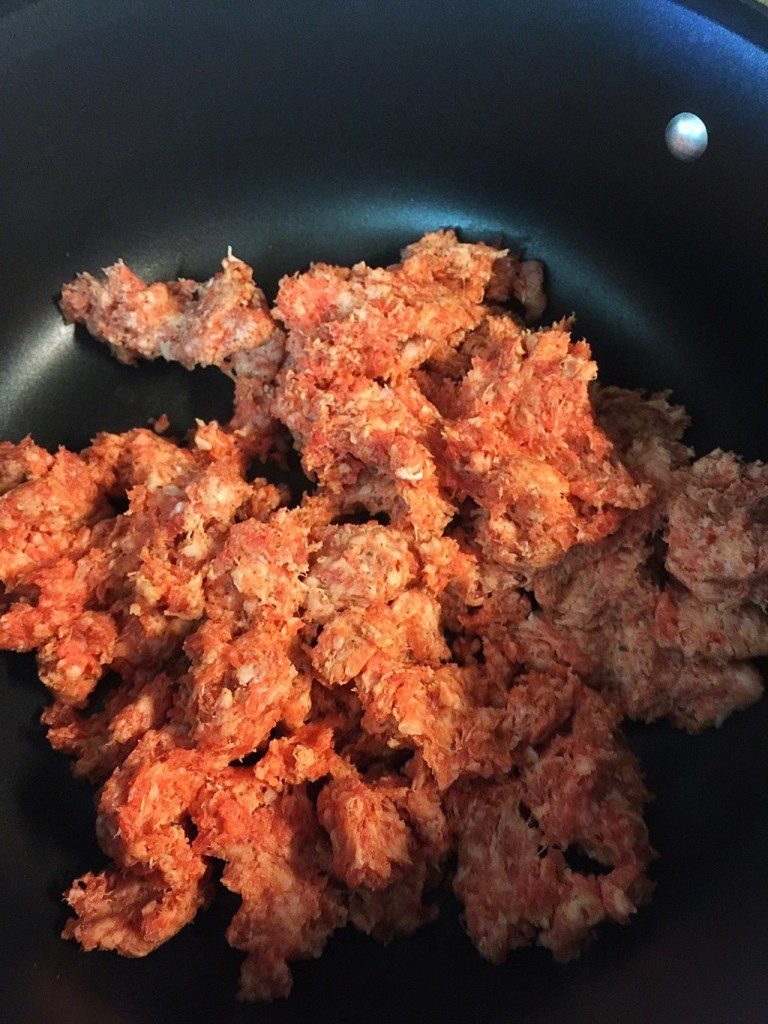 Note: The following pictures are of a double batch of sausage gravy.
Preheat your oven to 350.
Add sausage to a non-stick pan with sides. Break up the sausage with your hands. I used my big Calphalon Dutch Oven. This is the second time I've purchased this pot, my first one lasted years with everyday use. The one pictured in this photo I bought in Jan 2015, and it still looks brand new. I love this thing!

Brown the sausage until no longer pink.
Now it's time to add the flour to *** undrained *** sausage. You need the fat in the sausage.
I'm not sure if you can see in this picture or not, but I also like to add in a pinch of red pepper flakes. If you prefer your gravy less spicy you could skip adding the pepper flakes. The pepper flakes I added in are the same type that you would put on a slice of pizza.
Cook the flour into the gravy for a few minutes stirring constantly. Don't skip this step, or your gravy will turn out pasty tasting, and you don't want pasty gravy. This step makes all the difference between fantastic tasting sausage gravy and horrible pasty bad restaurant-type gravy.
Your sausage/flour combo should look something like this after a few minutes. Notice how all the flour is cooked into the sausage? Now it's time to add in some milk.
Pour in a little milk. You'll notice the milk looks thin when you first pour it in, but then it'll thicken up right away. Keep stirring and adding a little more milk. When that thickens, add more milk. At this point, I like to turn down the heat just below medium.
Keep adding a little milk and letting it thicken up until you get the desired consistency you are after. Some people like their sausage gravy really thick and some prefer to have their gravy a little runnier. I like mine in about the middle.
Now is the time to throw your biscuits in the preheated oven, and cook according to package directions.
Keep stirring your sausage gravy and adding milk as needed. Now is a good time for salt and pepper to taste. I also like to add in a dash of garlic powder and cayenne powder.
Easy Biscuits and Gravy Recipe – All Done!
Easy Biscuits and Gravy Recipe
This is an easy biscuits and gravy recipe. It's the ultimate breakfast comfort food.
Ingredients
1

pound

breakfast sausage

I like Jimmy Dean

1/2

cup

flour

3-5

cups

milk

pinch

of pepper flakes

optional

pinch

of cayenne powder

optional

pinch

of garlic powder

optional

salt and pepper to taste

one tube of refrigerated biscuits

I like Grands - Cooked according to directions.
Instructions
In a non-stick skillet with sides, add sausage to pot and break up the sausage with your hands or a spatula. Cook sausage over medium high heat until no longer pink.


Add flour to sausage and drippings, stirring constantly. Add in optional pepper flakes, cayenne powder, and garlic powder. Cook flour over medium heat 2 or 3 minutes.

Stir in a about a cup of milk. Keep stirring, the gravy will start to thicken almost immediately.

Keep adding in small amounts of milk and letting the gravy thicken. Repeat until you get the consistency you are wanting.

Season with salt and pepper to taste
Disclosure: This post contains Amazon affiliate links.
More Great Recipes