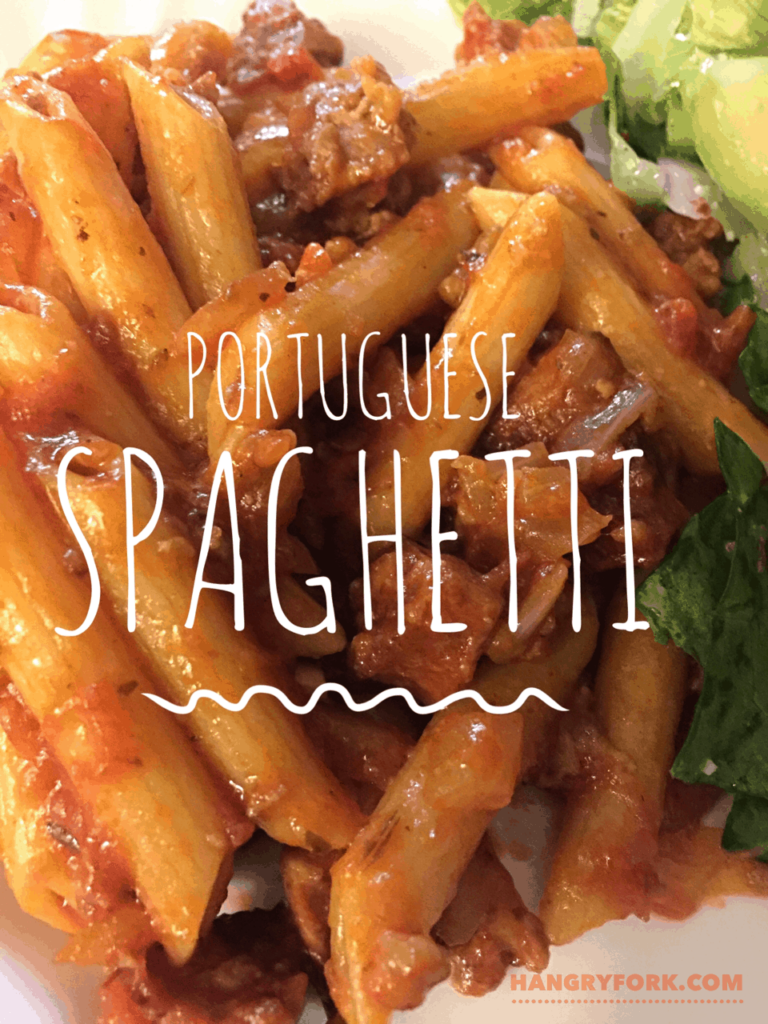 Portuguese Spaghetti is a nice change from regular spaghetti. The recipe does call for simmering the sauce for an hour but trust me, it's worth the time! The sauce develops a deep flavor that is different from regular spaghetti. My kids all love this dish.
What is Linguica?
This linguica recipe calls for Linguica which is a Portuguese sausage. Most stores carry linguica and it's typically found in the meat section by the regular sausage or the chorizo. This is what it looks like:
Linguica is a Portuguese smoked cured pork sausage. This sausage is popular in Brazil. It's also popular where I live in California. I grew up eating linguica sandwiches at my Grandma's house.
Browned linguica is a great alternative to bacon or sausage links for breakfast. Honestly, I'd rather eat linguica than either bacon or sausage for breakfast.
What Companies Make Linguica?
Some famous brands of linguica are Gaspar's Linguica and Silva linguica.
Gaspars – Gaspar's has been in business since 1923 and offers more than linguica. Check out their website here. The website has several linguica recipes, here are links to a few:
– Baked Linguica – Tomatoes, potatoes, and carrots baked into yummy goodness.
– Quick Linguica Pizza – This easy linguica pizza recipe is genius! In less than 15 minutes delicious linguica pizza is served.
– Linguica Meatloaf – Why didn't I think of this? I love linguica so much I'm going to have to try this recipe. I plan to make it a keto meatloaf. I'm going to substitute the breadcrumbs for almond flour. I'll post this recipe when I've tested it thoroughly.
– Keto Mushrooms and Linguica Stirfry – YUM!
Silva's Sausage Company – The makers of Silva Linguica are the Silva Sausage Company. Silva has been in business since 1967. They are located in Gilroy California. This is the brand of linguica I've eaten my whole life. I absolutely love the stuff they make! Silva Sausage makes more than linguica. They also make amazing hot links and chorizo sausages, which are different from the Mexican chorizo I buy.
– Risotto Jambalaya with Andouille & Shrimp recipe looks bomb.
– Spanish Chorizo Tortilla – This looks delish! It's a Spanish tortilla omlet
– California Style Omelet recipe here.
Portuguese Spaghetti or Portuguese Linguica Sausage Pasta?
As you can see, I didn't use spaghetti noodles the last time I made this recipe, I used what I had at the time, which was Penne. I'm not sure if this isn't better with penne?
I used Dreamfield's Penne, which is a low-carb pasta. From Amazon, "Bring pasta back into your diet! Dreamfields pasta tastes great with your favorite pasta dishes and can be included in your healthy meal plan. Its blend of fiber and plant proteins helps create a pasta that offers many healthy benefits while still having the same great taste of traditional pasta." Dreamfields really does taste like normal pasta, it's delicious! I buy this pasta at my local Safeway grocery store.
Use whatever pasta you have on hand, this recipe is very easy to customize. I don't make trips to the grocery store for just a few items, instead, I make do with what I have. I figure doing this saves me about $60 each time I skip the grocery store.


Low Carb Portuguese Spaghetti with Linguica Idea
Since I originally posted this Portuguese Spaghetti recipe, I've gone back to eating more low carb. I think this recipe could easily be converted into low carb if the pasta was omitted. Cabbage could be sliced up and cooked into the sauce for about 10 minutes at the end of the sauce cook time. Another option would be to saute the cabbage and service the sauce on top of the cooked cabbage.
Portuguese Spaghetti
Portuguese Spaghetti with linguica and sausage, simmered in a tomato sauces. This recipe is so delicious, I normally double it so there's leftovers for lunch the next day.
Ingredients
1

large chopped onion

2

tablespoons

minced garlic

1

pound

sausage

Jimmy Dean

1

pound

linguica

Portuguese Sausage

1 - 28

ounce

can crushed tomatoes Italian Style

3

tablespoons

soy sauce

1

pound

cooked pasta
Instructions
Cut linguica into bite sized pieces and brown in a large pot in a little canola oil. Remove when the linguica is browned and set aside.

Cook sausage and chopped onion in the pot. Use a spatula to break up the sausage into small pieces. When sausage is thoroughly cooked add in garlic and cook a few minutes.

Add the can of undrained tomatoes and soy sauce to the sausage mix. Stir back in the browned linguica. Cover the pot and simmer one hour. Stirring frequently.

When the sauce has simmered about 45 minutes, put a pot of water to boil for the pasta. Cook pasta according to the directions on the box. Drain, and stir into the pasta.
If you Like This Portuguese Spaghetti recipe check out these recipes with Linguica Sausage
Quick Easy Portuguese Sandwich – Linguica Recipes – A Delicious Linguica Sandwich
Portuguese Sausage Rice recipe here
Broccoli and Linguica Sausage Bake – This one looks amazing! Find the recipe here.
Disclosure: This post contains Amazon affiliate links.