This keto corn beef hash recipe is so good with a few fried eggs on top and a few slices of perfectly cooked oven-baked bacon or even better, my personal favorite, fried linguica.
I ate this keto corn beef hash with two fried eggs, two slices of bacon, and two sliced of green tomatoes fried in a little butter. The green tomatoes aren't very pretty but they were nice and tangy. They tasted so refreshing.
Can You Eat Corned Beef Hash on Keto?
Yes, you can eat corned beef hash on keto if you make a few substitutions.
If you love corned beef hash like I do but you are eating a keto lifestyle, the good news is you can still get that amazing corned beef flavor keto style. The secret here is to skip the potatoes.
This keto hash is an amazing breakfast and leftovers make GREAT work lunches! Place some keto corn beef hash in a glass container and top with two over-easy eggs for an amazing work lunch that's not only filling but also low carb!
Random Canned Corn Beef Facts
Most canned corned beef comes from Uraguay or Brazil
In 1942 over 16 million cans of canned corned beef were exported from Uraguay.
Canned corn beef is an excellent addition to any well-stocked bugout bag.
Canned corned beef has a shelf life of 3-5 years!
Canned corn beef has ZERO carbs but is high in sodium.
It was a popular wartime meal, due to it being shelf-stable and quick to prepare.
How to Make Keto Corn Beef Hash
Canned corned beef is browned until crispy in a non-stick skillet. Cabbage and onion (optional) are then added. The mixture is cooked until the cabbage is wilted and the corned beef is nice and browned.
Keto Corned Beef Hash Recipe
Click To Tweet
Keto Corn Beef Hash Ingredients
Here's what you'll need to make this delicious recipe:
2 cans of corned beef – My favorite brands is Libbys
1 head of cabbage
1/2 onion (optional)
1-2 tablespoons oil
salt & black pepper to taste
Equipment Needed to Make This Keto Hash Recipe
Cutting Board
Chefs Knife
Non-stick Skillet
Non-stick Spatula
Steps to Make Keto Corn Beef Hash
Open both cans of corned beef. On a cutting board, slice the corned beef into small cubes. Over medium-high heat cook the beef in a non-stick skillet. The meat will have lots of fat in it but this is completely normal.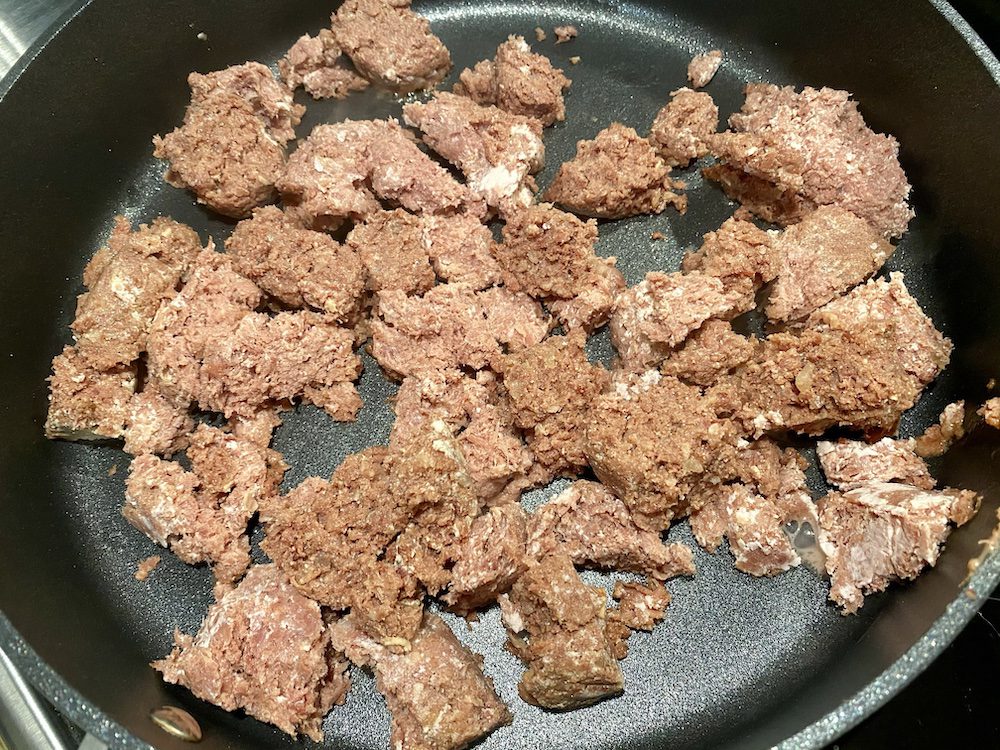 While meat is cooking, slice up the cabbage and onion if you are using it.
Keep cooking meat until it gets nice a browned like below.
When meat is browned add sliced cabbage and onion to the meat mixture. Combine cabbage and onion with meat.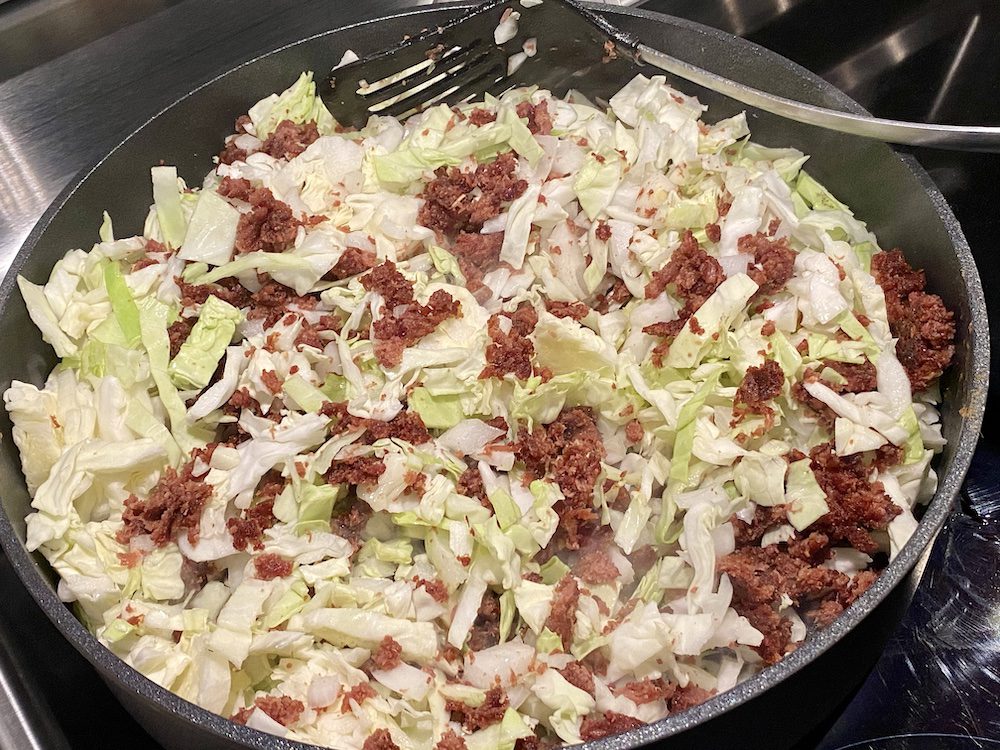 This is what the mixture looks like when combined but before the cabbage has wilted. Cook until the cabbage is wilted to your liking.
Fry some eggs in butter or bacon fat. Top keto corn beef cabbage with fried eggs and enjoy. I like for the yolks to be runny, yum!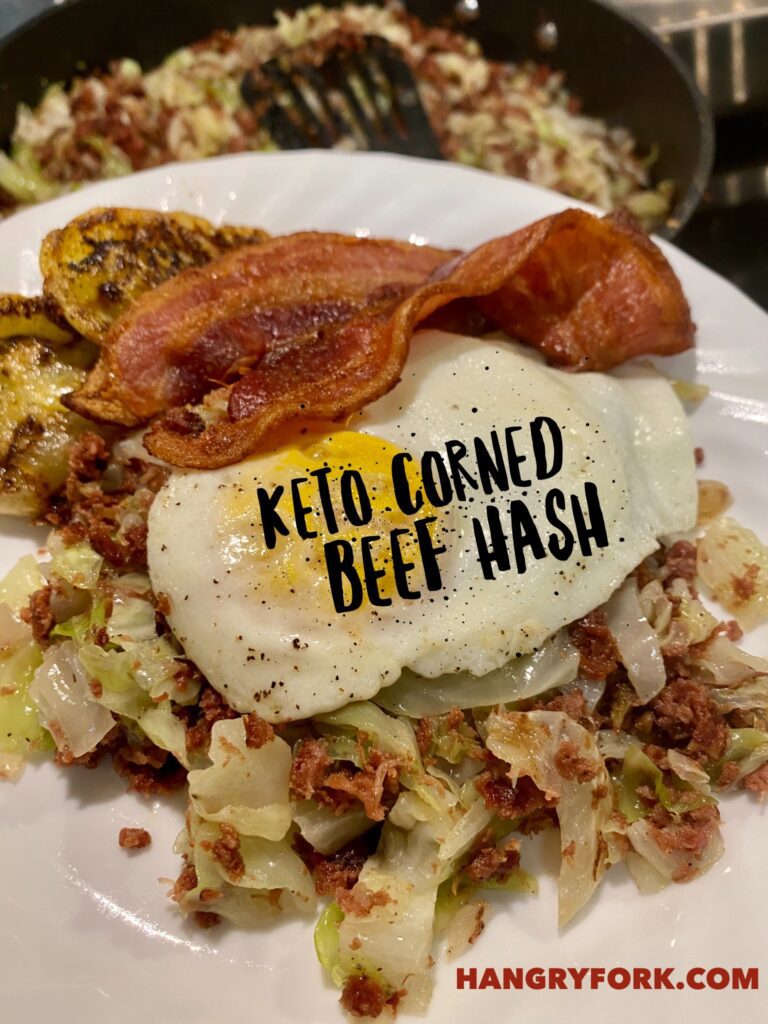 Keto Corn Beef Hash
Delicious Corned Beef Hash Keto Style
Ingredients
2 cans Corned Beef, Chopped
1 head Medium Cabbage, Sliced and Roughly Chopped
1/2 ea Onion, Minced
Salt & Black Pepper
Instructions
Heat a non-stick skillet over medium high heat. Add a little oil to the skillet once It Is hot.
Add chopped corned beef to hot skillet. Cook, flipping over meat with a non-stick spatula every three minutes or so.
Meanwhile, mince onion and slice and roughly chop cabbage.
When beef Is nice and browned top with the cabbage mixture. Continue to cook and flip mixture until the cabbage Is done to your liking.
Taste of season. Add salt, pepper and garlic powder If needed.
Fry eggs In some butter or bacon fat. Cook eggs to your liking.
Top keto hash with fried eggs and enjoy!
Nutrition Information
Yield

6 serving
Serving Size

1 serving
Amount Per Serving
Unsaturated Fat

0g
Nutritional information is not always accurate.
Tips for Making this Keto Hash
Cook this in a non-stick skillet.
Don't stir too often when browning the meat or when cooking the cabbage, the little burnt pieces of both taste so wonderful.
You can mix this recipe up by substituting some of the cabbage for radishes, turnips, or chopped-up cauliflower, cooking times may vary.
Add in seeded fresh minced jalapeno or poblano for a little zing!
When the cabbage is almost done, add in a teaspoon of fresh minced garlic and cook for a few minutes longer.
If you like this recipe please check out these recipes, I think you'll really like them!
This post contains Amazon affiliate links.