This Low Carb Korean Beef Bowl with Veggies is one of my favorite meals ever! The ground beef is a little spicy and the veggies are tender-crisp. The fried egg on top makes this dish so tasty and filling. You won't be hungry for hours!
This is a one-bowl meal and leftovers are excellent for work lunches. When I pack this up for my work lunch, I like to put the fried eggs in a separate container so they don't get overcooked when the beef bowl and veggies are warming up in the microwave.


I made this Korean Beef Bowl recipe on a Saturday night for dinner. I chose to make it outside on the Blackstone Grill. If you don't have a Blackstone Grill, it'll still turn out great cooked indoors in two skillets.
I love cooking on the Blackstone! What's nice about cooking this recipe on the Blackstone is that it cooks quickly, cleans up in a breeze, and the vegetables can really spread out. When the veggies are spread out they cook without sweating and do not get mushing. The veggies hold their shape.
If you don't know what a Blackstone is, it's very similar to a professional grade griddle you will find in a restaurant but it runs on propane gas. Blackstones come in a variety of sizes so there's a model that'll be perfect for your family. Some of the larger models have an attached air fryer.
I love to making smash burgers, fajitas, breakfasts, and all types of stirfry on the Blackstone especially when my kitchen is clean and I don't want to dirty it or when it's hot outside and I don't want to heat up the house.
What's in this Low Carb Korean Beef Bowl with Veggies Recipe?
Korean Beef Bowl with Veggies Ingredients
Ground beef
Beef Bowl Sauce Recipe (see below, it's so simple but had deep flavors)
Zucchini
Mushrooms
Cabbage
Broccoli or cauliflower
Bell pepper
Onion
Butter
Eggs
Salt & Black pepper
Garlic powder
This Recipe is Highly Customizable
This recipe is highly customizable so feel free to mix and match the vegetables. Leftover smoked roast or brisket (without BBQ sauce) is excellent in place of the ground beef. I've never tried this with leftover baked or fried chicken but I think it would be delish.
As long as you keep ratios about the same it should work out wonderfully. I typically use up whatever uncooked vegetables I have on hand so each time I make the recipe it's slightly different but it always turns out delicious!
Low Carb Korean Beef Bowl with Veggies Sauce Ingredients
Chili garlic sauce (available in the ethnic aisle of your grocery store or at Amazon)
Soy sauce
Brown sugar
Spicy Beef Sauce ingredients get combined in a small bowl.
Cut the veggies into bite-sized pieces and place them in a large bowl.
Warm up the Blackstone Grill on high. Spread a little oil on the grill.
If you don't have a Blackstone Grill, you can cook this recipe in two skillets indoors. I'll have both the Blackstone instructions and skillet instructions below.
When the Blackstone is hot dump the big bowl of veggies on the grill. Season with salt, black pepper, and garlic powder. Cook a few minutes and then flip the veggie over. You want them to brown a little like what you see below. Spread the veggies out so that they don't sweat.
When veggies are halfway cooked season with soy sauce and sesame seed oil. Push the veggies to one side of the grill and turn down the burner under that side to low.
I used homegrown ground beef which we raised ourselves.
Put a little more oil on the side where you will be cooking the beef. Add ground beef and cook until browned.
When the beef is browned gather it into a pile and pour the sauce on top. Continue to cook the ground beef, stirring in the sauce until it's all coated.
While the meat cooks, flip the veggies a few more times. When the meat is done, remove the veggies to a bowl.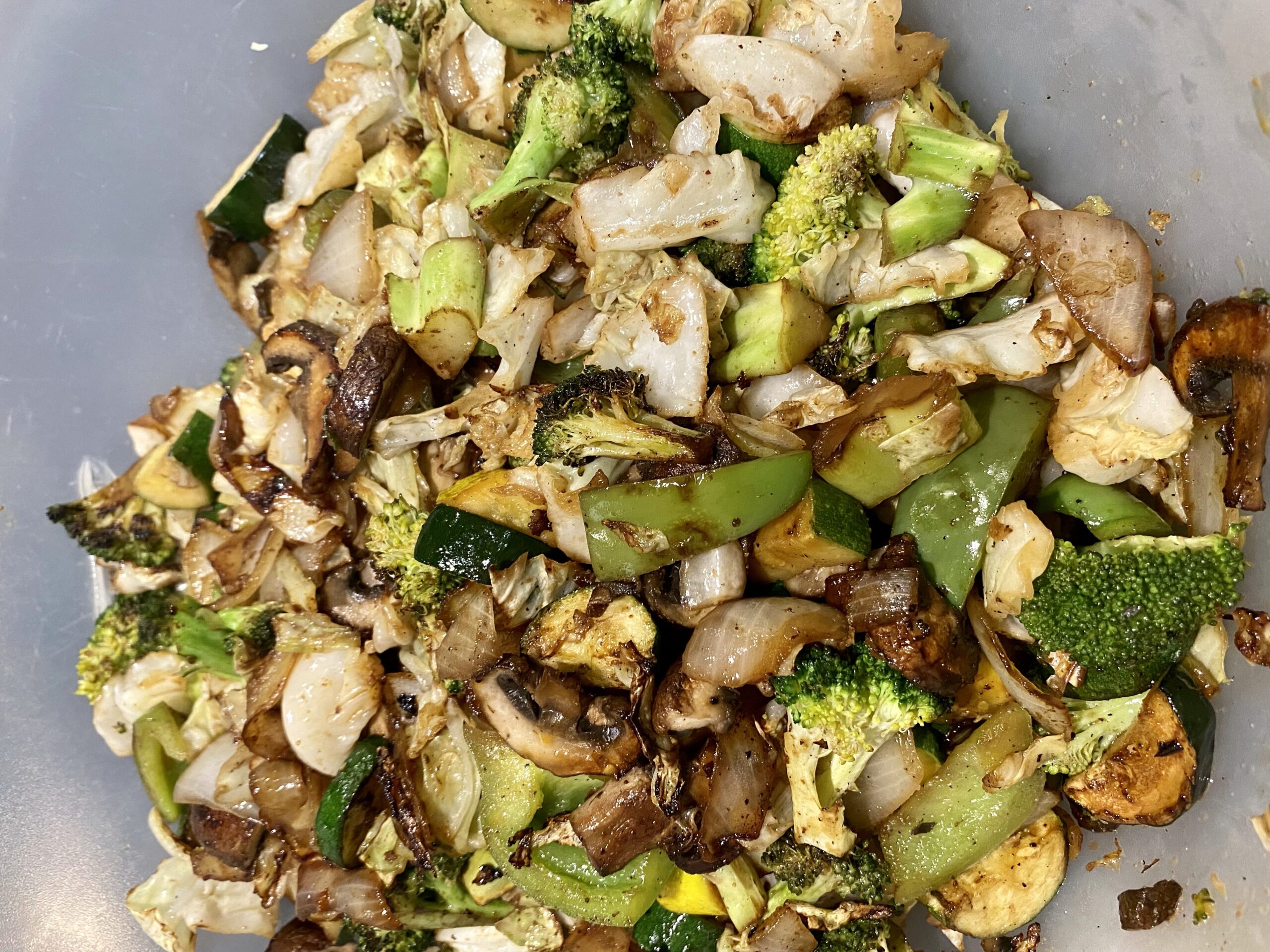 When the meat is done, remove the meat from the Blackstone. I put mine in a cake pan. You don't want to put hot meat into a glass dish or the dish could burst.
I always put my husband in charge of frying eggs. He chose to fry them in a little butter in a nonstick skillet.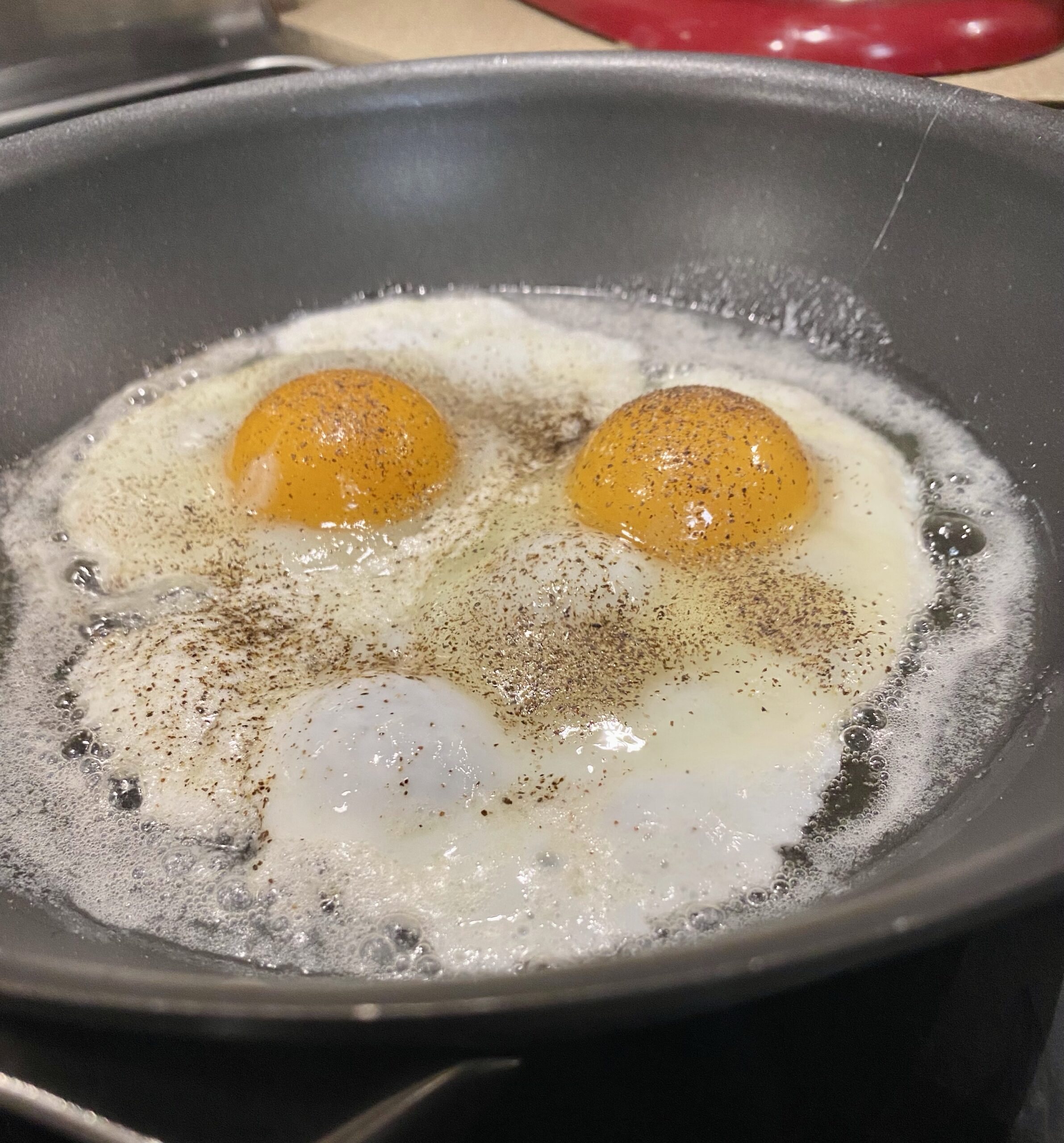 Assembling Korean Beef Bowl With Veggies
Now it's time to assemble these Low Carb Korean Beef Bowl with Veggies topped with a fried egg. In a bowl put a layer of veggies, top with spicy beef, and then with a fried egg. Enjoy! If you like your food extra spicy, add a drizzle of Sriracha.
Delicious low-carb Korean Beef Bowls are a healthy quick dinner.
Click To Tweet
Blackstone Grill Low Carb Korean Beef Bowl with Veggies
Yield: 8 servings

Prep Time: 20 minutes

Cook Time: 15 minutes

Total Time: 35 minutes

Easy to Make Delicious Low Carb Korean Beef Bowls with Veggies Recipe
Ingredients
Korean Stir Fry Bowl Veggies
3 tablespoons Avocado oil (or vegetable oil)
1 each Cabbage - small, cut Into small chunks
4 each Zucchini, cut Into bite sized pieces
10 each Mushrooms, sliced
1 each Onion - small (optional), cut Into bite sized pieces
2 each Broccoli crowns, cut Into bite sized pieces
1 each Bell pepper (optional), cut Into bite sized pieces
Sauce for Veggies
4 tablespoons Sesame oil
4 tablespoons Soy sauce
1-3 dashes Salt, black pepper, and garlic powder
Spicy Korean Ground Beef
Sauce for Spicy Korean Ground Beef
4-6 tablespoons Chili garlic sauce
3 tablespoons Soy sauce
3 tablespoons Sugar free brown sugar (or regular)
Fried Eggs
2 tablespoons Butter
8 each Whole eggs
Instructions
This recipe can be made on the Blackstone Grill or on the stovetop In nonstick skillets. The methods are pretty much the same.
Prepare the veggies and place them In a large bowl. Set aside.
Prepare the sauce for the Spicy Korean Ground Beef by combining them In a small bowl. Set aside.
Heat the Blackstone Grille (or skillet) over medium-high heat and spread a little oil. When the grille Is hot dump the veggies and spread them Into a single layer. Let cook 2-3 minutes so they brown a little. Stir flipping the veggies over. Season with salt, black pepper, and garlic powder. When veggies are halfway done, gather Into a pile and add sesame oil and soy sauce. Stir flipping to combine. Move veggies over to the far side of griddle and turn the heat under them down to low.
Reoil the side of the Blackstone where you will cook meat. Add meat and cook on medium-high until meat Is browned.
Stir and flip over the veggies.
Gather meat Into a pile and top with Sauce for Spicy Ground Beef. Cook and stir the sauce Into the meat. Cook until some of the sauce Is evaporated.
Taste meat for seasoning. Push meat aside close to veggies or remove meat and veggies from Blackstone.
Fry eggs In some butter. We fried eggs two at a time but feel free to fry them however you like your eggs fried. Season eggs with salt and pepper.
Assemble Spicy Korean Beef Bowls. In bowl layer veggies, spicy beef, and top with a fried egg.
Nutrition Information
Yield 8 servings Serving Size 1 serving
Amount Per Serving Calories 586Total Fat 40gSaturated Fat 12gTrans Fat 1gUnsaturated Fat 23gCholesterol 295mgSodium 1243mgCarbohydrates 16gNet Carbohydrates 13gFiber 3gSugar 9gProtein 41g

This data was provided and calculated by Nutritionix on 11/12/2021. Nutritional data is not always accurate.

**** This post for Easy Low Carb Korean Beef Bowl with Veggies contains Amazon Affiliate links.
Check Out These Great Asian Inspired Recipes