This Thai cucumber salad is fresh tasting and easy to make. It tastes very similar to the cucumber salad we get at our local Thai restuarant when we order Chicken Satay. As you can see in the picture below, the Thai restaurant tops the cucumber salad with a few shreds of carrot and slices of red onion, I'm going to guess this is to keep the carrot and red onion colors from staining the cucumbers?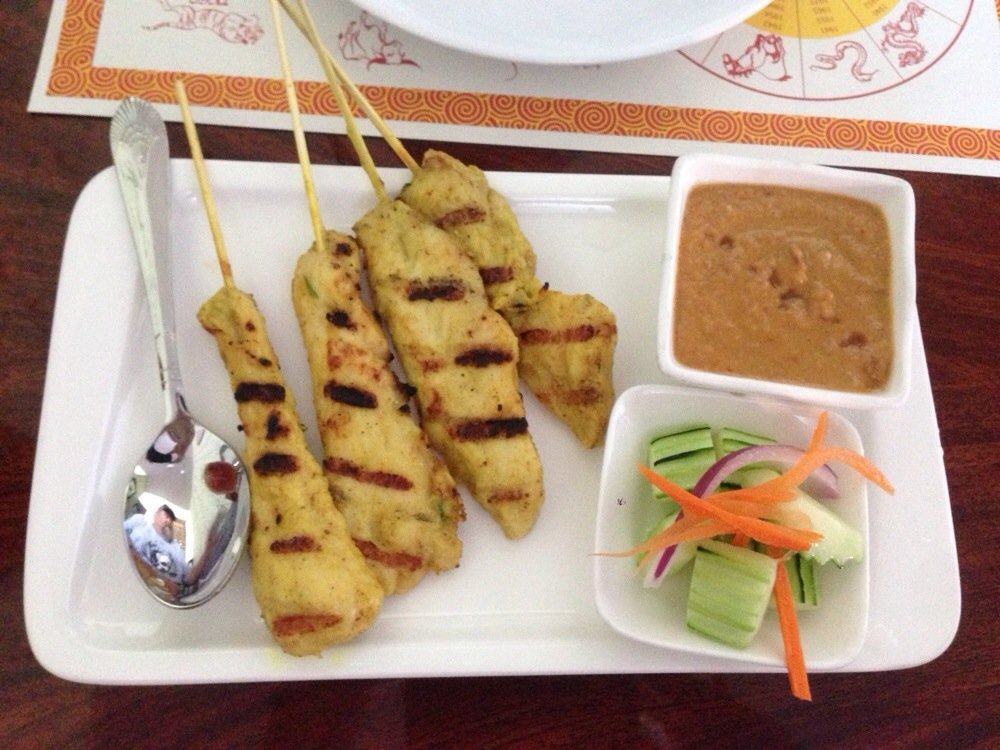 I don't think I have ever seen a Thai salad come with radishes, but since we like radishes and I had some on hand I figured why not? If you are making this dish ahead of time, I would probably skip the radish slices and instead use another cucumber, or add the radish slices right before serving. The radishes are tasty but the red on the radishes can run from soaking in the cucumber salad dressing after a few hours.
How to Make Thai Cucumber Salad
In a small saucepan combine 1/2 cup rice wine vinegar with 1/4 cup granulated sugar, and 1/2 cup water. Heat until the sugar is dissolved, remove from heat and let the dressing cool to room temperature. While the dressing is cooling, prepare the vegetables.
Peeled one English cucumber, cut it in half, and then sliced it. Wash one bunch of radishes and then slice them. Mince up half a small red onion (you could substitute green onions for the red onion). I also diced up half a seeded jalapeno. My jalapeno was really big, which is why I only used half in this Thai cucumber salad.
I salted the cucumbers with about 1/2 teaspoon of salt. I also sprinkled the cucumber mixture with about 1/2 teaspoon of dried cilantro (fresh would be better).
When the dressing has cooled down to room temp, pour it over the cucumbers and toss to coat everything.
Thai Cucumber Salad Add-Ins
1/4 cup fresh cilantro
1/4 cup crushed roasted peanuts
Replace red onion with minced green onions or thinly sliced shallots
Shredded carrots
I served this cucumber salad with Thai Asparagus Chicken and the best Rice Cooker Chinese Fried Rice.
Thai Cucumber Salad with Radishes
Fresh Thai Cucumber Salad
Ingredients
1

English Cucumber - peeled

cut in half (longways) and sliced

1

bunch radishes - sliced

1/2

jalapeno - seeded and minced

1/2

small red onion - minced

1/2

cup

rice wine vinegar

1/4

cup

granulated sugar

white

1/2

cup

water

1/2 to 1

teaspoon

salt

1/2

teaspoon

dried cilantro

or fresh
Instructions
In a small saucepan combine rice wine vinegar, granulated sugar, and water. Heat up the mixture until the sugar dissolves. Remove the dressing from heat and allow to come down to room temp.

Place sliced cucumber, sliced radishes, minced red onion and minced jalapeno in mixing bowl and add salt and cilantro.

When the cucumber dressing is at room temp, add it to the cucumbers and toss to combine everything.

Taste for salt.


Disclosure: This post contains Amazon affiliate links.
I absolutely love growing lemon cucumbers. I've tried to grow so many different varieties of cucumbers and no matter what I do, they always turn out bitter, except for lemon cucumbers.