My husband loves all types ribs, he goes nuts for them. He used to BBQ ribs outside with charcoal on the old Weber, it would take forever, he'd have to flip them often, and there was always the chance of him getting distracted and overcooking the ribs. I started cooking baby back ribs in the oven about six years ago, and we've never looked back.
This technique for cooking baby back ribs in the oven also works for pork spare ribs, and big beef ribs (you'll have to cook the beef ribs about 30 minutes longer).
These baby back ribs are so easy to make, they are basically fool proof. Simply cut ribs into manageable sections and season with your favorite seasonings. Place the ribs in a casserole dish and cover with foil. Bake @ 275 degrees for two and a half hours. The result is tender falling apart baby back ribs, cooked to perfection!
How to BBQ Baby Back Ribs in Oven
Decide if you want to remove the membrane from the inside part of the pork ribs. I'm aware there are two camps on this issue either you remove the membrane or you don't. I choose to remove the membrane. I find the membrane tough and sinewy, but some people enjoy this texture and believe leaving the membrane in place makes for a more juicy tender rib. If you aren't sure what you like, experiment and leave the membrane on half the ribs.
Season both sides of the ribs. I season with salt, black pepper, and garlic powder. This is a rack and a half of seasoned baby back ribs.
Cover the pan with foil and bake @ 275 for two and a half hours. No need to flip or do anything except set a kitchen timer!
Now the ribs are ready for your favorite BBQ sauce. You can either fire up the BBQ and finish cooking the BBQ sauce onto the ribs, or you could do what I do, and that's cover a cookie sheet with foil, apply your favorite BBQ sauce and place the ribs under the broiler for about four minutes per side, watch the ribs carefully, broilers are all different!
In the photo below I used two different BBQ sauces on the baby back ribs, the redder sauce is Trader Joe's Organic Siracha BBQ sauce, and Trader Joe's All Natural BBQ Sauce, both are seriously delicious!
Here's a close up of a batch of ribs, with the broiled on BBQ sauce, I made two nights ago.
The ribs turn out so tender, the bones literally just slip out and are clean.
I served these oven BBQ ribs with some old fashioned potato salad and tangy homemade coleslaw. I made the salads the night before, so the flavors would blend. This is such an easy dinner to prepare, I just love it!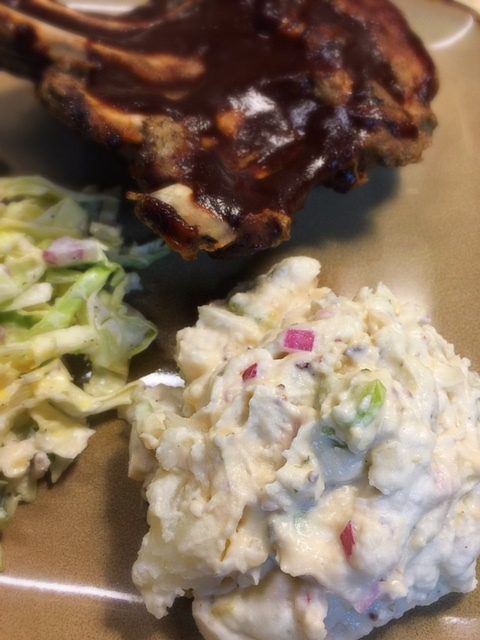 Recap of Oven Rib Cooking Times
Cook baby back ribs in the oven @ 275 degrees for 2.5 hours, ditto pork spare ribs.
Cook big beef ribs in the oven @ 275 for 3 hours.
Side Dishes for Easy Baby Back Ribs in the Oven
Disclosure: The post contains Amazon affiliate links.