My husband's favorite BBQ joint serves tangy homemade coleslaw with a horseradish dressing. This BBQ place is almost three hours from our house so we don't get there often. Many years ago he asked me to come up with a similar BBQ coleslaw recipe, and this is it. This coleslaw recipe is easy to make and takes about 15 minutes total. You can easily half the recipe if you don't want to make a big batch of coleslaw. I recommend making this coleslaw the day before serving it so the flavors all have time to blend.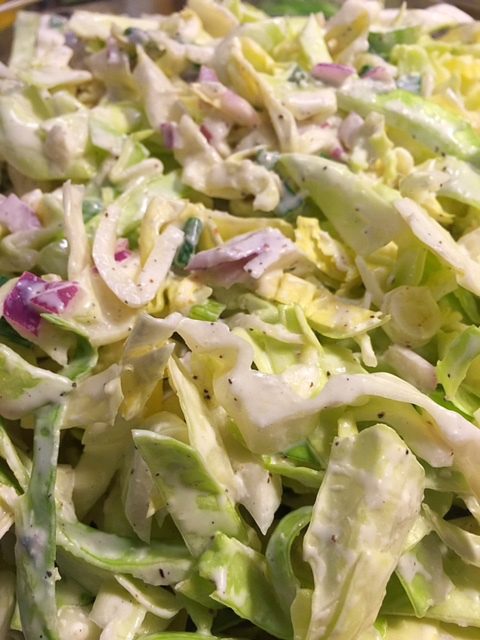 How to Make Tangy Homemade Coleslaw
Chop up a head of cabbage and place into a large mixing bowl. I also mince up half a small red onion and one small bunch of green onions. The color combo makes the coleslaw really pretty.
Now it's time to make the coleslaw dressing recipe. Whisk together mayonnaise, prepared horseradish, apple cider vinegar, granulated sugar, salt, black pepper and a little milk. My husband likes a lot of prepared horseradish in his coleslaw, so I put four teaspoons in the dressing. Luckily, my kids also like their coleslaw extra tangy. Adjust the horseradish to your own liking. I recommend whisking up the coleslaw dressing and try a little with some cabbage until you get it just right for your tastes.
Pour the coleslaw dressing on the chopped vegetables.
At first, it may look like there isn't enough dressing, but there is just keep stirring and combining the ingredients until all the cabbage is coated with the tangy coleslaw dressing.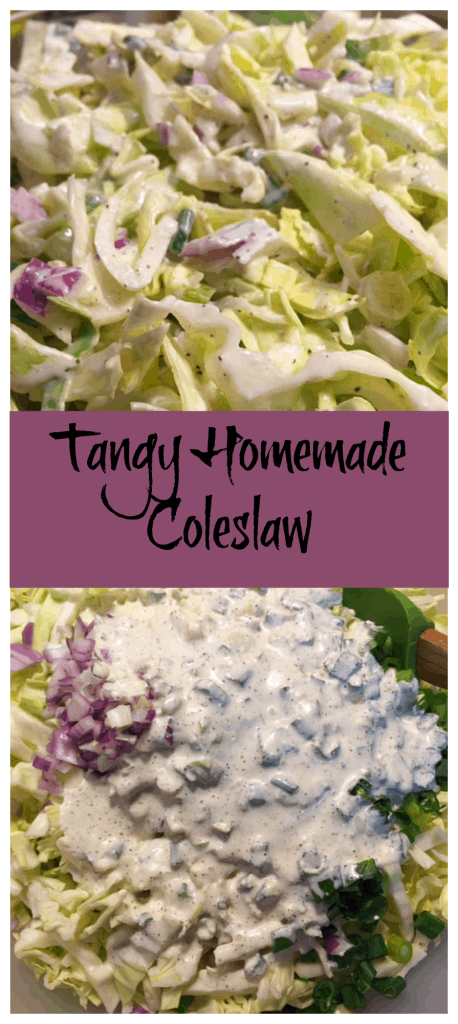 BBQ Coleslaw Recipe | Tangy Homemade Coleslaw
Tangy coleslaw recipe with a prepared horseradish dressing.
Ingredients
1

large head of cabbage - shredded

1/2

small red onion - minced

1

small bunch green onions - minced

1/2

cup

mayonnaise

2-4

teaspoons

prepared horseradish

2

tablespoons

apple cider vinegar

1

tablespoon

granulated sugar

1

teaspoon

salt

1/2 to 1

teaspoon

black pepper

1/4

cup

milk
Instructions
Core and shred one large cabbage and place in a big mixing bowl. Add in minced red onion and green onion.

Prepare coleslaw dressing recipe, in a separate bowl whisk together until smooth: mayonnaise, prepared horseradish, apple cider vinegar, granulated sugar, salt, black pepper, and milk.

Pour coleslaw dressing over the shredded cabbage mixture.

Stir so the dressing and the cabbage are thoroughly mixed.

Refrigerate.
If you like cabbage you may also want to try making your own naturally fermented sauerkraut, it's easy and tastes so much better than commerically prepared sauerkraut. It's full of probiotics too and will last months in your refrigerator!


Disclosure: This post contains Amazon affiliate links.