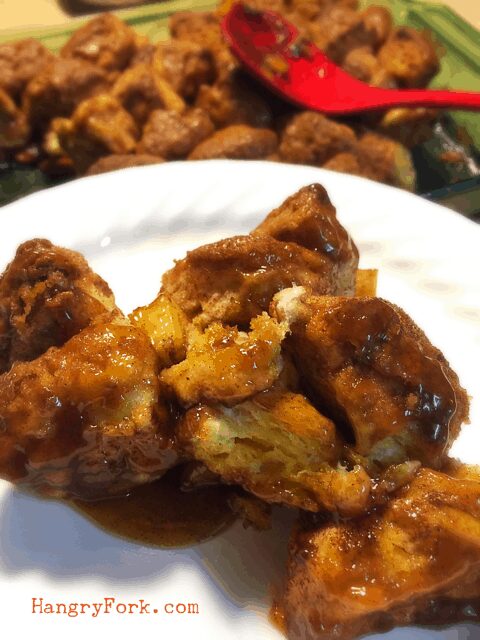 Easy gooey caramel apple monkey bread goes together quickly when you use two cans Grand's biscuits. I've used off brand biscuits too, just make sure the biscuits are the jumbo variety. Everyone with a sweet tooth loves this recipe.
Monkey bread became famous in the 1950's when recipes first started showing up in Women's magazines. This recipe is a little different than most floating around on the internet.
Most caramel apple monkey bread recipes call for cooking this caramel monkey bread in a bunt pan. I don't happen to have a bunt pan, I don't ever make bunt cakes, and like to only have pans I actually use in the kitchen. I didn't let that stop me from making this delicious recipe. I cooked up my version in a 9×13″ casserole dish and it came out fantastic!
This recipe calls for (optional) pecans, which my husband loves, but I'm not a big fan of, so I only put the pecans on half the monkey bread. This keeps everyone happy!
Monkey Bread tastes like the center of a cinnamon roll. – My Kids
In a zip lock combine white sugar with two teaspoons of cinnamon. On a cutting board, cut one tube of biscuits in quarters. Place 5 or 6 of the sections into the bag of white sugar, tossing around a bit to fully coat the biscuit pieces. Place the coated biscuit pieces in a 9×13 casserole dish sprayed with non-stick spray. It should look something like this at this point. Don't worry about the empty spaces, the biscuit pieces will expand while cooking.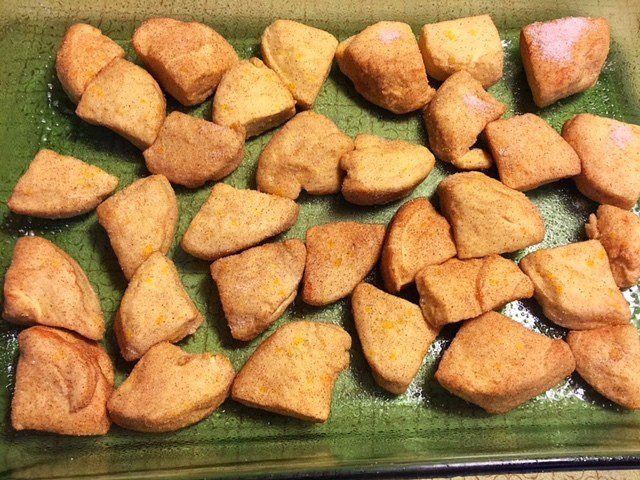 Now it's time to peel and core an apple. I used a fuji apple because it's what I had on hand. Cut the apple into little pieces.
Keep in mind, this dish bakes in the oven in 25-30 minutes, so keep your apple pieces small enough so they will cook within that time frame. In batches, toss the apple chunks in the sugar/cinnamon mix, then add to the coated biscuit pieces. If you want to add pecans, top the apples with pecan pieces.
Next, cut the other tube of biscuits in quarters, toss them with the sugar to coat, then add the pieces to the casserole dish.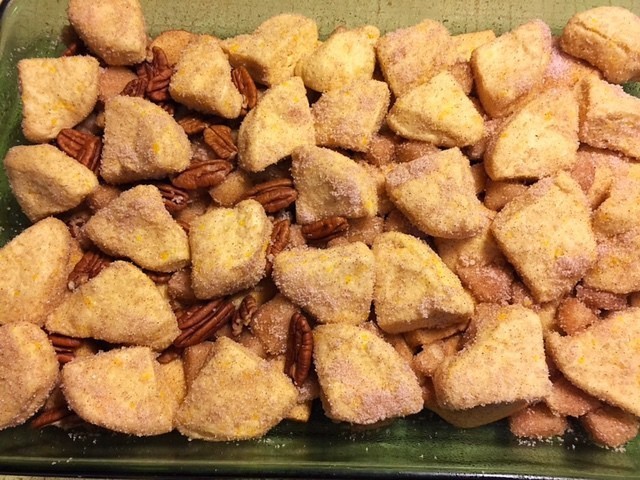 Now it's time to make the caramel sauce. In a saucepan melt one stick of butter. Add in one cup of brown sugar. Bring to a boil and boil for one minute. Pour the caramel sauce over the biscuit apple mix spreading it around to coat the biscuits. The caramel sauce will be very sticky.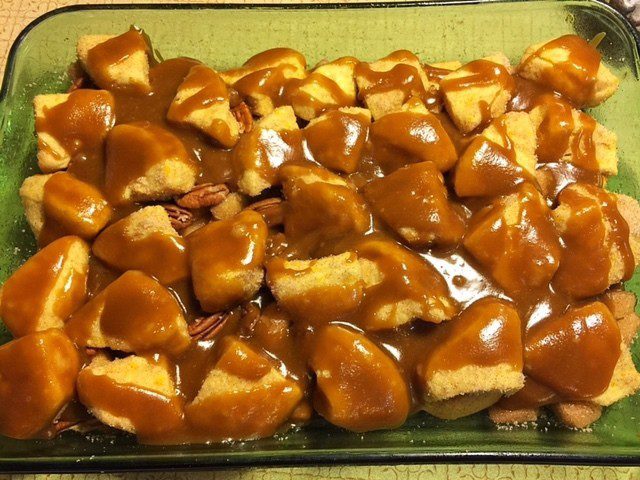 Pop the dish in a preheated 350 degree oven. Bake 25-30 minutes.
Gooey Caramel Apple Monkey Bread Addins
You could add just about any dry thing to this recipe that sounds good to you. Offhand here are some monkey bread add-ins that seem like they'd be good. Keep in mind less is probably more if you decide to add any of these in, I recommend using only 1/2 cup.
Walnuts
Pecans
Raisins
Chocolate chips
Coconut flakes
Another apple
Simple Icing
Vanilla Frosting
Gooey Caramel Apple Monkey Bread
Ooey Gooey Caramel Apple Monkey Bread is a big hit with everyone!
Ingredients
2

cans Grand biscuits - quartered

1

cup

white sugar

2

teaspoons

cinnamon

1

apple - peeled and cored

1/2

cup

butter

1

cup

brown sugar
Instructions
Preheat oven to 350 degrees.

Spray 9x13" casserole with non-stick spray.

Combine white sugar and cinnamon in a ziplock.

Cut one tube of biscuits into quarters. Place 5 or 6 pieces of biscuit into ziplock with sugar mix and toss to coat. Transfer coated biscuit pieces to prepared pan. Continue until all the pieces from the first pan are coated in sugar.

Slice apple into small bite sized pieces. Add to sugar bag and toss to coat. Add apple chunks to biscuits in pan.

Top with pecans (if using).

Cut the remaining can of biscuits into quarters. Toss in sugar to coat, and add to pan.

Prepare caramel sauce by melting 1 stick of butter in sauce pan. Add one cup brown sugar. Bring to a boil, and boil one minute, stirring constantly. Pour caramel sauce on top of biscuits, and spread around.

Bake @ 350 degrees for 25-30 minutes.
Disclosure: This post contains Amazon affiliate links. If you click on an affiliate link and make a purchase, I will earn a few dollars. This doesn't cost you any extra.
More Great Recipes