This Spicy Cajun Chicken Wings recipe is so easy to make and tastes wonderful! These wings have the perfect amount of spiciness. The wings are baked in the oven and are nice and crispy.
If you have an air fryer, these wings are even crispier when cooked in an air fryer.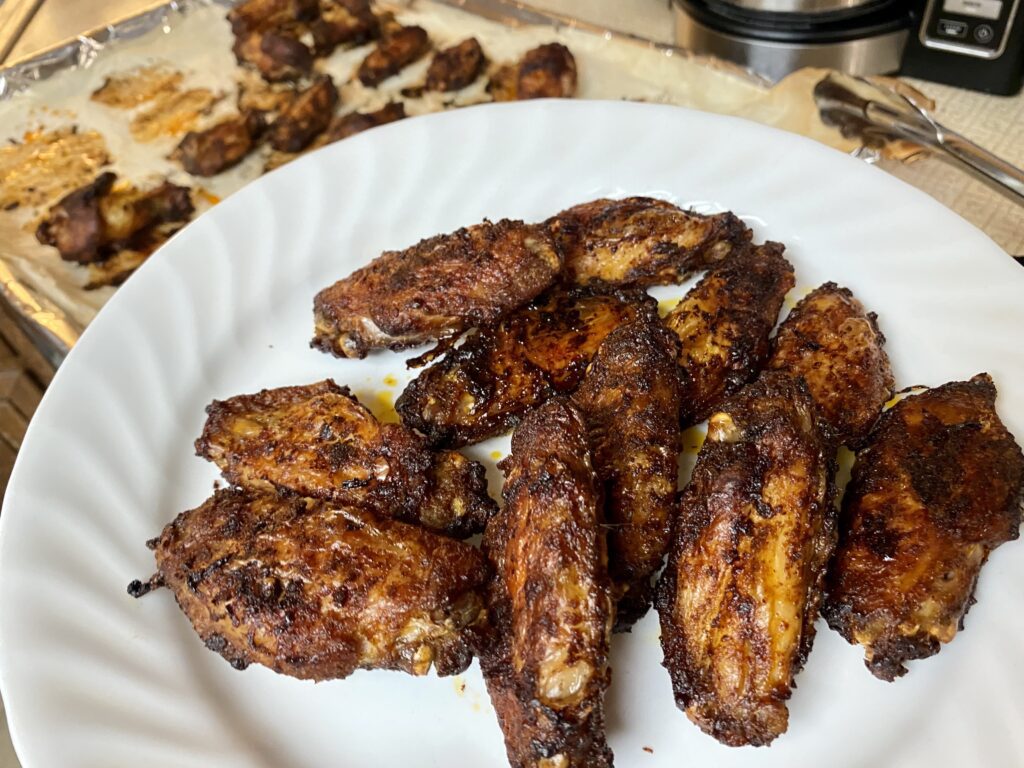 Things You'll Need to Make These Wings
Cajun Chicken Wings Ingredients
Here are the ingredients you'll need to make this keto crispy Cajun wings recipe.
Cajun Spice Mixture Recipe
Salt
Cayenne Pepper
Dried Oregano
Black Pepper
Paprika
Garlic Powder
Onion Powder
Chili Powder
Baking Powder
Wet marinade Ingredients
Avocado Oil (or your favorite oil)
Soy Sauce
Lime Juice
How to Make Oven-Baked Cajun Chicken Wings
Preheat oven to 420 degrees. This is a safe temperature for most parchment paper. Check the instructions on your parchment paper to confirm.
Combine spices in a sandwich-sized ziplock bag. Zip the bag shut and toss around to combine the spices.
This Cajun Chicken Wings recipe calls for using three tablespoons of this cajun seasoning mix.
Make the Cajun Chicken Wings Marinade
In a gallon-sized ziplock bag combine oil, soy sauce, lime juice, and three tablespoons + of the spice mixture. Zip the bag shut and from the outside of the bag, squish the ingredients together to blend.
Separate the wings into two pieces – the flapper from the drummette. Add chicken pieces to the marinade.
Zip the bag shut and from the outside of the bag, massage the spice mixture into the chicken wings until all pieces are well coated.
Line a baking sheet with sides (you don't want a mess in the oven so sides are a must) with foil. You can skip the foil step but I'm lazy and like easy clean up which is why I never skip the foil lining.
Top the foil with a piece of parchment paper. I like to cut the parchment paper to size and then fold the cut piece into fourths. Crinkle the parchment paper up, doing this will make the parchment paper more workable.
Carefully open the parchment paper and place it on top of the foil.
After 20-30 minutes of marinating, dump the wings onto the parchment paper.
With a pair of tongs, space the chicken wings out. The wings should not be touching. You want the heat to get all around the wings.
Place wings in the hot oven.
Bake for 20-25 minutes, depending on the size of the wings and the heat of your oven. Remember all ovens are different. If your oven runs cool you make need more baking time, likewise, if your oven runs hot you may need less time.
After 22 minutes or so, remove the wings from the oven and flip them over using a clean pair of tongs (we don't have time for salmonella).
The wings should look similar to the photo below.
Return the wings to the hot oven. Bake the wings for another 20-25 minutes. Check on the wings after 20 minutes and if necessary cook another five minutes or so until they are nice and browned.
Finished Oven-Baked Cajun Chicken Wings
Easy Oven Baked Cajun Chicken Wings Recipe
Easy chicken wings marinated in a spicy combination of seasonings with soy sauce and lime.
Ingredients
12-16

ea

chicken wings

tip removed, wing cut into two pieces
Cajun Chicken Wing Seasoning
3

tbsp

black pepper

2

tbsp

paprika

2

tbsp

onion powder

2

tbsp

garlic powder

2

tbsp

baking powder

1

tbsp

chili powder

1

tbsp

cayenne powder

1

tbsp

salt

1

tea

dried oregano
Cajun Chicken Marinade
3

tbsp

Cajun Chicken Wing Seasoning

3

tbsp

avocado oil

2

tbsp

soy sauce

1

tbsp

lime juice
Instructions
Preheat oven to 420 degrees

Marinate wings in Cajun Chicken Marinade for 20-30 minutes.

Line a baking sheet with sides with foil and top with a piece of parchment paper.

Spread marinated wings on foil & parchment lined baking sheet with sides. Spread the wings out so that they are not touching.

Bake wings 20-25 minutes, depending on wing size.

Remove wings from oven and flip, using tongs.

Return wings to oven and cook another 20-25 minutes or until wings are done.
If you like your wings EXTRA spicy check out this recipe for The Best Spicy Crispy Oven Baked Chicken Wings. These spicy crispy chicken wings are tossed in a dry spice rub and then baked in the oven. The result is crispy, spicy, amazing chicken wings.
What to Serve with Chicken Wings
Chicken Wing Shortage of 2021
If you are able to find chicken wings in your local grocery store then consider yourself lucky. I can find wings at one local store but it's been hit or miss.
Lots of people around the country and restaurants are unable to buy chicken wings due to a national shortage of wings. The supply chain crisis is being blamed on a shortage of over 80,000 truckers.
More Great Recipes
*** This post contains Amazon affiliate links.