If you are a fan of green chile rice or rice and green chile casserole but are trying to stick to a low-carb diet, you will love this Mexican-inspired Green Chile Cauliflower Casserole! Thanks to the convenience of canned green enchilada sauce, it's easy to make.
Leftovers taste amazing! The flavors deepen.
A whole cauliflower is cooked before being chopped. It is then combined with the delicious creamy cheese green chile cream cheese sauce, and a handful of cheese.
After all the ingredients are combined, the cauliflower mixture is poured into a casserole dish, topped with a layer of cheese, and baked in the oven for 20-30 minutes. The result is a wonderful low-carb, cheesy cauliflower casserole with a delicious green chile flavor. It goes terrific with BBQ dishes.
Things I Love About This Keto Cheesy Cauliflower Bake
This casserole isn't complicated. It calls for five ingredients plus spices.
This is a low-carb casserole and loaded with healthy cauliflower.
If you want the casserole to be lower calorie, use half the cream cheese.
You can make the casserole as spicy or mild as you like. If you like it spicy, use medium or hot green enchilada sauce. If you prefer a milder flavor, use mild enchilada sauce. If you want your casseroles extra spicy, you could add a small can of drained diced jalapenos.
The casserole isn't watery. See the pic (towards the bottom of this post) of the casserole half-eaten. There isn't a bunch of moisture in the pan.
You could make this a one-dish meal with the addition of some leftover or rotisserie chicken or browned ground beef, or browned sausage. Shred the chicken into the mixture before pouring it into the casserole dish or drain cooked ground beef/sausage before adding it to the mix.
Green Chile Cauliflower Casserole With Cheese Ingredients
Here's what you'll need to make this cheesy cauliflower bake recipe with cream cheese:
Cauliflower head
Green enchilada sauce
Canned chopped green chilies
Cream cheese
Grated cheese
salt, black pepper, and garlic powder
How to Make This Cauliflower Cheesy Bake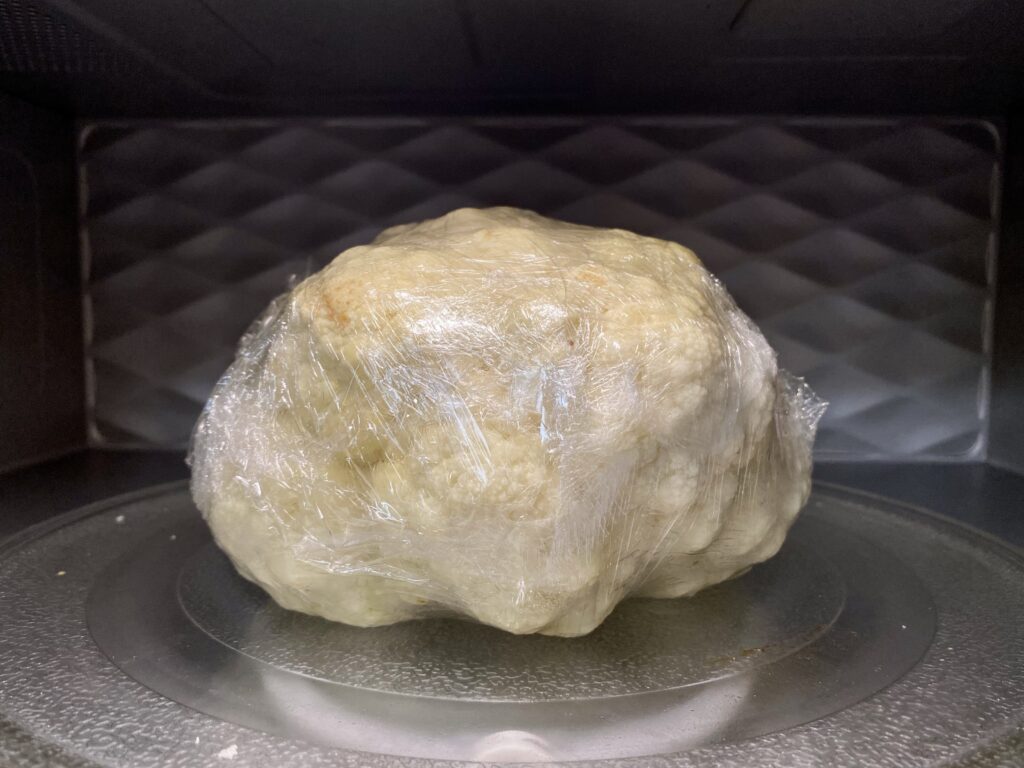 Cooking Cauliflower Whole
The first step is to cook the cauliflower. My cauliflower was HUGE.
I like to cook cauliflower whole in the microwave. I remove all the leaves, wet the cauliflower, and double wrap it in plastic wrap to be completely sealed.
The cauliflower is then microwaved for eight minutes. Cooking time may vary by microwave and the size of cauliflower you are using. Try microwaving six minutes if you want your cauliflower more on the firm side.
Let the cauliflower sit until it's safe to handle. The cauliflower will be HOT, and steam will be released when the plastic is cut open.
Do You Want the Casserole Mild or Spicy?
While cauliflower is cooking, open a 28 oz can of green enchilada sauce. I used Las Palmas enchilada sauce in mild. This Mexican cauliflower casserole would be fantastic with a bit of kick from using medium heat enchilada sauce. The addition of cream cheese will cool down the spice level of medium.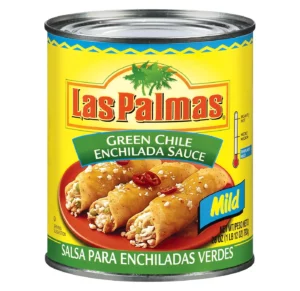 Pour green enchilada sauce into a small saucepan. Bring to a boil and then turn down to medium heat. Cook until the sauce gets thicker and reduces. I cooked the green enchilada sauce for about 15 minutes, stirring often.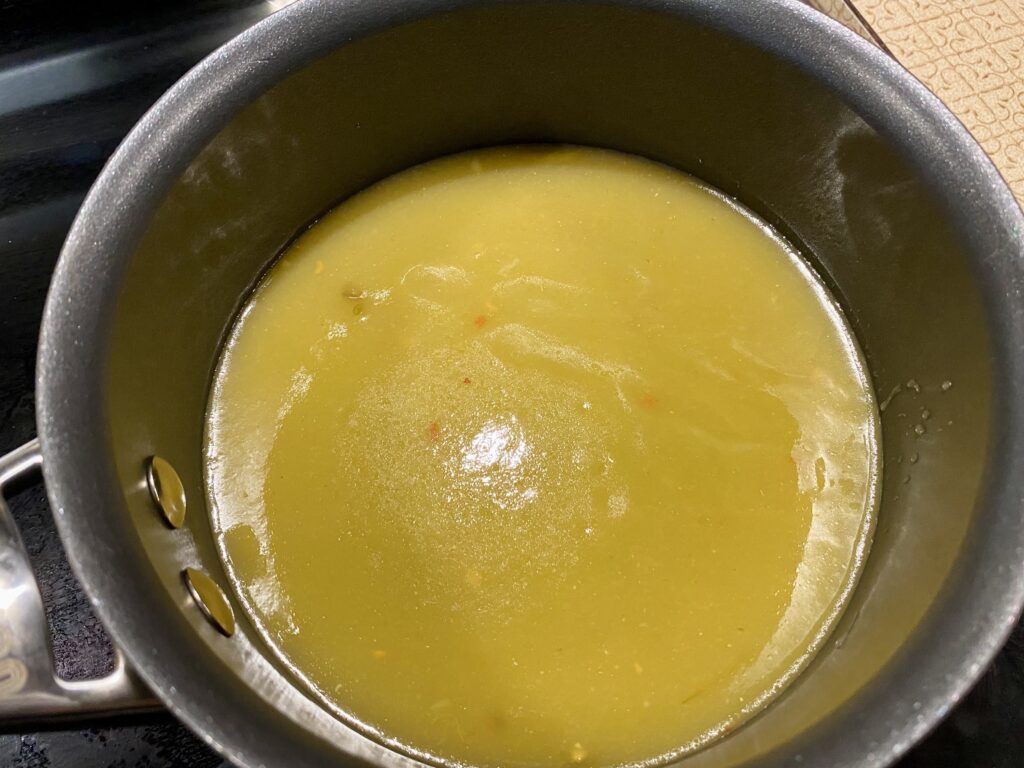 When the sauce is thickened up, add two cans of drained, chopped green chilies. I used mild chilies.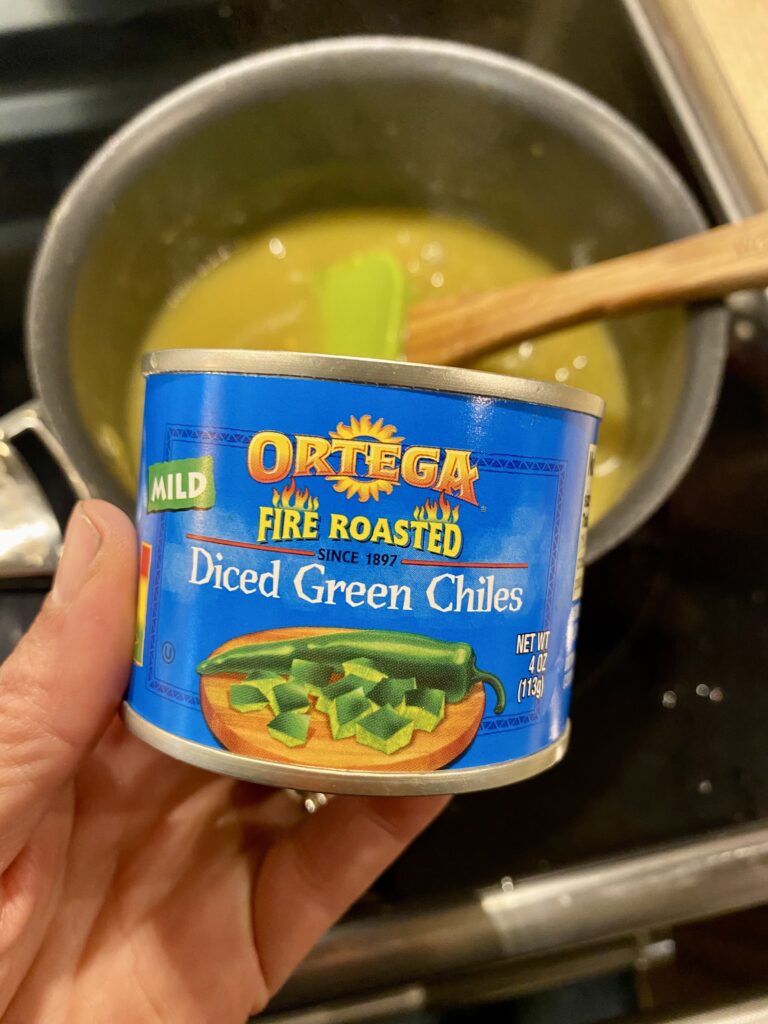 And four ounces of room temp cream cheese. This equals half a block.
The cream cheese will melt into the green enchilada sauce. Take the back of your stirring utensil and smash the more significant pieces to help them dissolve. Don't be worried about small amounts of cream cheese NOT melting. They will melt in the oven.
The green chile casserole sauce should resemble the picture below.
Now it's time to cut the cauliflower into bite-sized pieces. Place the chopped cauliflower into a large bowl. Season heavily with salt, black pepper, and garlic powder.
Pour the cheesy green chile sauce over the cauliflower. Add a handful of shredded cheese.
Stir to combine, taking care not to break up the cauliflower.
Add the cauliflower bake mixture to a casserole dish sprayed with non-stick spray.
Top with grated cheese. I used a Mexican blend.
Bake at 350 for 25-30 or until the cheese is browned the way you like it and the center is bubbling.
While the cauliflower casserole was baking, I visited with these beauties. They are always happy to see me because they want dinner.
This is Yum Yum the Goat Girl. We adopted her a few years ago from a co-worker whose father-in-law could no longer keep her. She came with a "sister," a Nigerian Dwarf goat named Jewel. Jewel is a hilarious goat!

Yum Yum came with the name Yum Yum, but she is NOT on the menu. Look at that smile! She is so photogenic!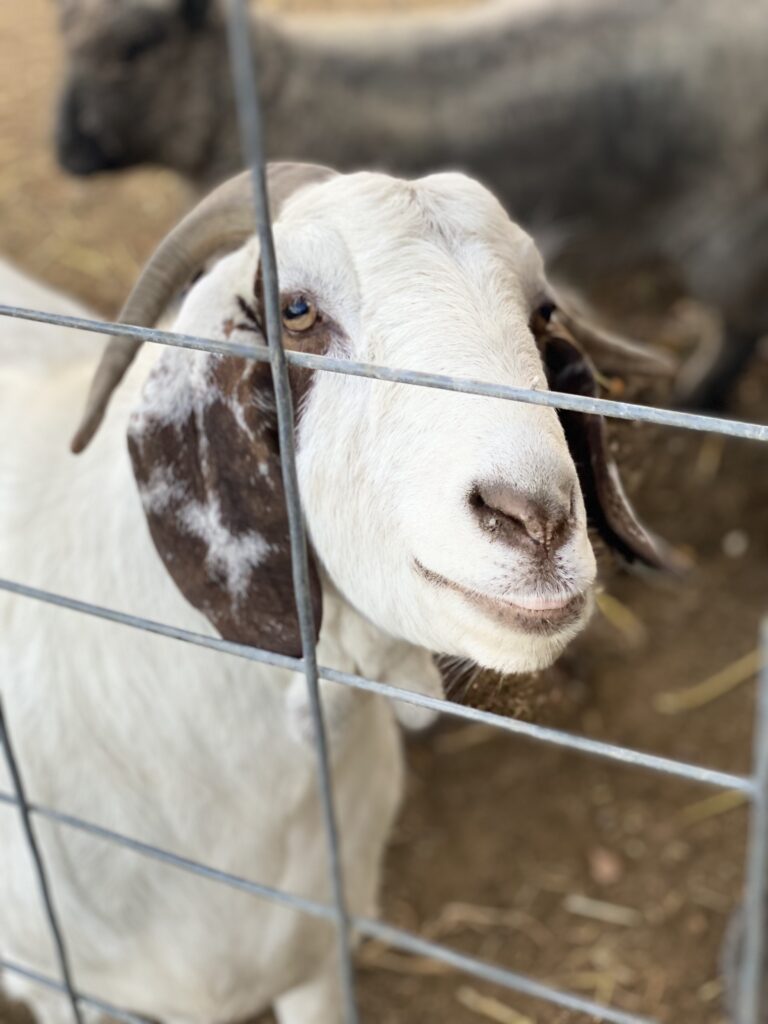 This is Betty; she is a Blank Angus. Isn't she beautiful? She is probably one of the most intelligent cows we've ever had.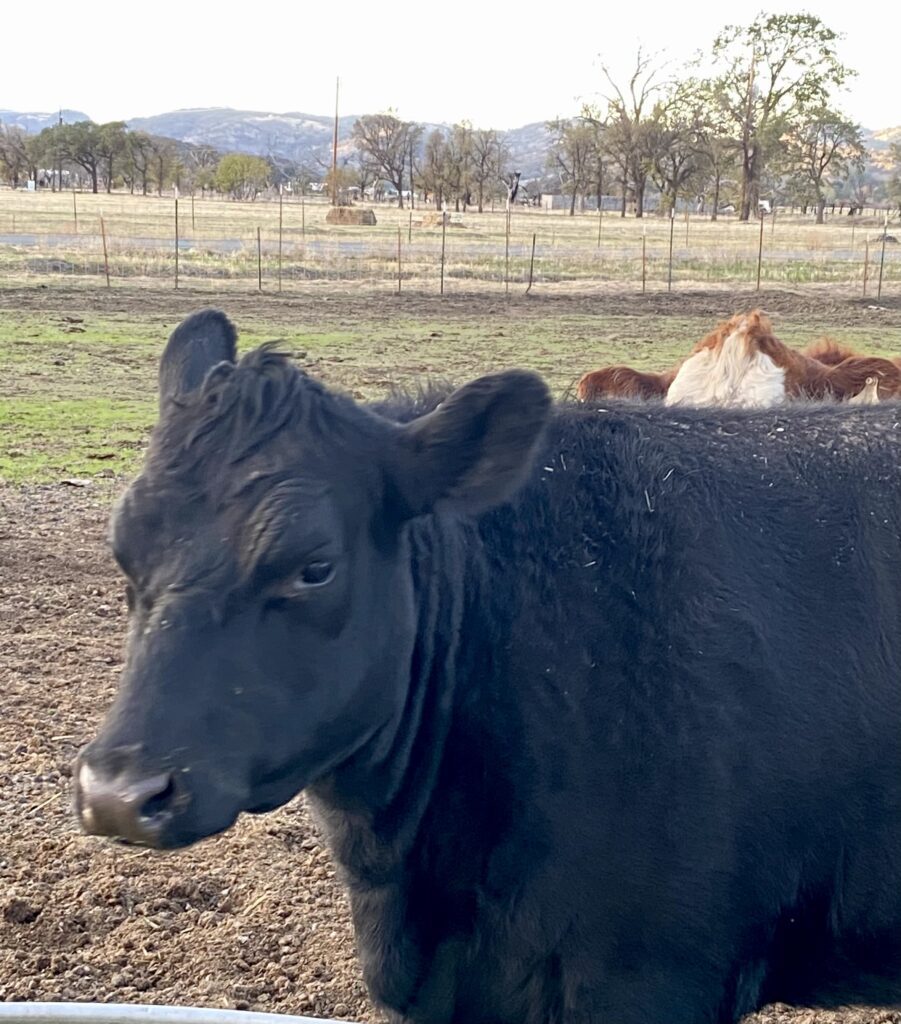 Below are Betty's best friends, Herefords and a Black Baldy named Charlotte, a cross between a Blank Angus and Hereford (she has horns).
30 Minutes Later . . .
After baking for 30 minutes, the cauliflower casserole should be nicely browned.
Let the baked cauliflower with cheese sauce casserole sit on the counter for about 10 minutes, so it sets up.
Note in the photo below how the baked cauliflower and cheese casserole is NOT watery? The casserole is undoctored; I didn't absorb excess moisture with a paper towel because there wasn't any excess moisture.
This is precisely the result I was looking for, and this is what makes this dish like a healthy version of traditional green chile rice casserole.
What to Serve With This Green Cauliflower Casserole With Cheese
BBQ'd anything & everything
These delicious black beans are made from canned beans, but you'd never know it.
Fried Chicken
Baked Chicken
Rotisserie Chicken
Fish
Smoked Meats (we ate this green chile cauliflower casserole with smoked pork and smoked beef topped with BBQ sauce).
New Blackstone Steak Fajitas Web-Story
Check out the first Web-Story I ever made. It is for my Blackstone Steak Fajitas. <— Link and the image below is also a link. I'm not sure where I've been, but I first heard of web-stories last week.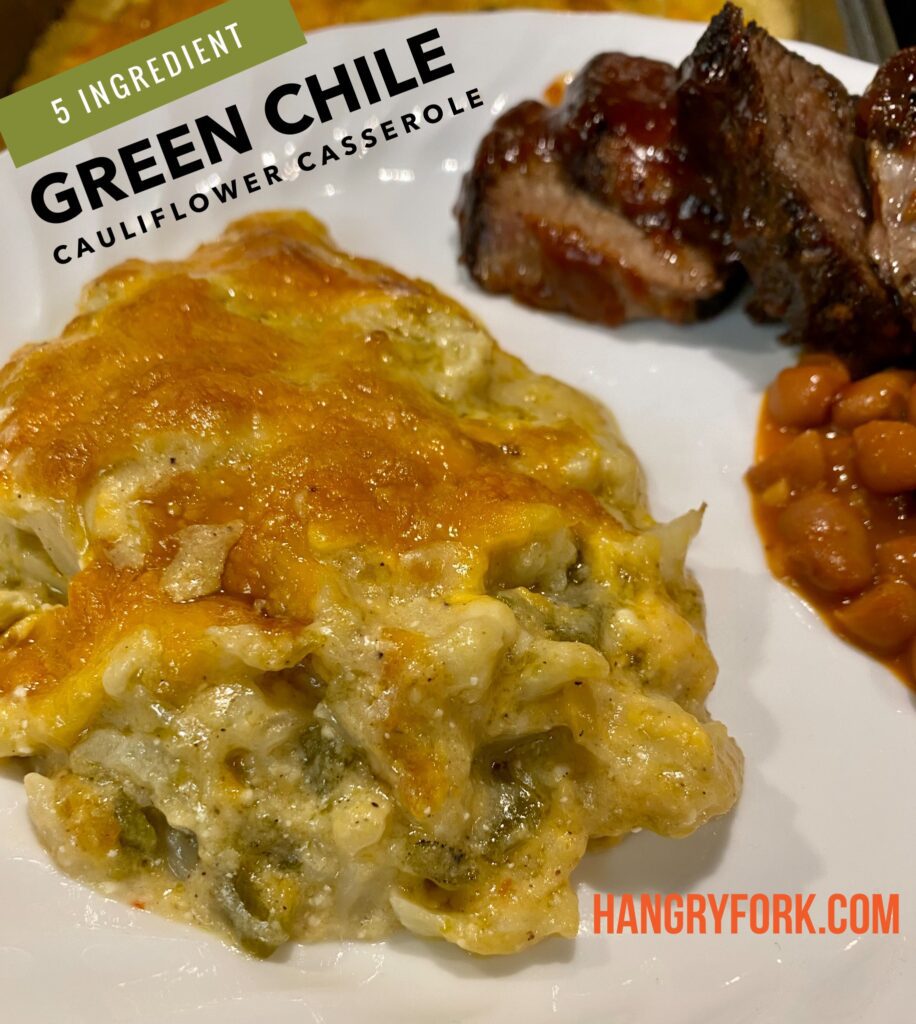 Easy 5 Ingredient Green Chile Cauliflower Casserole
Delicious keto green chile cauliflower casserole with cheese. This is a low-carb spin on green chile rice casserole and is sure to become a family favorite.
Ingredients
1

ea

large whole cauliflower

1

ea

can green enchilada sauce - 28 oz

I used mild

2

ea

small cans chopped green chilies

4

oz

cream cheese

room temp

1

dash

salt, black pepper, and garlic powder
Instructions
Preheat oven to 350 degrees.

Open a can of green enchilada sauce and pour It into a small saucepan. Bring to boil then turn down to medium heat and continue to boil, stirring often to reduce the sauce and thicken it. This takes about 15 minutes.

While the sauce reduces cook cauliflower using your favorite method.

I like to steam microwave whole cauliflower heads. Remove outer leaves. Flip cauliflower upside down and run under the faucet. Double wrap cauliflower in plastic wrap so it is completely sealed.

Microwave eight minutes for a large cauliflower. Remember, you want the cauliflower to be cooked but not mushy. If your microwave is extra powerful or your cauliflower is small, you may need to reduce the microwave time.

After green enchilada sauce has started to thicken add in the cream cheese. Break up the cream cheese with the stirring utensil. Continue to cook the sauce, stirring often until the cream cheese is melted or broken down into tiny pieces (these will melt in the oven).

When the cauliflower has cooled down a little and is safe to handle, cut open the plastic wrap. Open the cauliflower and flip it stem side down onto some paper towels to drain.

Chop drained cauliflower into bite-sized pieces. Season generously with salt, black pepper, and garlic powder.

Add green chile sauce to chopped cauliflower. Add one handful of shredded cheese. Gently stir to combine.

Spray a casserole pan with non-stick spray. Add cauliflower green chile casserole mixture. Top with another handful of shredded cheese.

Bake 25-30 minutes.

Remove from oven and let the cauliflower casserole sit on the counter for 10 minutes before serving.
*** This post contains Amazon Affiliate links.