I love this Doritos taco salad recipe! The Doritos really make the dish. This dinner salad is easy to make and tastes amazing, it's a great alternative to tacos or burritos. In about 30 minutes dinner is ready. I topped this taco salad with my favorite Mexican restaurant style salsa.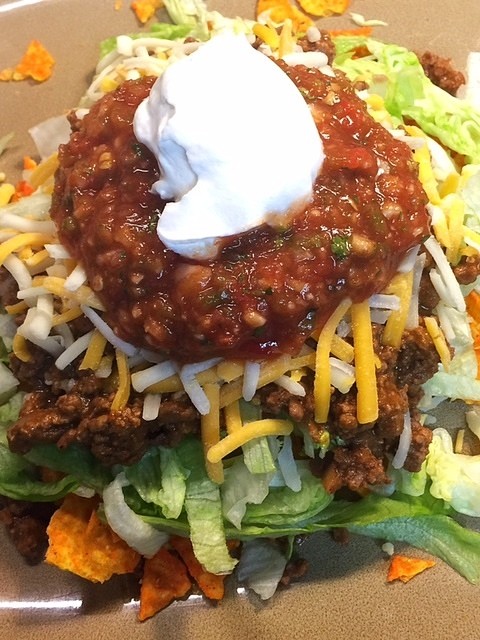 I am feeding a big family, so I used three pounds of ground beef. Scale the recipe for your own family needs.
Doritos Taco Salad Recipe Ingredients
Seasoned taco meat
Can of refried beans
Shredded taco, Mexican, or cheddar cheese
Doritos nacho chips
Iceberg lettuce
Fresh salsa – or you can make your own, it's so easy!
Sour cream
Doritos Taco Salad Taco Meat Seasoning
This is a great taco seasoning recipe it's really easy and you'll save a bunch of money when you ditch the taco seasoning packages.
For EACH pound of browned ground beef add in the following spices (or use your favorite taco seasoning packet):
1 tablespoon chili powder
1 teaspoon salt
1/2 teaspoon paprika
1/2 teaspoon garlic powder
1/4 teaspoon onion powder
1/4 teaspoon cumin
Pinch of cayenne powder (optional)
Pinch of chipotle powder (optional)
After the meat is browned I then add in a can of refried beans. This stretches the meat and tastes delicious.
How to Assemble Doritos Taco Salad
Smear your plate with a little meat/bean mixture, this keeps the taco salad from sliding off your plate if you turn around fast by giving the chips something to hold onto. I'm sure you can figure out that I learned this the hard way.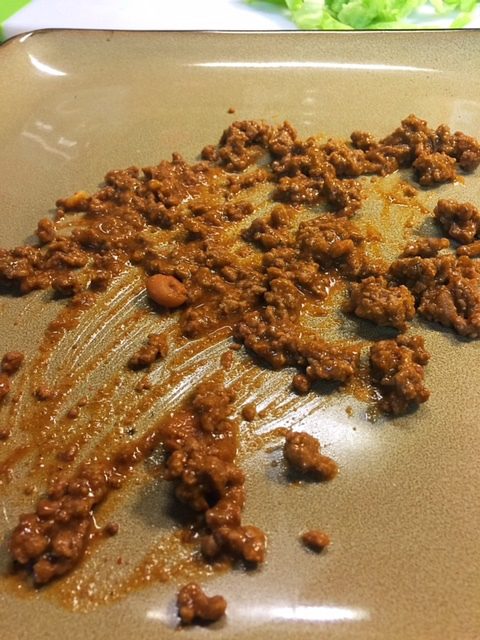 Next is a layer of crushed Doritos. Crush the Doritos just a little in the Doritos bag.
Top Doritos with sliced iceberg lettuce.
Next is a layer of warm taco meat/refried beans mix.
Top the meat mixture with shredded cheese.
Add some fresh salsa.
Top with sour cream.
Optional Addons:
Top with minced green onions
Nacho rings
Tapatio (hot sauce)
Sliced or cubed avocados
Guacamole
Disclosure: This post contains Amazon affiliate links.