This pizza dough is so easy to make and tastes fantastic! The dough isn't labor intensive, but it does take awhile to rise, trust me, it's worth the time! You will have pizzeria quality crust at home. Say good buy to frozen pizza! Make your own pizza at home, save some money.
Pizza Night
My kids love pizza, what kid doesn't? For many years now, we've had pizza night home on most Fridays.
Reasons to Make Pizza Dough at Home
Homemade pizza dough saves money. You won't be dependent on your local pizza parlor or tasteless frozen pizzas.
You control the toppings. I don't really care for bell peppers, so I make the pieces of bell pepper big so I can easily pick them off. 😀 I don't care for super meaty pizzas, but my husband can't get enough meat. The solution for us is separate pizzas, so everyone gets what they want.
Homemade pizza isn't as greasy. Unless you want greasy pizza! You are in control here, make it your way!
Use up ingredients you already have on hand. Making pizza is a great way to clean out the frig. Use up the little leftovers you have on hand. Do you have extra spinach and a bell pepper in your frig? Add them to your pizza? Extra taco meat? No problem, make Tostada Pizza.
Ingredients for Pizza Dough
You probably already have all the ingredients to make the best pizza dough recipe at home.
Flour
Active Dry Yeast
Sugar
Salt
Warm water
Olive oil
I buy active dry yeast at Costco. I think I bought this two-pound bag for about $4 or so. Yeast should always be stored in the refrigerator (it'll last longer).
I make this recipe in my KitchenAid Stand Mixer. Add warm water to active dry yeast and sugar in the bowl of the mixer. Give it a little stir and set it aside for about 10 minutes. The yeast should now look like this picture.
Now it's time to add in flour (I use unbleached) and salt.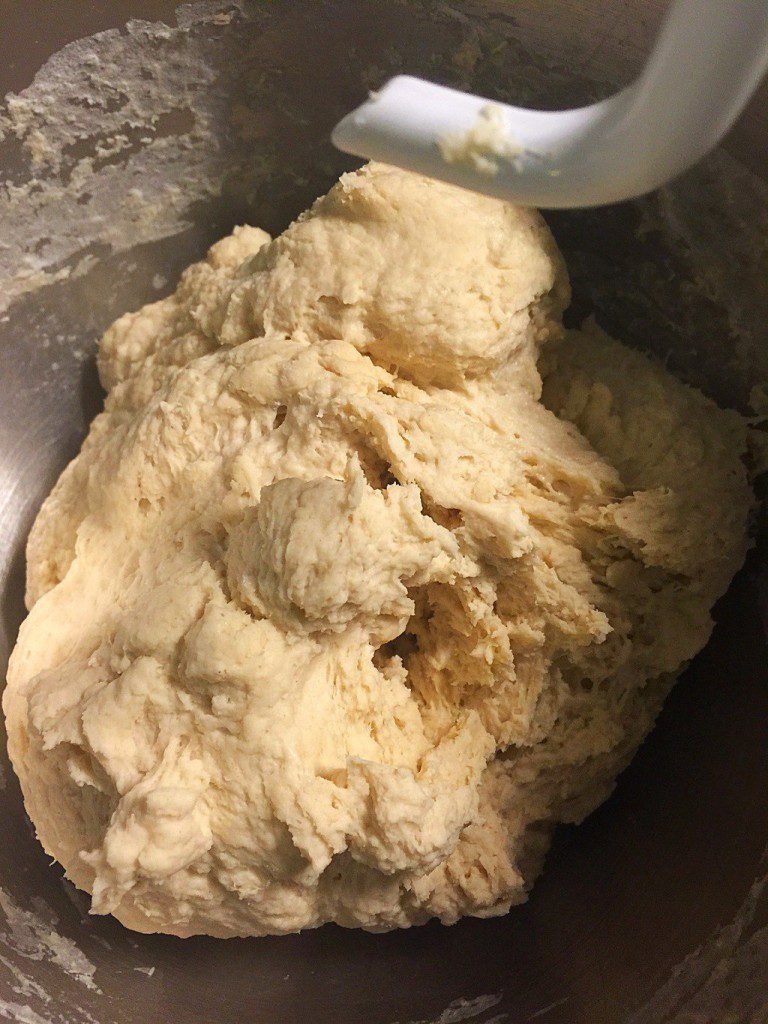 Lock the Kitchenaid mixer down (that lever on the right side of the machine) and use your dough hook, mix until all the flour is mixed in and then one minute more. Your dough should like something similar to the photo at the left.
Now it's time to coat the dough with olive oil. Drizzle some olive oil on the pizza dough ball, flip it over and drizzle a little more. You want the whole dough ball coated with a very light coat of olive oil.
Cover the dough with plastic wrap, and set it aside for about an hour, or until the dough has risen and is almost level with the sizes of the kitchenaid mixer bowl. The dough should be placed in a warm draft free area that's not too cold.
My Confession: When I first made this recipe, I was in a big hurry and thought I could speed up the yeast doing its thing by placing the kitchen aid bowl in a warm oven and letting the dough rise up there. I really don't recommend doing this at all. The results of trying to speed things up in the warm oven just weren't worth it. Take the time to let the dough rise on its own.
After an hour the dough should look something like this, minus where I touched it with my finger.
Now it's time to hand knead the dough. On your clean kitchen counter or cutting board, sprinkle a little flour. Take the dough out the mixer bowl and hand kneed it for about five minutes. If the dough sticks add a little more flour. Form into a ball, and again, drizzle with olive oil on all sizes.
Cover and let rise again. When the dough has risen again, it should look like this.
Here's an unbaked linguica, bacon, onion, bell pepper pizza that's ready to go into the hot oven. This pizza used half the dough from the recipe below. I layer my pizza's like this: PAM sprayed pan, dough, pizza sauce, mozzarella cheese, cooked meat toppings, vegetables, and a little more cheese to lock everything down.
Homemade Easy Pizza Dough
This is an easy homemade pizza dough recipe.
Ingredients
2

packs active dry yeast

or five teaspoons

2

tablespoons

granulated sugar

2

cups

warm water

5

cups

flour

2

teaspoons

salt

2-3

tablespoons

olive oil
Instructions
In KitchenAid mixer bowl combine active dry yeast, sugar, and warm water.

Set aside until the yeast starts to bubble (about 10 minutes).

Add the flour, and salt to yeast mixture. With the dough hook and the KitchenAid on lock (so the hook doesn't try and jump up) mix until the dough is smooth and is pulling away from the bowl.

Lightly drizzle the pizza dough ball with olive oil (get all sides).

Cover the bowl and let rise about an one hour, or until the dough is doubled.

On a floured surface, hand kneed the dough for five minutes.

Place back in the bowl and drizzle with olive oil again. Cover and let rise again, until dough is about the same size as it was after the first rising.

Punch the dough down, divide in two (or three) and roll out on pizza pan sprayed with PAM.
Disclosure: This post contains Amazon affiliate links.
More Great Recipes