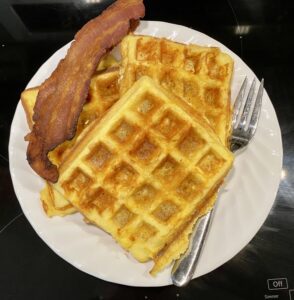 If you are craving waffles but are eating a low-carb lifestyle, this Keto Cream Cheese Waffles recipe is perfect for you!
I made Belgium waffles, but you can make regular waffles or mini waffles on a Dash mini waffle maker. I ate these low-carb waffles with a side of perfectly baked bacon.
I have a DASH waffle-maker, and while I love my cute little Dash, I don't love standing there and making each waffle. So I use this little guy for making chaffles.


Blend just seven ingredients into a stand mixer or blender. Let the batter sit for a few minutes, and then pour the batter into a waffle maker with a bit of grated cheese. You'll have AMAZING waffles that will cure your waffle craving.
My husband and I love to top these keto Belgium waffles with Lakanto Flavored Maple Syrup.
There are so many great options for low-carb syrups these days. If you can't find a sugar-free syrup you like, keep trying different brands until you find a keeper. This is how I found Lakanto Maple Syrup.
Keto Cream Cheese Waffles Ingredients
Cream Cheese – Room Temp
Eggs
Almond flour – This stuff is incredibly nutritious!
Artificial sweetener (I used Swerve)
Baking Powder
Vanilla Extract
Shredded Cheese
How to Make This Keto Waffle Recipe
Blender Waffle Instructions
Combine cream cheese, eggs, almond flour, sweetener, baking powder, and vanilla. Pulse until combined.
Stand Mixer or Hand Mixer Waffle Instructions
Place cream cheese and vanilla in the bowl. Beat to combine. Scrape down the sides and beat some more.
Add in eggs and blend.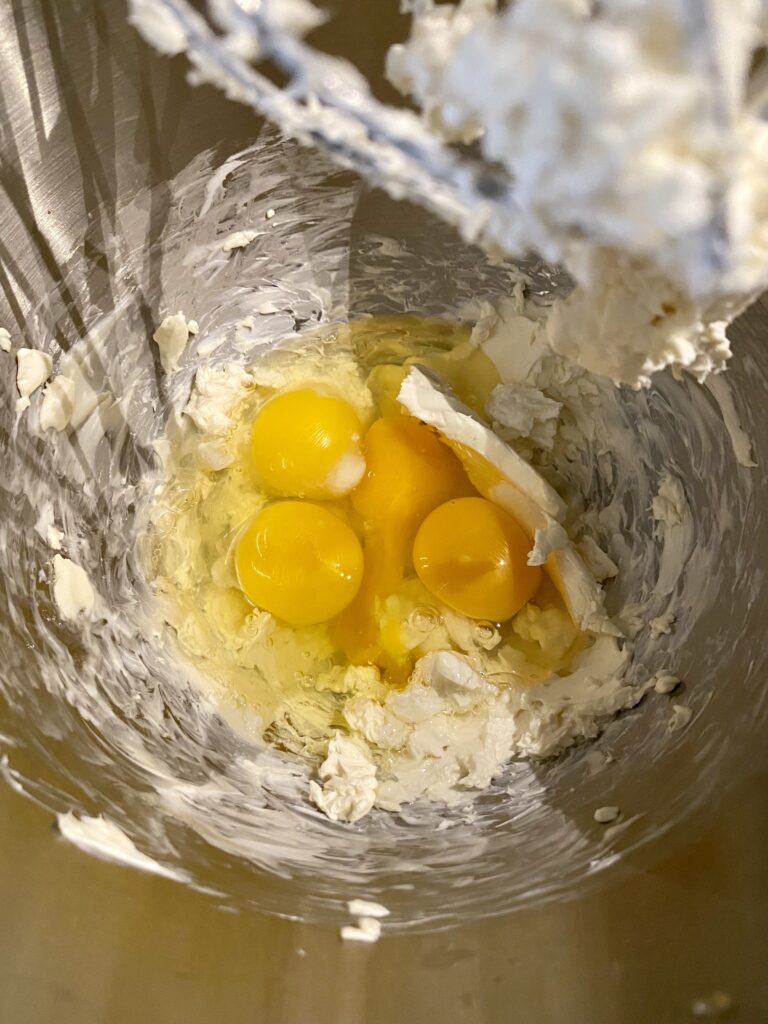 Add almond flour and baking powder to the mixture. Combine.
Your low-carb waffle batter should look similar to below.
Scrape the sides down with a spatula.
Put the waffle batter aside for 10-15 minutes. The almond flour will absorb some of the egg, and the mixture will become slightly thicker.
After resting 10 minutes or so, the batter should look similar to below.
I made these waffles in my SUPER OLD trusty Toastmaster Belgian Waffle Maker.
Warm-up your waffle maker. When the waffle maker is up to temp and ready to go, spray down the inside top and the bottom with some non-stick cooking spray.
Put a little layer of grated cheese.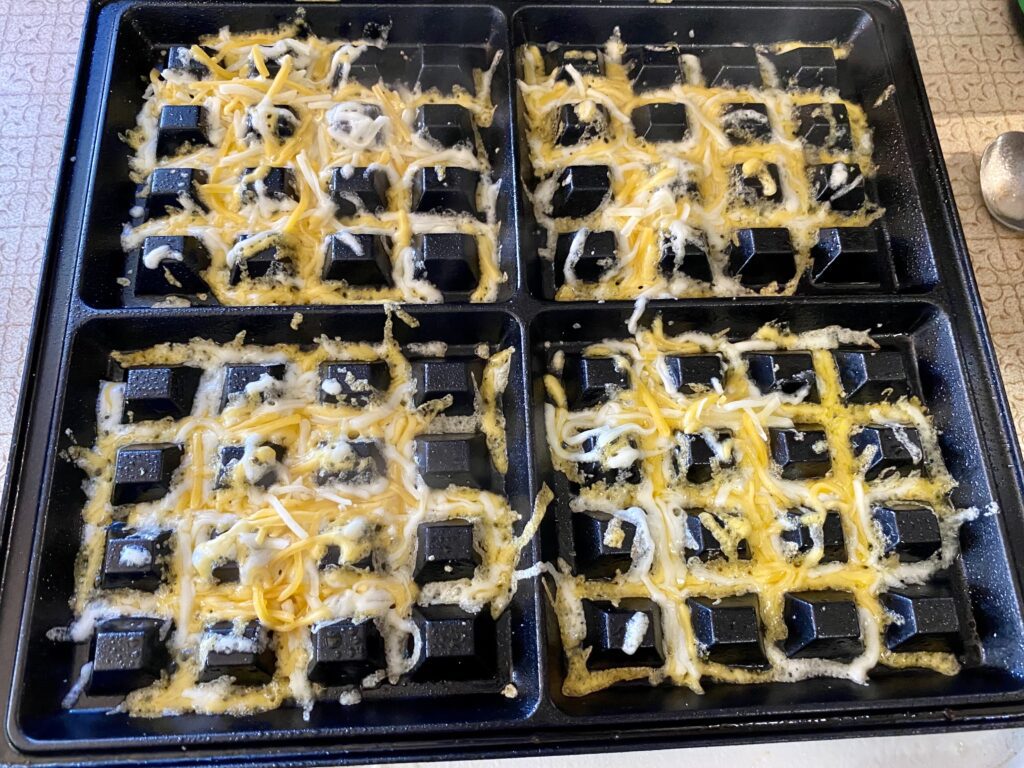 Immediately top cheese with keto cream cheese waffles batter. Top with another thin layer of shredded cheese.
I didn't take a picture of the waffles with a bit of cheese on top but do NOT skip this step. I did top them with cheese.
See all the little bits of cream cheese in the batter? They won't matter once the waffles are cooked, and you won't be able to taste or see them.
Close the lid and let the magical waffle maker do its thing.
After three minutes (depending on what type of waffle maker you are using), the waffle maker light will let you know your waffles are ready.
Carefully remove the glorious low-carb waffles from the waffle maker.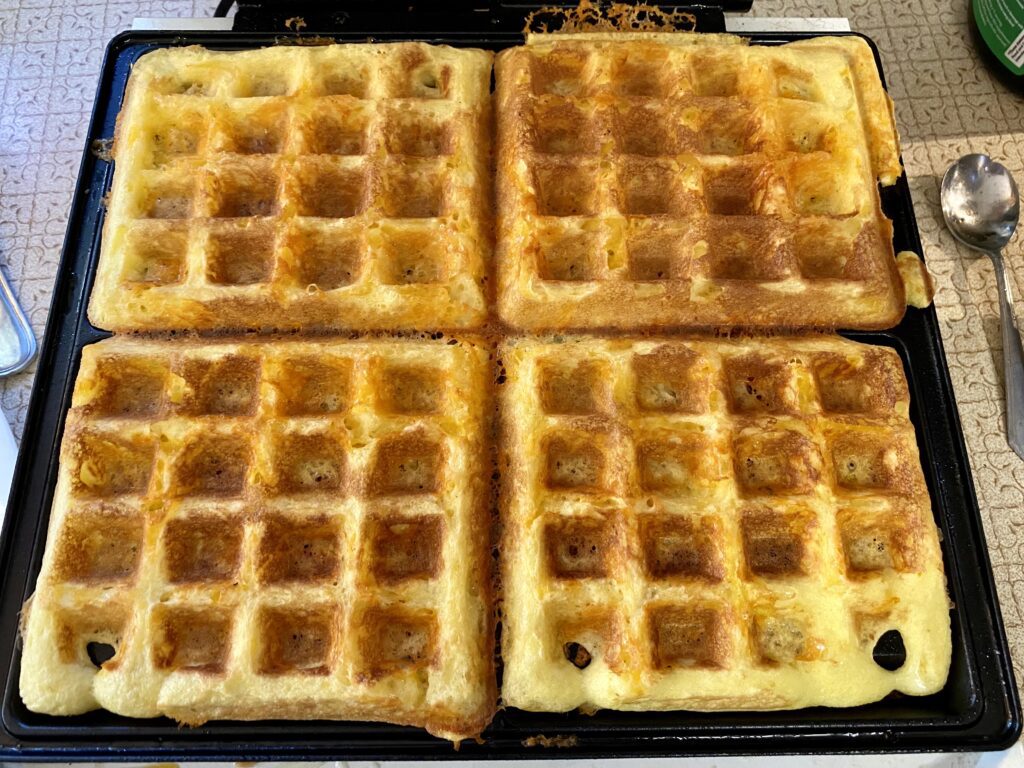 Don't they look good? Here's a close-up.
Here's a pile of Keto Cream Cheese Waffles with some butter and Lakanto syrup. YUMMY!
Low Carb Waffles Addin Ideas
Here are some ideas add-ins ideas for waffles. Add a small amount of any of these to the batter.
Blueberries
Raspberries
Apple – peeled and chopped
Banana – peeled and mashed
Sugar-free chocolate chips
Sugar-free peanut butter
Bacon – cooked and crumbled
Sausage – cooked and crumbled
Ham – cooked and chopped into small pieces
Chopped nuts
Cinnamon
Cocoa powder – Add a little to the batter for chocolate waffles. You may have to add a little more sweetener.
Keto Waffles Toppers
Sugar-free syrup
Fresh berries
7 Ingredient Low Carb Waffles Recipe. This recipe is so easy to make!
Click To Tweet
Keto Cream Cheese Waffles Recipe
Easy 7 Ingredient Keto Cream Cheese Waffles
Yield: 3 servings

Prep Time: 15 minutes

Cook Time: 6 minutes

Total Time: 21 minutes

Easy keto waffles recipe made from scratch! These waffles are so good and will satisfy your waffle cravings without the carbs!
Ingredients
4 oz cream cheese - room temperature
4 eggs
3/4 cup almond flour
1 tablespoon sweetener (I used Swerve)
2 teaspoons baking powder
1 teaspoon vanilla extract
3/4 cups shredded cheese
Instructions
Mix all ingredients EXCEPT cheese.
Let the mixture stand for 10-15 minutes.
Heat up the waffle maker.
When the waffle maker is up to heat, spray the top and bottom of the interior with nonstick spray.
Add a thin layer of cheese.
Top with low-carb waffles batter.
Top with another thin layer of cheese.
Close the waffle maker and cook until the waffle maker light indicates it's done or 2-3 minutes depending on what type of waffles you are making.
Repeat until the batter is gone
Nutrition Information
Yield 4 servings Serving Size 1
Amount Per Serving Calories 383Total Fat 32gSaturated Fat 12gTrans Fat 0gUnsaturated Fat 17gCholesterol 236mgSodium 542mgCarbohydrates 8gNet Carbohydrates 5gFiber 3gSugar 3gProtein 17g

Nutritional information may not be accurate and is for entertainment purposes only.

*** This post contains Amazon affiliate links. If you make a qualifying purchase, I may receive a small commission. Thank you for supporting my site!
More Great Recipes