Easy Keto Candied Walnuts with chocolate made on the stovetop. These keto candies take about 30 minutes to complete. Add time between steps for cooling off and hardening. Cooling time will vary depending on the temperature of your home.
I have a fantastic recipe for Stovetop Candied Pecans; this recipe is not keto. It's one of my most popular recipes. The recipe takes 15 minutes to make and 15 minutes to cool down. You can make it with any nut.
Easy Keto Candied Walnuts
When hot but allowed to cool a little, these walnut candies are firm enough to pick up taste like regular (made with natural sugar) hot cookies straight from the oven. They are such a treat and do not taste like walnuts at all.
Keto Candied Nuts –
Keto Candied Walnuts vs. Keto Candied Pecans
I've made this recipe many times with pecans. I've also made it several times with walnuts, they are both equally delicious, and I'm not sure which one I prefer. I think they are tied.
If you want to make this recipe with pecans, swap them out for the walnuts in this recipe. Everything else is the same.
Equipment Needed to Make Stovetop Keto Candied Walnuts
Medium saucepan
Cutting board
Chef's knife
Easy Stovetop Keto Candied Walnuts Ingredients
Walnuts – Plain
Butter
Sugar replacement – I used Swerve
Heavy cream
Vanilla extract
Sugar-free chocolate chips
How to Make Keto Candied Walnuts
Prepare a cookie sheet by lining it with parchment paper. What is parchment paper? Here's a brief history.
Melt butter in a saucepan over med-high heat. Stir and cook the butter until it starts to brown. Don't have the heat so high that you burn the butter.
Brown the butter. Add the rest of the ingredients – butter, swerve, heavy cream, and vanilla extract. Simmer often stirring until the mixture looks the color of caramel.
Roughly chop walnuts.
Stir in chopped walnuts. Bring to boil on med-high and cook for 3 minutes, stirring constantly. The candy (liquid) will start getting thicker.

If you are unsure if the candy is cooked enough, you can test it by dropping a few drops on the prepared baking sheet lined with parchment paper.
Drop a few drops of keto candy on the parchment paper and let it cool. When it cools, it will be easy to pick up and start turning solid.
The picture below shows that the smaller drop has changed colors, and when I moved the parchment paper, the little bubble of candy popped right off. The more significant drop took a few more minutes to cool/firm up, but it also popped right off the parchment paper.
Remove from heat and let sit on the counter to cool 5-6 minutes. As the mixture cools, it will thicken.
Using two spoons, one to scoop and the other to push the mixture off the scooping spoon, drop spoonfuls of candied walnuts onto a parchment-lined cookie sheet.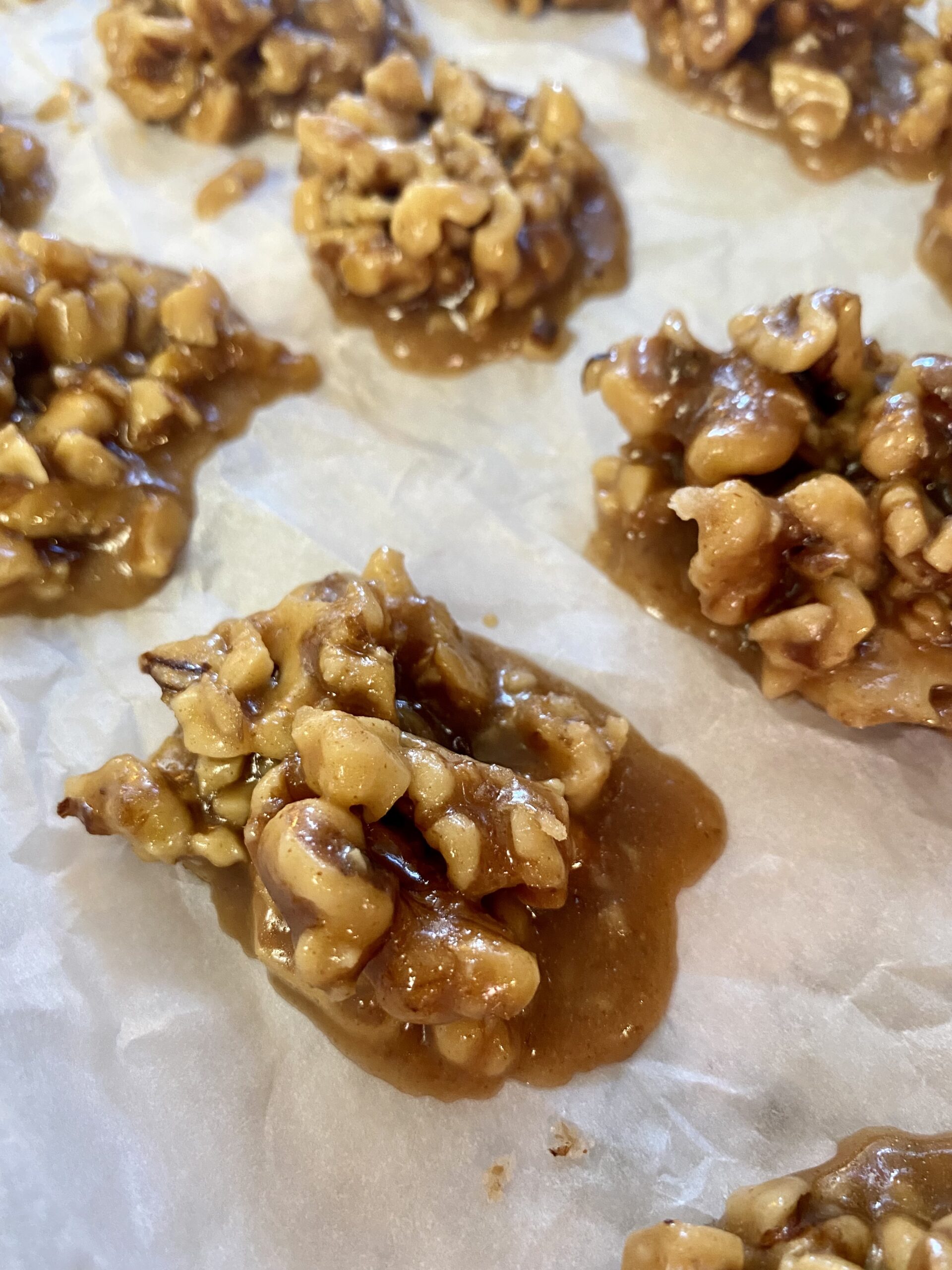 Let the candy cool on the countertop until firm. If you are in a hurry, you may stick the sheet pan in the freezer for 15 minutes.
Microwave keto-friendly chocolate chips in a mug. Cook 30 sections, stir, and repeat until melted. I think it took 60 seconds for my sugar-free chocolate chips to melt.
Spread chocolate on top of walnut candies. I used a butter knife. If you are in a hurry, you can put the sweets back in the freezer to firm up the chocolate. Do NOT leave in more than 10 minutes, or the chocolate may turn whitish.
Store these keto walnut candies in a container. In between layers, add a piece of parchment paper.
Easy stovetop keto candied walnuts recipe. No one will know these tasty candies are keto.
Click To Tweet
Keto Candied Walnuts Recipe
Keto Candied Walnuts
Yield: 8

Prep Time: 5 minutes

Cook Time: 15 minutes

Additional Time: 15 minutes

Total Time: 35 minutes

Easy stove top Keto Candied Walnuts recipe.
Ingredients
CANDY:
1 stick butter
1 cup Swerve
1/2 cup heavy cream
1 teaspoon vanilla extract
1 pinch of salt
3 cups chopped walnuts (divided)
1 cup sugar free chocolate chips
Instructions
Prepare a sheet pan by placing one sheet of parchment paper over the sheet pan.
Chop 2.5 cups of walnuts and set them aside. Finely chop the remaining 1/2 cup walnuts.
In a saucepan over medium-high heat, melt butter. Cook butter stirring constantly until butter begins to brown.
Add Swerve, heavy cream, vanilla extract, and a pinch of salt.
Continue cooking over medium-high heat. Bring mixture to a boil and cook stirring constantly for three minutes.
Add walnuts and continue cooking for three minutes or so over medium-high. Start the time once the mixture comes to a boil again. Stir constantly!
Remove from heat. Let sit three minutes, give the mixture a stir and let set another three minutes. You'll notice the keto candy walnut mixture will begin to firm.
After six-seven minutes use a tablespoon to spoon the mixture into cookie-sized candies on the parchment paper. Stir the walnuts through the liquid candy and then place them on parchment paper.
Let the candies sit to get firm. If your house is super warm, you may want to speed things up by placing the sheet pan in a freezer for 15 minutes.
Microwave one cup of sugar-free chocolate chips for one minute, stir after 30 seconds.
With a butter knife, spread a layer of chocolate on each keto candied walnut candies.
Let cool. Again to speed things up you may want to put the sheet pan in the freezer for 10-15 minutes. Don't leave in longer or the chocolate may turn colors.
Nutrition Information
Yield 8 servings Serving Size 8 servings
Amount Per Serving Calories 585Total Fat 57gSaturated Fat 19gTrans Fat 1gUnsaturated Fat 34gCholesterol 47mgSodium 112mgCarbohydrates 14gNet Carbohydrates 7gFiber 5gSugar 2gProtein 10g

Nutritional information may not be accurate and is for entertainment purposes only.

*** This post contains Amazon Affiliate links. If you make a qualifying purchase, I may receive a small commission at no additional charge to you. Thank you for supporting HangryFork!
More Great Dessert Recipes