Spicy Keto Korean Gochujang Chicken Wings are one of my favorite low-carb chicken wing recipes.

The Gochujang paste makes these wings spicy and finger-licking good!

If you can find chicken wings at the grocery store and are in the mood for easy oven-fried Gochujang wings then you need to try this recipe!

I served these oven baked Gochujang wings with a simple cucumber radish salad. Cucumer chunks, radish slices, onion and a few cherry tomatoes were tossed with some seasoned rice wing vinegar.
What is Gochujang Paste or Gochujang Sauce?
Gochujang paste is a spicy Korean paste. It's a fermented chili paste that adds a rich deep flavor to dishes.

Some people use Sriracha and Gochujang Paste interchangeably, but they are different.
Where to Buy Gochujang?
I bought mine on Amazon. You can purchase Gochujang on Amazon in one pound packages. This Korean paste is inexpensive and with proper storage, lasts a long time in the refrigerator.
How Many Carbs Are In Gochujang?
Sunchang Gochujang paste has 8 net carbs per tablespoon.
This recipe calls for ONE TABLESPOON of gochujang paste for the WHOLE recipe.
What Can You Make With Gochujang Sauce?
Gochugang Mayonnaise – Mix 1/2 cup mayonniase with 1/2 to one teaspoon of gochujang paste.
Gochugang Deviled Eggs – Mix 1/2 teaspoon of gochujang into your deviled egg filling. the gochujang will give the deviled eggs a nice kick of heat.
KimChi Stew – Recipe Here
How to Cook Gochujang Chicken Wings
I like oven frying chicken wings because this cooking method is hands-off. I'm not stuck in the kitchen flipping wings. If I'm making a small batch of wings, I'll air fry them.
Oven fry
Air fry
Deep fry
Fry in skillet in oil
Equipment Need to Make Korean Gochujang Chicken Wings
Baking Sheet With Sides
Mixing Bowl
Tongs
Korean Gochujang Chicken Wings Ingredients
Chicken wings – separated into flappers and drummettes, tips disgarded or used for another reicpe.
Butter
Sesame Oil
Ginger Powder
Minced Garlic
Sugar Substitute
More Crispy Baked Chicken Wings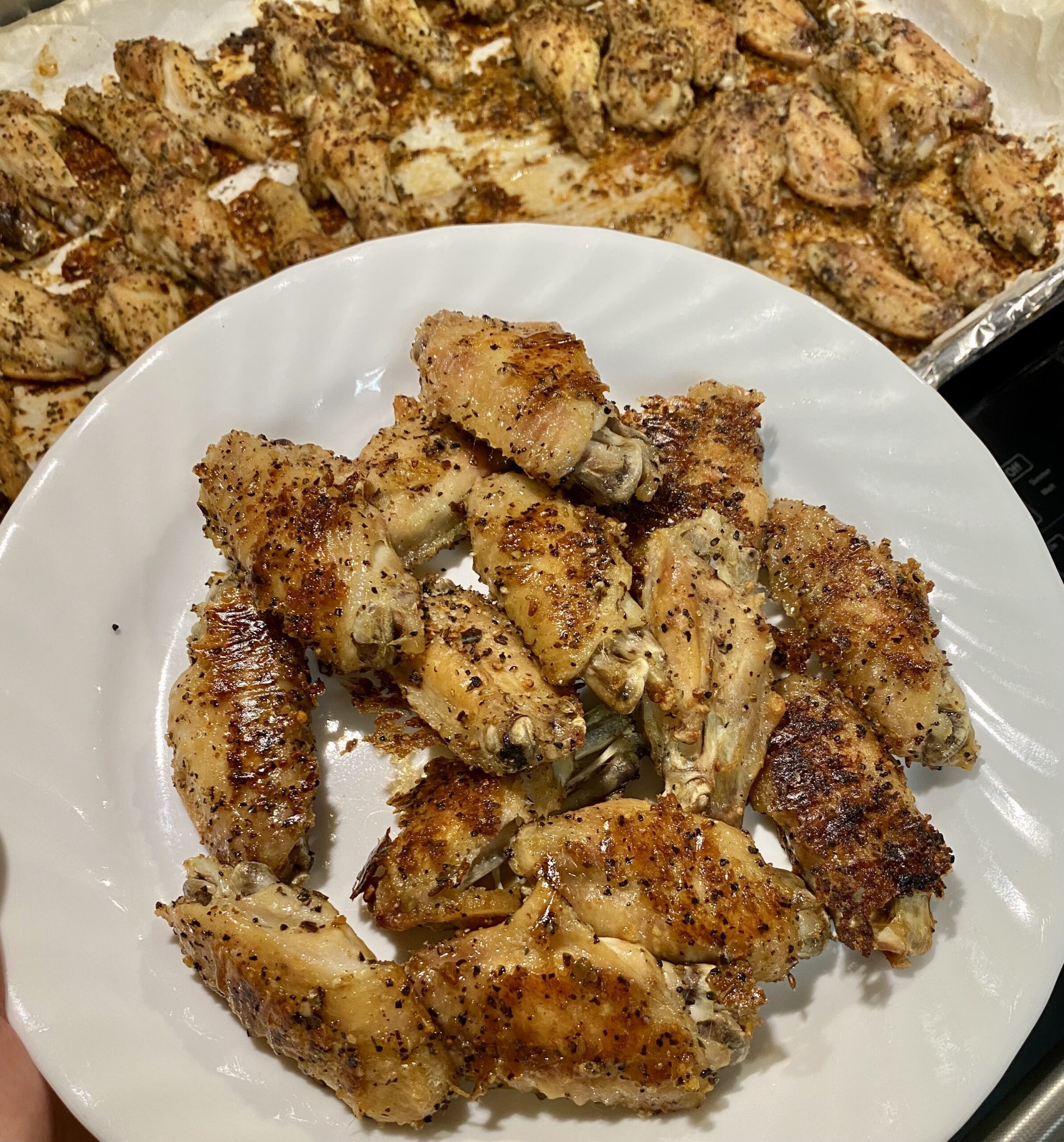 How to Make Keto Korean Fried Wings
The chicken wings are seasoned with basic seasonings.

I seasoned these low-carb chicken wings with salt, black pepper, garlic powder, and a little baking powder.

The baking powder is optional but helps to crisp the chicken wings.

The spicy delicious Korean flavors that come from the gochujang will be added AFTER the wings are cooked.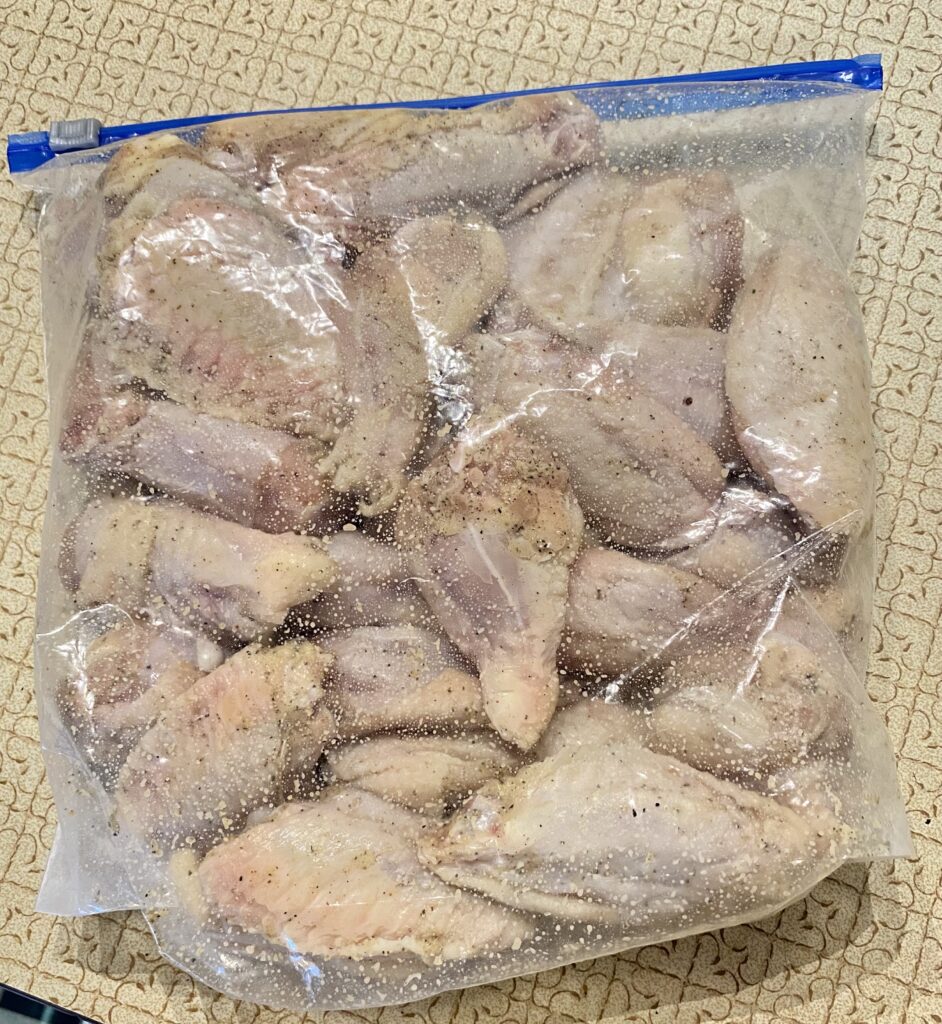 Preheat oven.

In a large ziplock, toss separated wing pieces with salt, black pepper, garlic powder, and a little baking powder.

Spread seasoned chicken wings on a baking sheet with sides and lined with parchment paper. Space the chicken wings out so that they aren't touching.

Bake wings for 20-25 minutes, baking time will vary according to size of wings. Flig wings, and then cook another 20-25 minutes.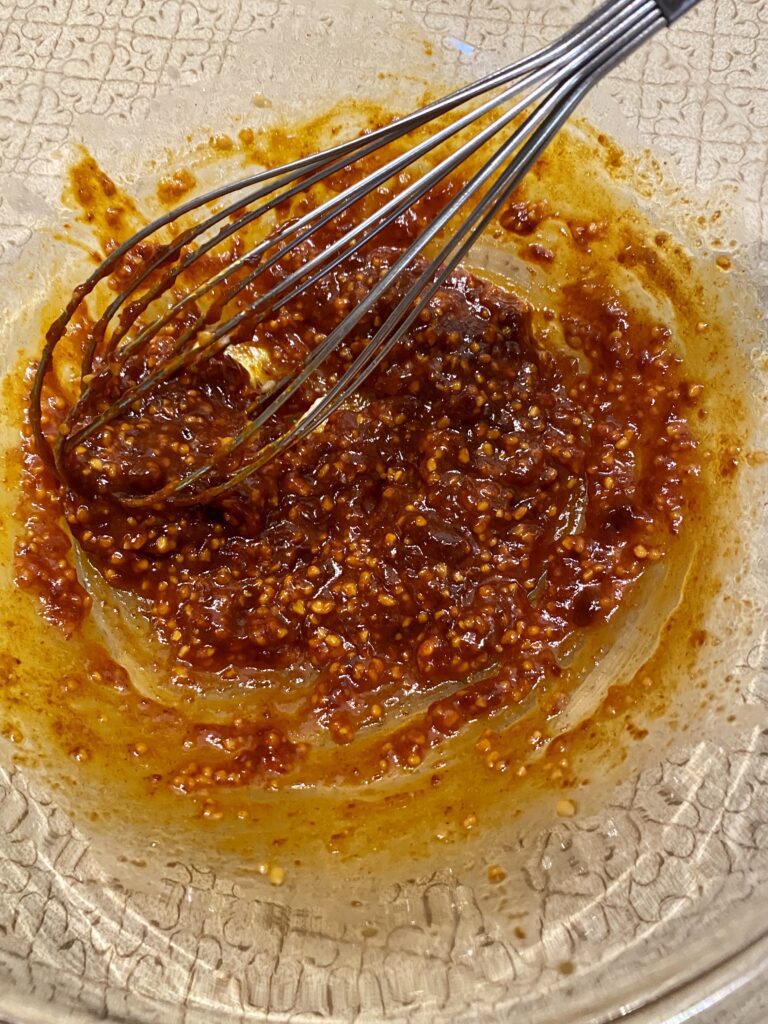 While chicken wings bake, prepare the gochujang sauce by whisking sauce ingredients together.

I made this batch of Gochujang Chicken Wings extra spicy by using two tablespoons of Gochujang, next time I will stick to using one tablespoon. The wings were so spicy, which my husband loves but heat was a little too intense for me.
When chicken wings are done baking, add them to the gochujang sauce mixture.
Toss chicken wings in gochujang sauce until the wings are fully coated.

Transfer the gochujang chicken wings back to the parchment paper lined baking sheet.

Return chicken wings to the oven and bake for 3-5 minutes or until the sauce has dried some. Check the wings every minute or so they do not burn.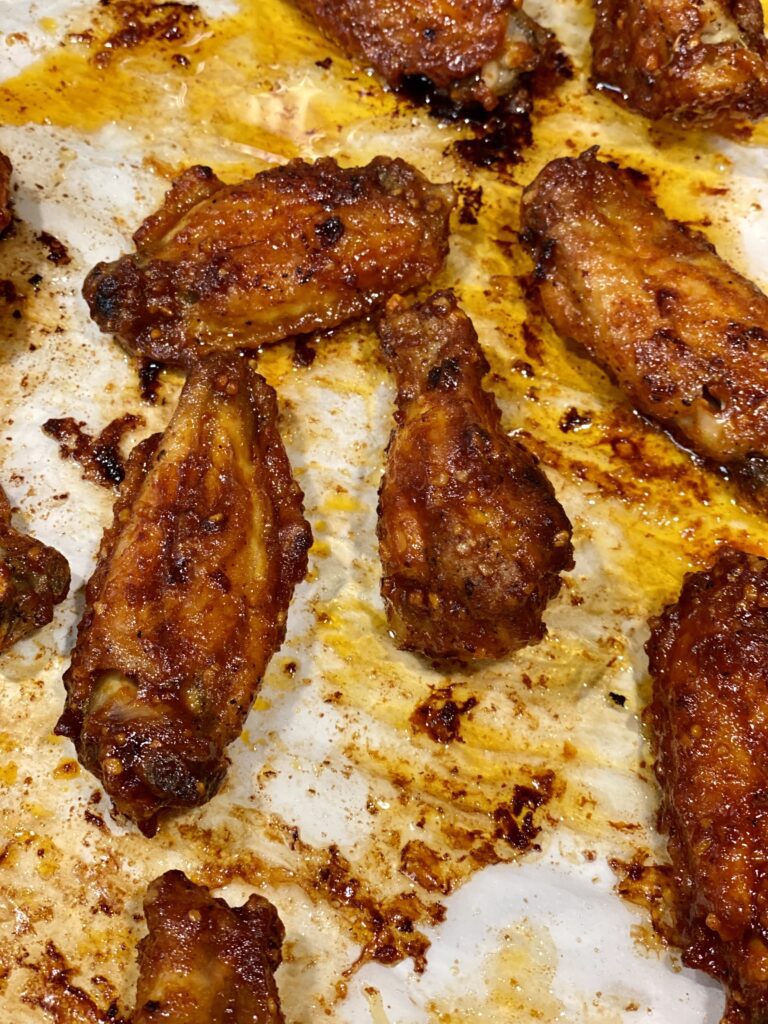 Gochujang Chicken Wings Recipe Card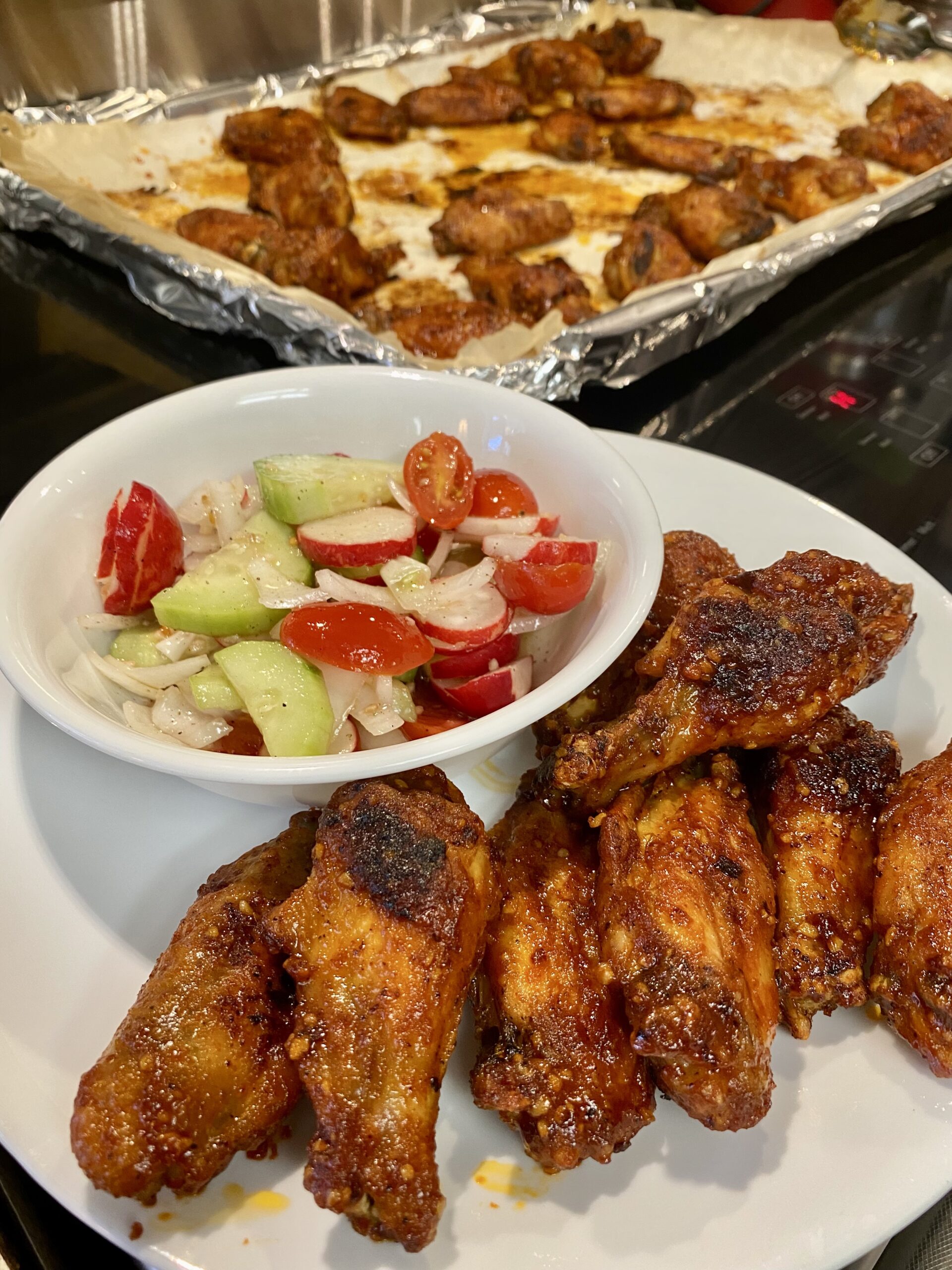 Gochujang Chicken Wings
Spicy Korean Gochujang Chicken Wings Recipe
Ingredients
For the Wings:
2 -3 pounds chicken wings - separated into drummettes and flappers
1 teaspoon salt
1 teaspoon black pepper
1/2 teaspoon garlic powder
1 teaspoon baking powder
Gochujang Sauce:
1 tablespoon Gochujang
1 tablespoon melted butter
1 tablespoon sesame oil
1 tablespoon minced garlic
1 teaspoon granulated sugar substitute (Swerve)
1/4 teaspoon ginger powder
Instructions
Preheat oven to 420 degrees.
Line baking sheet with sides with parchment paper.
In a gallon-sized ziplock toss, separated chicken pieces with salt, black pepper, garlic powder, and baking powder.
Place chicken pieces on a parchment paper-lined baking sheet. Space chicken pieces so that they are not touching.
Bake chicken for 20-25 minutes. Flip and bake another 20-25 minutes.
While chicken bakes, make the gochujang sauce by whisking together the sauce ingredients.
When chicken is done cooking, toss it with the gochujang sauce. Make sure all chicken pieces are coated.
Return coated chicken pieces to the parchment paper-lined baking pan.
Cook an additional 3-5 minutes. This will dry the sauce.
Meals with Chicken Wings
Here are some ideas for meals with chicken wings – great sides.
How Much is a Pound of Wings?
One pound of wings is 16 ounces.

Depending on how big your wings are there are 4-5 whole raw wings in a pound this includes the wing tip.
How Many Calories Per Chicken Wing?
One whole baked chicken wing without the tip has 250 calories. There are ZERO carbs.