Easy Keto Spaghetti Meat Sauce with cabbage noodles is ready to eat in about 30 minutes!
I like to add browned linguica pieces to the Keto spaghetti meat sauce because I love linguica, and it adds such a wonderful flavor to the keto spaghetti sauce.
Meats Used in This Low Carb Spaghetti Recipe
The recipe calls for one pound of ground sausage and one pound of linguica, but you can use whatever meats you prefer. Some options include:
Keto Spaghetti Meat Sauce Ingredients
How to Make Keto Spaghetti Meat Sauce with Cabbage Noodles
Take the linguica out of the packaging.
Chop Linguica into bite-sized pieces.
Please excuse my cutting board; it's seen better days. I can only imagine how much chopping action this baby has seen.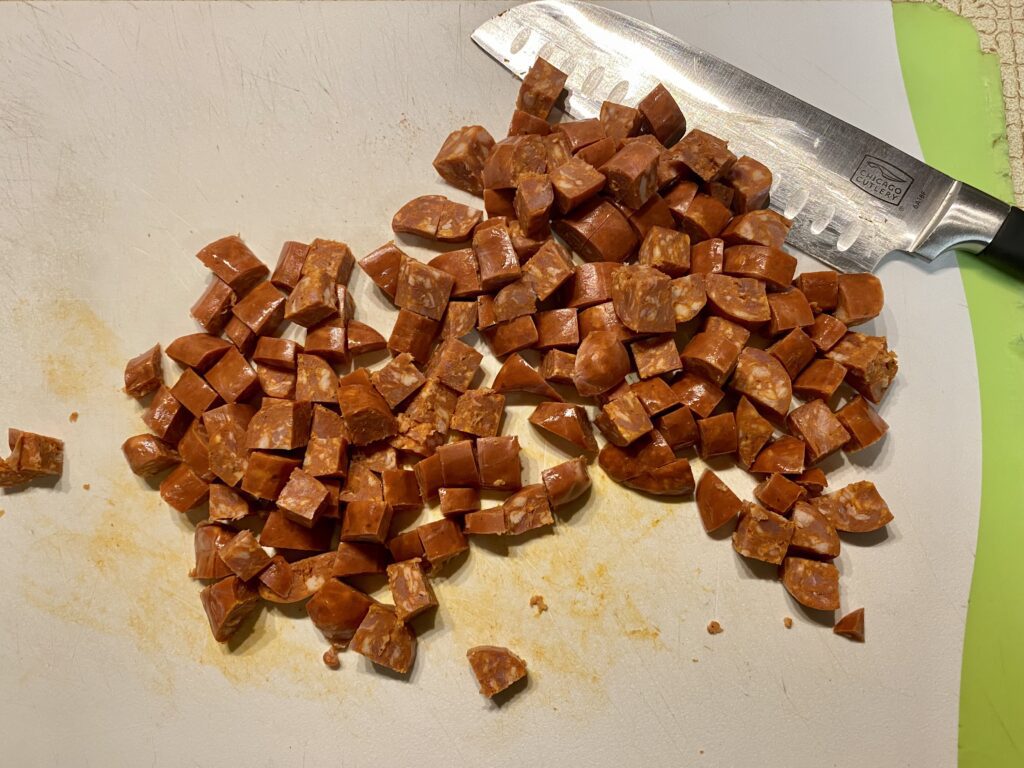 Brown linguica pieces in a large skillet – you will be using this skillet for the keto meat sauce.
Then the linguica is nice and browned, remove it to a bowl lined with paper towels to drain. The burnt brown pieces are the best!
Now it's time to brown the sausage in the same pan you cooked the linguica in.
Brown sausage and then add chopped onion. If you have a bunch of grease from the sausage, you should drain it before adding the onion. My sausage didn't have much fat.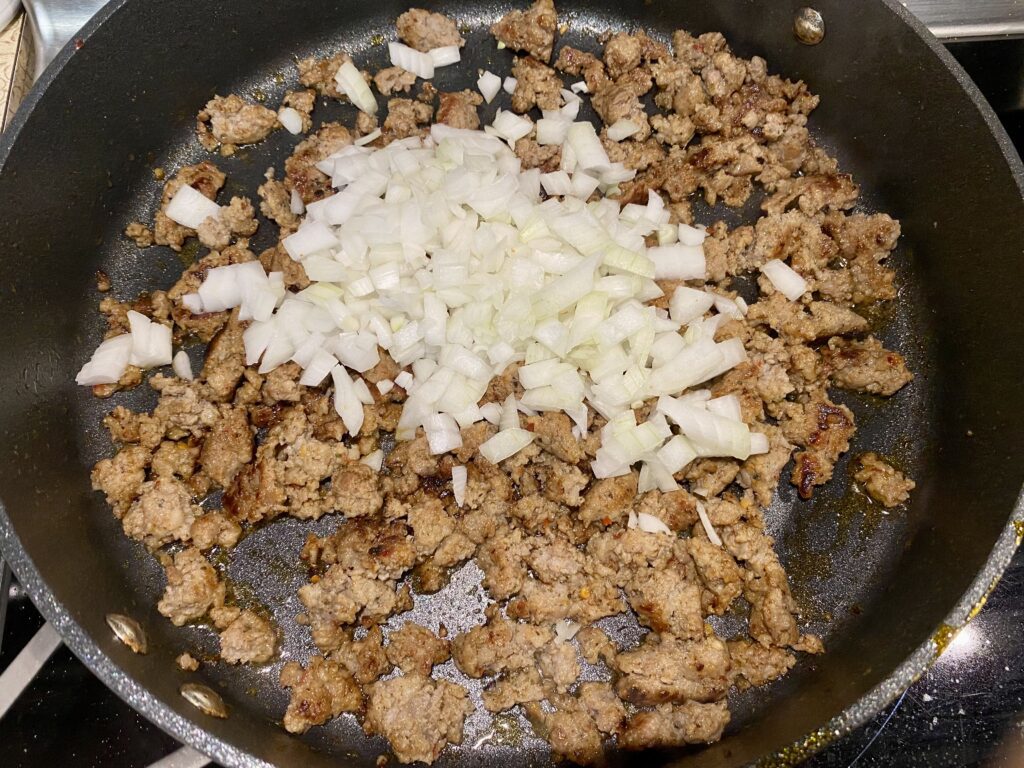 Cook until onion is translucent. Then add minced garlic.
This is the garlic I use in almost all recipes. Since switching to ready-to-go minced garlic, I have upped my garlic consumption. I used to think the ready-to-go garlic in a jar was for lazy people and that it would taste weird, and it is neither.
The convenience of ready-to-go minced garlic is worth the expense! I think buying garlic in the jar may be cheaper than purchasing fresh, especially when you factor in the rotten cloves and waste. I
I'll never go back to peeling fresh garlic. I no longer dread peeling fresh garlic because those days are long gone. If you haven't tried jarred minced garlic, free yourself and give it a try.
Cook for 2-3 minutes. The garlic will smell wonderful. Next, add spices, crushed tomatoes, and browned linguica.
Bring to a boil and then turn down to a simmer. Simmer the sauce for 10 minutes.
While sauce simmers, prepare the cabbage. Start by coring the cabbage. Next, cut the cabbage in half and then cut the core out.
Now chop or slice the cabbage into bite-sized pieces. I like the parts to be sort of thick like below.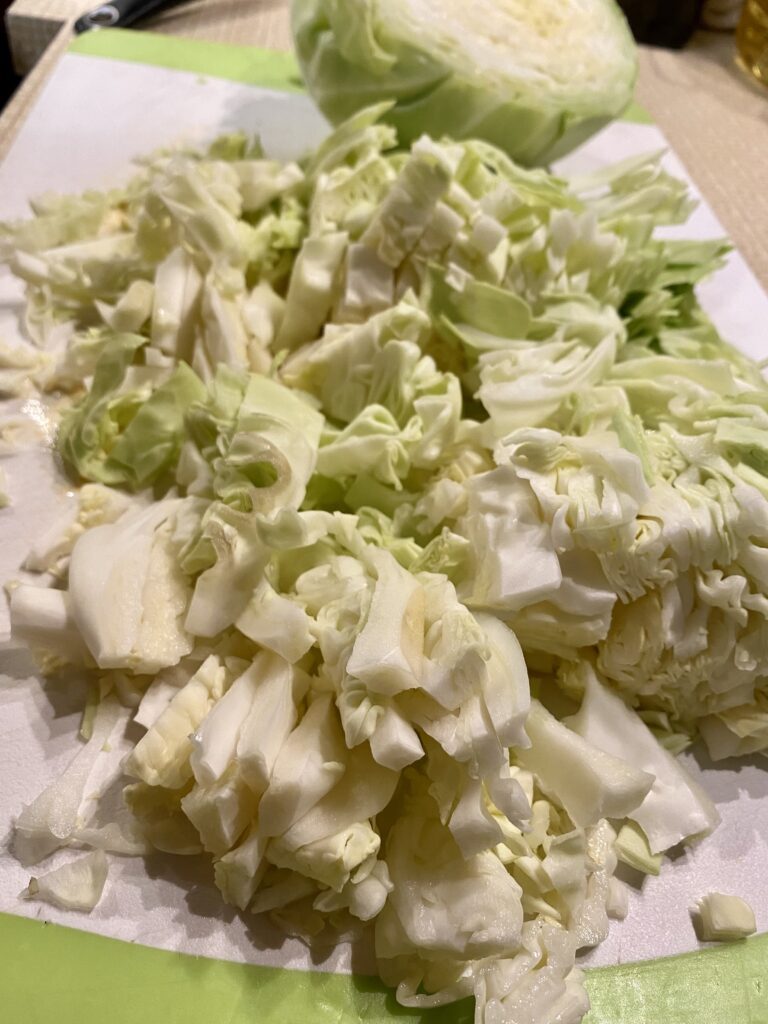 After 10 minutes, the spaghetti meat sauce should look similar to the image below.
Add in HALF the chopped cabbage. Let the cabbage cook down a little, lose some volume, and add the other half. If you have a huge pan, you may add all the cabbage at once.
Here's what it'll look like after a few minutes.
Add the other half of the cabbage (or as much as you can).
This is the Keto Spaghetti Meat Sauce with Cabbage Noodles after simmering 10 minutes. The spaghetti meat sauce covers the cabbage "noodles," and the combination is terrific. Top the dish with some grated parmesan cheese.
Serve with a side salad and The Best Italian Salad Dressing, and you have a fantastic dinner!
Easy Keto Spaghetti Meat Sauce with cabbage noodles is ready to eat in about 30 minutes!
Click To Tweet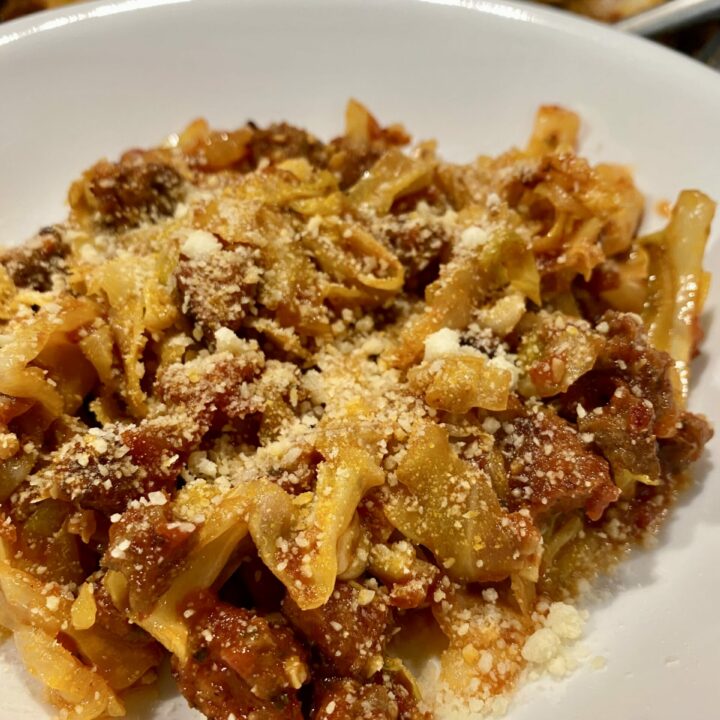 Easy Keto Spaghetti Meat Sauce with Linguica
Yield: 6

Prep Time: 10 minutes

Cook Time: 30 minutes

Total Time: 40 minutes

Low Carb Spaghetti meat sauce with cabbage noodles ready in 30 minutes!
Ingredients
1 pound ground sausage
1 pound linguica
3 cloves garlic - minced
1/2 onion - minced
1 - 28oz can crushed tomatoes
1 tablespoon Swerve granular
1 tablespoon red wine vinegar
1 teaspoon dried parsley
1 teaspoon dried oregano
1 teaspoon dried basil
1 teaspoon salt
1/2 teaspoon black pepper
1 head cabbage - sliced
Instructions
Chop linguica into bite-sized pieces and brown in a large skillet. Remove to a paper towel-lined bowl.
In the same large skillet, add sausage and brown.
Add in chopped onion and cook for 3-4 minutes.
Add minced garlic and cook for one or two minutes.
Add remaining ingredients (except cabbage). Bring to a boil and then turn down to simmer. Simmer 10 minutes.
While sauce simmers, prepare cabbage. Core cabbage and then slice.
After 10 minutes of simmering sauce and in half the cabbage. Cook a few minutes and then add as much of the remaining cabbage as you can. When all the cabbage is added, simmer for 10 minutes.
Taste for salt.
*** This post contains Amazon Affiliate links.
More Linguica Recipes
More Wonderful Keto Recipes
Is linguica Keto friendly?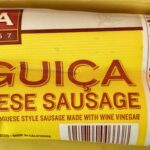 Yes, linguica is Keto friendly! One serving of linguica has less than one carb.