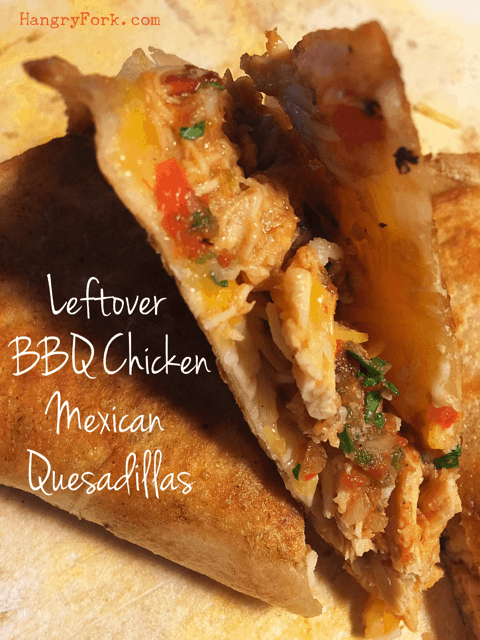 Leftover BBQ chicken Mexican quesadillas are so tasty! My kids were eating these chicken quesadillas as fast as I could make them.
Easy Oven BBQ Chicken
Last week my local grocery store had a special on whole chickens, they were only $0.79 a pound! We basically ate chicken all week long. 😀
I made oven BBQ chicken using two whole chickens.
How to Make Oven BBQ'd Chicken
Preheat oven to 375.
Chickens into eight pieces each.
Season chicken pieces with salt, black pepper, and garlic powder.
Line a large roasting pan with foil (for easy clean up) and a piece of parchment paper (nonstick).
Covered seasoned chicken pieces with foil and bake for about 60 minutes or until the juices run clear.
Remove the cooked chicken and place on a foil lined cookie sheet.
Turn on the broiler.
Brushed oven baked chicken with BBQ sauce.
Broil for a few minutes, flip chicken pieces and repeated. Be careful with this step as the chicken could easily burn!
Easy peasy BBQ'd chicken. I love making BBQ chicken this way!
As you an imagine, I had a bunch of leftover oven BBQ'd chicken.
I had oringially planned on making BBQ chicken sandwiches, but I had a craving for chicken quesadillas and decided to turn the leftover BBQ'd chicken into Leftover BBQ Chicken Mexican Quesadillas! It's Tex-Mex inspired.
How to Make Leftover BBQ Chicken Mexican Quesadillas
Shred the leftover chicken into a bowl. Add some BBQ sauce and a few spoonfuls of chopped chipotles in adobo sauce for some extra kick and smokey flavor.
Stir the chicken, BBQ sauce, and chipotles to combine.
You don't necessarily want the shredded chicken dripping with BBQ sauce.
Too much BBQ sauce will take over the chicken quesadilla recipe. I prefer the chicken to be alittle dry like the image below.
If you are making BBQ chicken sandwiches I recommend adding more BBQ sauce.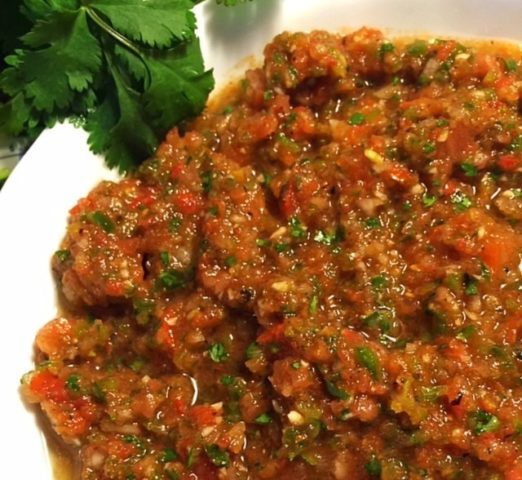 Make this easy homemade food processor salsa, which takes about five minutes tops and tastes amazing! Or you could use store bought salsa!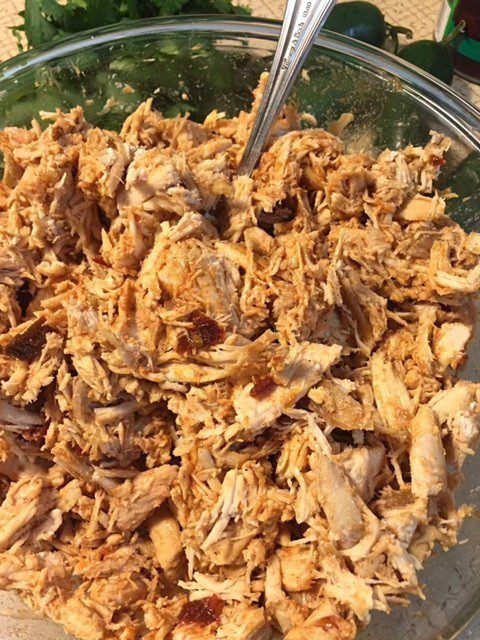 Melt a few tablespoons of butter.
Use a pastry brush to wipe non-stick skillet (set on medium) with melted butter.
On half a flour tortilla I put a little Mexican blend cheese, some of the leftover BBQ chicken, some homemade salsa, and more cheese.
Put lid on the skillet to trap the heat in and speed up the cooking process.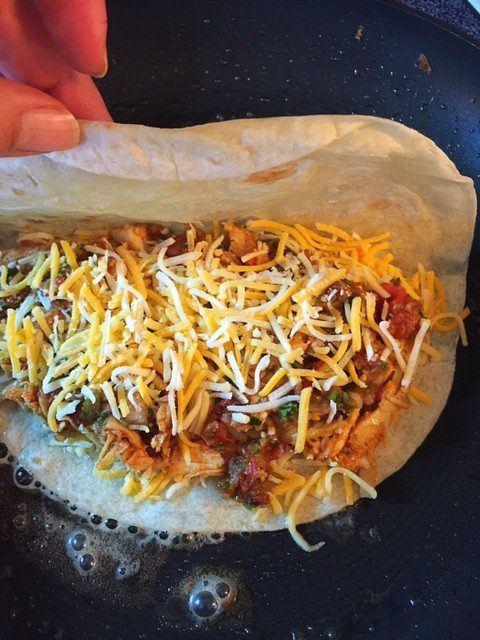 While the quesadilla cooks assemble another leftover bbq chicken Mexican quesadilla on your cutting board.
By the time you are finished assembling another quesadilla, it may be time to flip the one cooking.
Before flipping, use the pastry brush to brush butter on the outside of the tortilla to help with browning.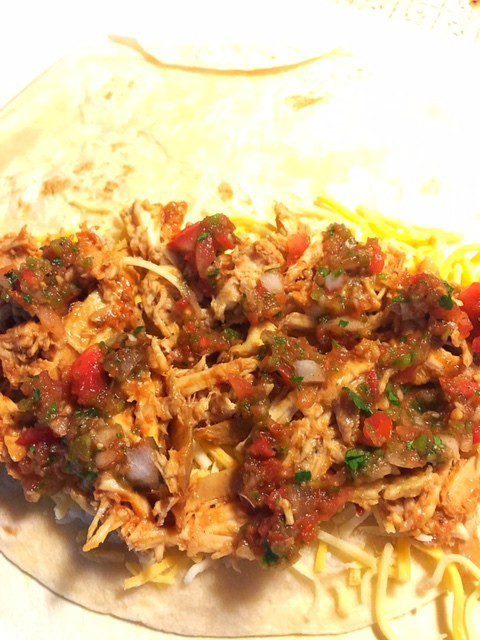 See how nice and golden the tortilla gets with a little butter?
I ended up making 14 quesadillas, and I still have a little BBQ chicken leftover.
Halfway through cooking, I wiped out the non-stick pan with a paper towel to clean up cheese that had leaked out.
I plan on making these again tomorrow for a snack during the football game.
What to Serve With Leftover BBQ Chicken Mexican Quesadillas
Guacuamole
Avocado slices
Tomatillo Avocado Salsa – This stuff is so easy to make and super addicting! It's better than most tomatillo avocado salsas you'd get a Mexican restaurants.
Sliced Radishes
I'm not going to attach a printable recipe to this quesadilla recipe because really this Leftover BBQ Chicken Mexican Quesadilla recipe depends on how much leftover chicken you are working with and how many quesadillas you are wanting to make.
I think the recipe would also work with leftover baked chicken, or even leftover fried chicken.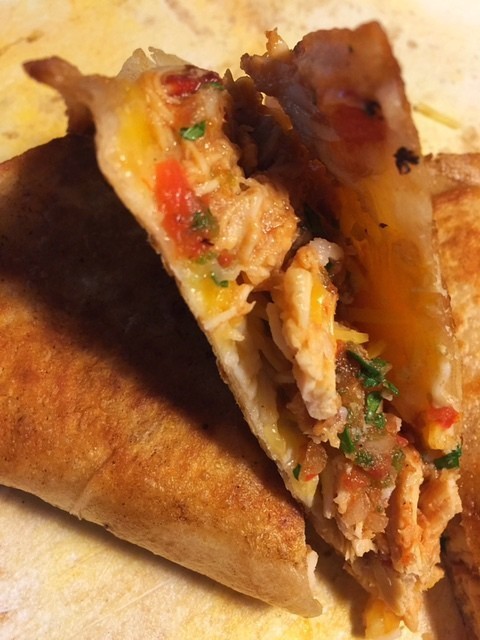 Disclosure: This post contains Amazon affiliate links.
More Great Recipes
Check Out These Posts