Pasta Puttanesca is an extremely fast meal, taking about 20 minutes from start to finish. This recipe is perfect for when you are in a hurry or just don't feel like cooking.
While you are bringing a pot of water to boil for pasta, the puttanesca sauce is made from scratch. By the time the pasta is done cooking the sauce is done, all you have to do is toss the pasta with the puttanesca sauce, and dinner is served!
The whole family will love this recipe!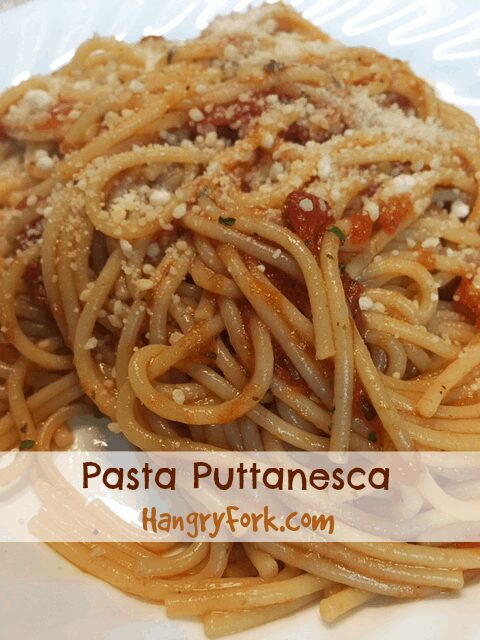 This pasta puttanesca is what I call a "pantry dinner". I generally always have everything it takes to make this meal in my pantry. I like to make this recipe using one can of whole tomatoes and one can of crushed tomatoes but the recipe works with all whole tomatoes too. I find using the combo of whole and crushed tomatoes yield a thicker sauce which is what I like.
I like to point out that this recipe contains anchovies, but the pasta isn't fishy at all, in fact, you'd never know anchovies were even in the pasta. When the anchovies are sauteing with the garlic they turn to mush and just kind of disappear. The addition of anchovies gives this quick sauce a nice deep flavor.
Optional Pattanesca Pasta Add Ins
Capers – Traditional puttanesca pasta recipes call for adding capers. I'm not a fan of capers so I leave them out. Pickled capers berries are very salty and are used in salads, pasta dishes, and meat sauces in Italian cuisines. According to Wikipedia in Biblical times capers were considered an aphrodisiac.
Olives – Some recipes call for the addition of olives, either green or black.
San Marzano Tomatoes – If you want to be fancy use premium high-quality tomatoes, many people swear by these tomatoes in Italian dishes. I'm pretty basic and use regular tomatoes.
Note: All the photos are of a double batch of Pasta Puttanesca, the recipe is for a single batch.
How to Make Pasta Puttanesca
Here's what you will need to make this quick pasta sauce recipe:
1 pound pasta
2 teaspoons olive oil
4 cloves garlic – minced
1/4 teaspoon crushed pepper flakes
6 anchovies – which is about half a 2-ounce can
1 – 15 ounce can whole tomatoes
1 – 15 ounce can crushed tomatoes
1 teaspoon dried parsley
1 teaspoon dried basil
1/2 teaspoon dried oregano
Put a pot of salted water on the stove and bring it to a boil. When the water boils cook the pasta according to the directions but do not overcook it, you want the pasta to al dente.
While water is coming to a boil prepare the puttanesca sauce. Combine garlic, anchovies, and pepper flakes in a skillet with sides. Saute the mixture of medium-low heat.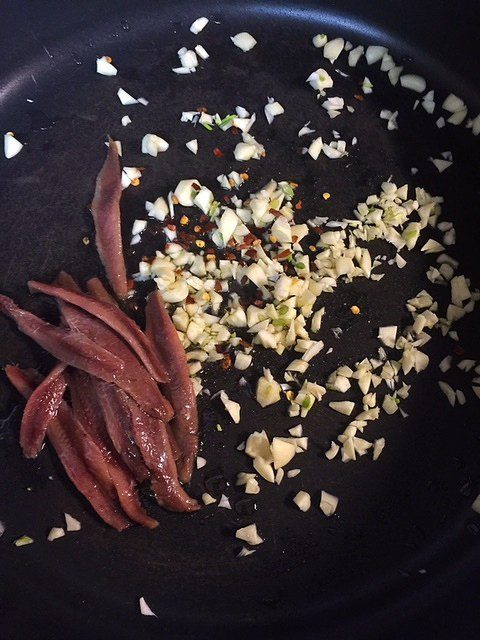 Cook the mixture for a few minutes. The anchovies should fall apart like the photo below and the garlic should be fragrant.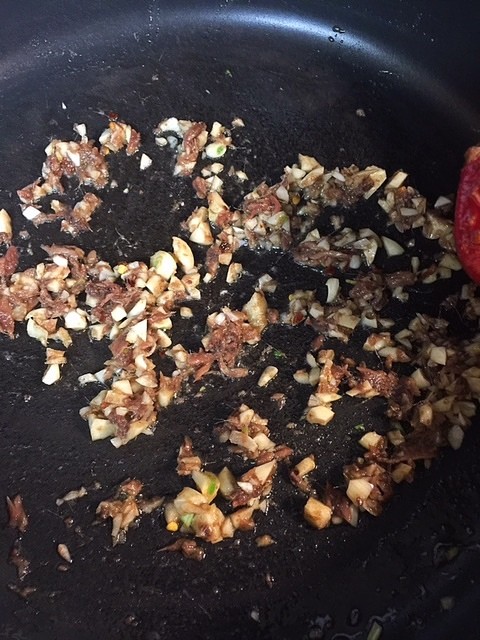 Next, add the tomatoes, parsley, basil, and oregano. Stir and bring to a simmer. Your water should probably be coming to a boil. Cook pasta according to directions.
When pasta is done cooking, drain and toss pasta with puttanesca sauce.
What is Puttanesca? Puttanseca Meaning
If you are curious about the history behind Pasta Puttanesca recipes, or what the Pauttanesca means. Click here.
Pasta Puttanesca ~ Spaghetti Alla Puttanesca
Quick and easy pasta puttanesca.
Ingredients
1

pound

pasta

2

teaspoons

olive oil

4

cloves

garlic - minced

1/4

teaspoon

crushed pepper flakes

6

anchovies - which is about half a 2-ounce can

1 - 15

ounce

can whole tomatoes

1 - 15

ounce

can crushed tomatoes

1

teaspoon

dried parsley

1

teaspoon

dried basil

1/2

teaspoon

dried oregano
Instructions
Put a pot of salted water on the stove and bring it to a boil.

Meanwhile, prepare the sauce.

In a skillet with sides saute garlic, pepper flakes, and anchovies in olive oil. Cook 2-3 minutes or until the anchovies are falling apart and the garlic is fragrant.

Add the tomatoes with juices to anchovies along with parsley, basil, and oregano. Simmer puttanesca sauce while water comes to a boil.

When water comes to a boil cook pasta according to the directions.

When pasta is done, drain pasta, and toss with the sauce.
More Pasta Recipes
This meal would be wonderful with some nice fresh bread.
Disclaimer – This post contains Amazon affiliate links.
I'm participating in the 2016 A to Z Challenge. This post for Pasta Puttanesca is my "P" post.