Can You Make Pizza With a Tortilla?
Yes! What can you make in 10 minutes with low-carb tortillas, pizza sauce, a little mozzarella cheese? Delicious Low Carb Tortilla Pizza!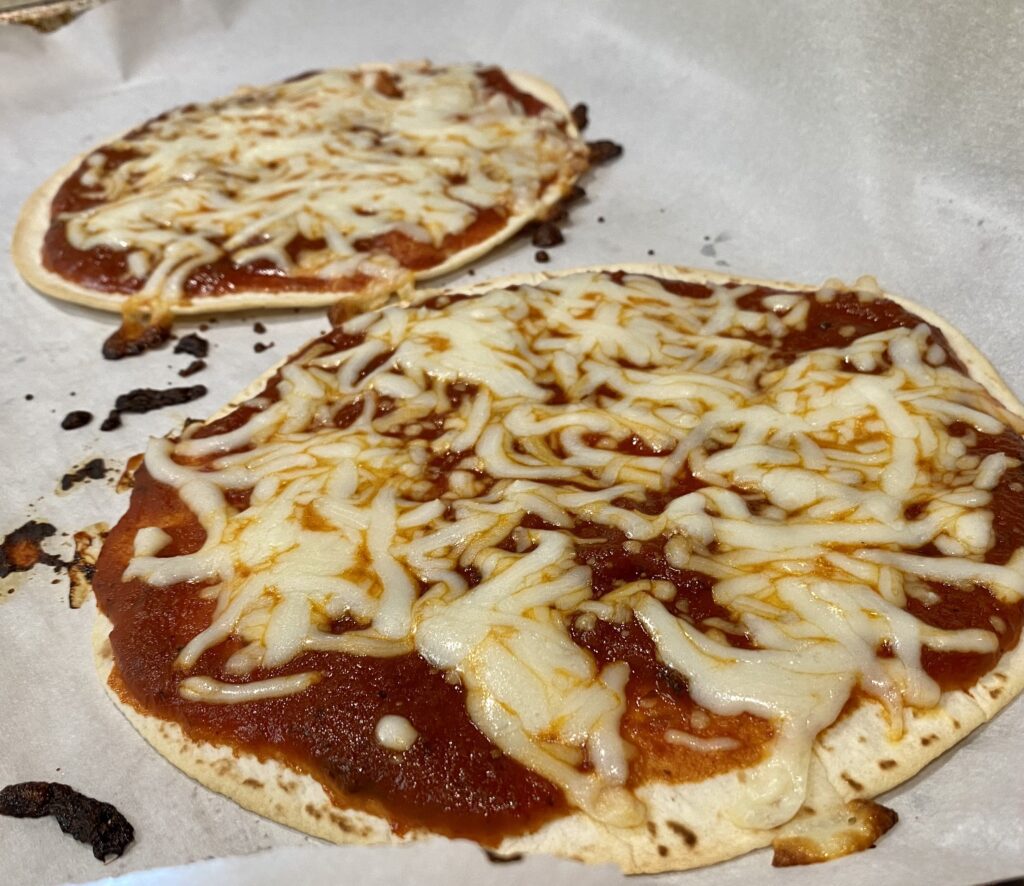 What is Tortilla Pizza?
Tortilla pizza is a pizza alternative. The pizza crust is a flour tortilla. It's almost as good as frozen pizza, depending on what toppings you use and what frozen pizza you are comparing tortilla pizza too.
Tortilla Pizza Ingredients
If you want to make this a low-carb tortilla pizza, you will need low-carb tortillas. I used Mission Carb Smart Tortillas, which are four net carbs each. So you can satisfy your pizza craving without the guilt.
If you are NOT watching your carbs, use your favorite flour tortilla.
You could add toppings to this quick lunch or not. For example, I made two low-carb cheese pizzas. If you had leftover cooked meats and fresh vegetables, you could easily add them as a topping. The possibilities are endless.
Low Carb flour tortillas
Pizza Sauce
Mozzarella cheese
Cooked Meats
Vegetables
How to Make Tortilla Pizza Crispy
The secret is to cook the tortilla in the oven before adding the pizza sauce.
Preheat oven to 400 degrees. Line a baking sheet with parchment paper. Place bare tortillas in a single layer on parchment paper.
When the oven comes up to temp, put tortillas in the oven and bake for three to four minutes. Check on your tortilla after three minutes. All ovens are different, and tortillas may vary in thickness.
How to Make Low Carb Tortilla Pizza in the Oven
Precook tortilla on parchment paper for about three minutes. Remove from oven.
Add pizza sauce.
Add mozzarella and toppings.

Return the keto tortilla pizza to the oven and bake for five to six minutes. Check on pizza after four minutes.
How Many Carbs in Low-Carb Tortilla Pizza?
Made per recipe, this cheese low-carb tortilla pizza made with Mission low carb tortillas is seven net carbs.
10 Minute Low Carb Tortilla Pizza Recipe
Click To Tweet
How Many Calories in Tortilla Pizza?
Use low-carb tortillas, and this pizza has 232 calories.

More Pizza Recipes
This sausage crust pizza recipe is EVERYTHING! It is low-carb, super easy to make, and always a fan favorite.
If you have time, here's an excellent ZERO carb pizza crust. This low-carb pizza chicken crust is made from canned chicken and is so good!
If you are NOT watching your carbs, then this easy pizza crust is hard to beat. It's better than some pizza restaurants, and you can easily make it at home. The recipe does call for dried yeast but don't let this intimidate you. I promise it's super easy!
Here's a recipe for no crust quiche pizza that is so good and keto-friendly. Sausage, a bunch of eggs, pizza sauce, your favorite toppings, and mozzarella cheese make for a fantastic keto-friendly quiche.
If you feel like eating a burger but want pizza too, then this easy Pizza Burger recipe is for you! It's easy to make and soo good! Kids and adults both love pizza burgers!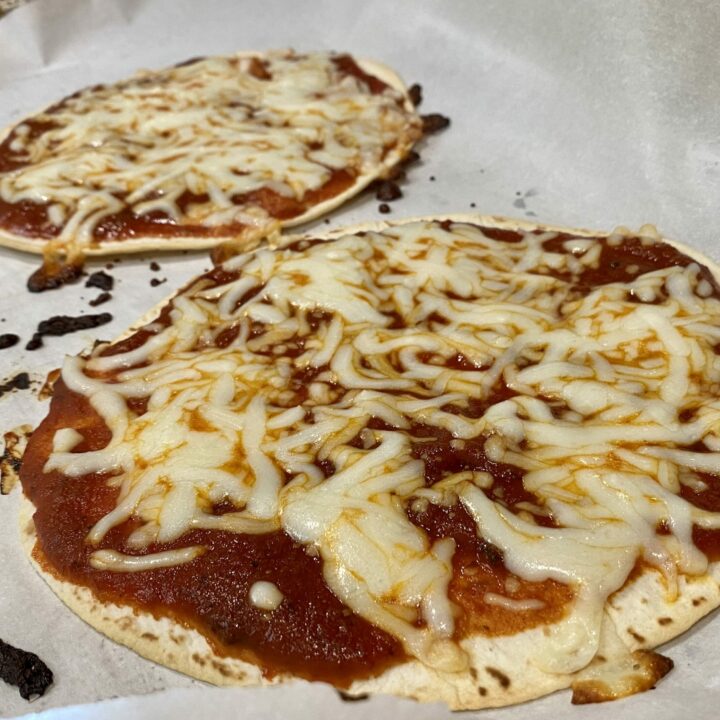 Quick 10 Minute Low Carb Tortilla Pizza
Quick 10-minute low-carb tortilla pizza recipe. This pizza recipe is a quick lunch and keto friendly.
Ingredients
2 Mission Carb Smart Tortillas
4 tablepsoons pizza sauce
1/2 cup mozzarella cheese - shredded
Instructions
Preheat oven to 400 degrees.
Line a sheet pan with parchment paper.
Place two tortillas on the parchment paper.
Bake tortillas for three minutes. Remove from oven.
Top each tortilla with two tablespoons of pizza sauce. Spread the pizza sauce around the tortillas.
Top each low-carb tortilla pizza with 1/4 cup mozzarella cheese.
Return tortilla pizzas to the oven and bake for 5-6 minutes. Check on pizzas after four minutes.
Notes
All ovens are different and all tortillas are not the same. Check your tortillas pizzas sooner if your tortillas are super thin or your oven runs extra hot.
Nutrition Information
Yield

2 servings
Serving Size

1 serving
Amount Per Serving
Calories

232
Total Fat

9g
Saturated Fat

5g
Trans Fat

0g
Unsaturated Fat

4g
Cholesterol

22mg
Sodium

731mg
Carbohydrates

7g
Net Carbohydrates

4g
Fiber

3g
Sugar

5g
Protein

11g
Nutrition information isn't always accurate.

Keto Pizza With Low Carb Tortilla Breakfast
This may sound strange, but this low-carb breakfast pizza with scrambled eggs is so good and filling!
Eating one of these breakfast pizzas with scrambled egg on top, and you will be full for hours!
Follow the recipe above but add scrambled eggs and a little cheese on top to lock the scrambled eggs down.
This scrambled egg pizza makes a great dinner, too, especially if you are in a hurry.
More Great Low Carb Recipes
Other Great Recipes
*** This post contains Amazon affiliate links. If you make a qualifying purchase, I may receive a small commission at no additional cost to you. Thank you for supporting this site!