These Spicy Crispy Oven Baked Chicken Wings are so delicious! As the title states, they are spicy, crispy, and baked in the oven, so they pretty much cook themselves.

Combine the spices in an extra-large ziplock or bowl and marinate for about 30 minutes.
Line a baking sheet with foil AND parchment paper (trust me on this one, you need the parchment paper it helps with the crispy factor) and throw in an oven set at 420, and in no time at all, you'll have some AMAZing chicken wings for minimal effort.
I'm not sure if anyone has noticed, but chicken wings are hard to find right now in stores. I have a locally owned small grocery store that I'm lucky enough to find wings in most of the time.

I have noticed that large chain grocery stores I visit rarely have chicken wings in stock.

According to USFoods, the national-wide chicken wing frozen supply is the lowest since 2012. Where are all the wings going to?
Crispy Oven Baked Chicken Wings Ingredients
These wings call for spice ingredients you probably already have on hand. If you don't have them, then buy them because you'll be making these wings over and over again. They are that good!
Chicken Wings – drummettes separated from the flappers
Spice Mix for Crispy Oven Baked Chicken Wings
Baking Powder (baking powder makes the chicken wings turn out so crispy, so don't skip this ingredient).
Seasoning Salt
Black Pepper
Poultry Seasoning
Lemon Pepper Seasoning
Cayenne Powder
Crushed Pepper Flakes
More Crispy Oven Baked Chicken Wings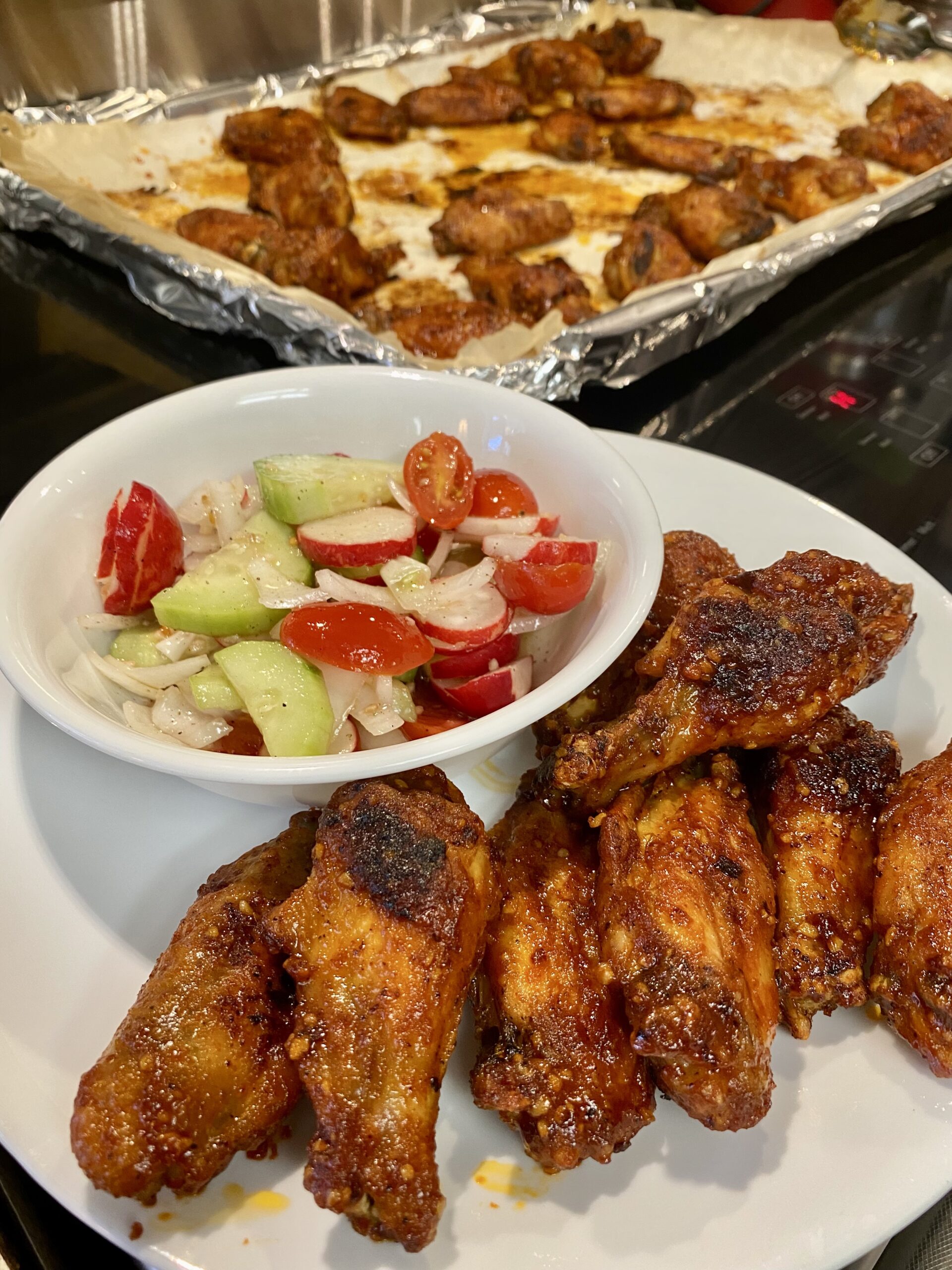 How to Make Spicy Crispy Oven Baked Chicken Wings
Combine all spice ingredients in an extra-large ziplock bag.
Add Chicken wings to the spice mix.
I like to massage the spices into the wings through the ziplock bag to make sure the spices are evenly distributed. Let the wings "marinate" in the spice mixture for 30 minutes or so.
Baking Spicy Crispy Wings in the Oven
Preheat the oven to 420 (parchment paper can be baked safely at this temperature). Line a baking sheet with sides with foil for easy clean-up. Top the foil with a sheet of parchment paper. To make parchment paper easier to handle, I fold the piece in 1/4ths and then wade it up, so the whole thing gets crinkled. Then I spread it out, smoothing it on top of the foil.
Dump wings onto the prepared oven sheet. Take care to space them out so that air will circulate around each wing.
Bake for 20-25 minutes.
This is what the crispy oven-baked chicken wings will look like after 25 minutes.
Now it is time to flip each wing and cook another 20-25 minutes.
I served these delicious chicken wings with a low-carb version of this taco salad topped with the best salsa, and bacon jalapeno poppers. There are photos below. Now that's the dinner of champs! Lol
Spicy Crispy Oven Baked Chicken Wings (Keto)
Fantastic chicken wings baked In the oven. These wings are crispy, spicy, and everything you look for In a great chicken wing. The wings make great leftovers for work lunches and taste wonderful served cold.
Ingredients
12-15

each

Whole Chicken Wings

Cut Into pieces (flappers and drumettes)
Spicy Crispy Chicken Wing Seasoning
2

tbsp

Baking Powder

2

tbsp

Seasoning Salt

1

tbsp

Black Pepper

1

tbsp

Poultry Seasoning

1/2

tbsp

Lemon Pepper Seasoning

1

tea

Cayenne Powder

Optional

1

tea

Crushed Pepper Flakes

Optional
Instructions
Combine spice Ingredients Into an extra-large two-gallon zip lock bag or large mixing bowl. Add separated chicken wings. Seal ziplock and toss the wings to combine the spice and wings—Marinate wings in the spice mixture for 30 minutes or so.

Preheat oven to 420. Line baking sheet (with sides) with foil for easy cleanup. Top foil with parchment paper.

Spread chicken wings on parchment paper. Try and make sure the wings do not touch each other.

Bake wings for 20-25 minutes.

Bake another 20-25 minutes.

Remove wings from the oven.

Remove wings from pan. Place wings on a paper towel-lined bowl or platter.
**** This post contains Amazon Affiliate links.
Check out these other great recipes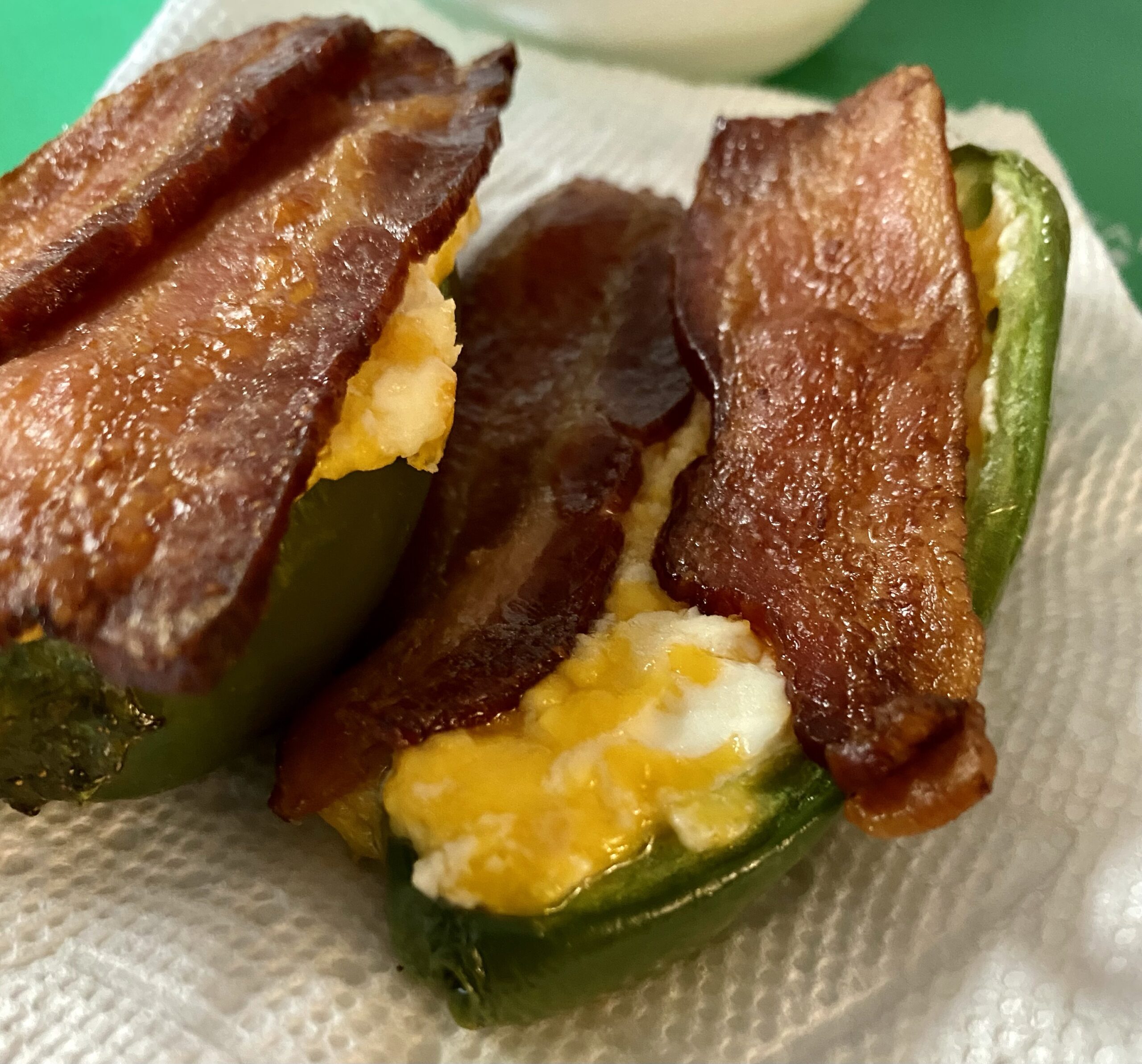 Funny fact – I was showing my husband the images for this Spicy Crispy Oven Baked Chicken Wings post, and I told him, "As many times as I've made this recipe, I can't believe I've never taken a photo of the wings in a bowl or on a serving platter after they have all baked."
He told me he'd fix that. He went to the store and bought a few packs of wings, mind you; he NEVER goes to the store. We live out in the country, and he drove to town to buy ME some more chicken wings so I could get the photo I need. He didn't do it for himself or his work lunch tomorrow. Haa!
Here's a plated photo from today for this yummy chicken wings recipe