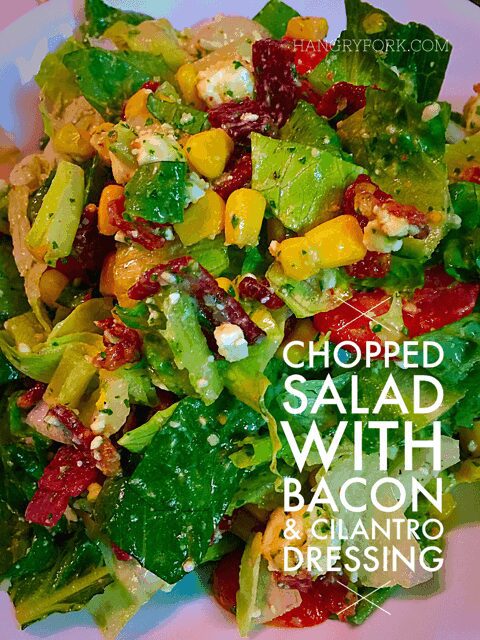 Wonderful chopped salad is perfect for busy work night dinners. The cilantro lime dressing is so yummy and easy to put together.
Bacon, Romain lettuce, corn, cherry tomatoes, feta cheese, and avocado, tossed in a yummy cilantro dressing, what could be better? This dish is perfect for hot summer nights when it's too hot to be in the kitchen cooking.
This is one of my favorite salads ever! This chopped salad recipe is a huge hit at my house, all six of us love it, and there are never any leftovers. One of my daughters isn't a big vegetable eater, and she begs me to make this salad for dinner.
When we eat this salad sometimes I'll make a lasagna to go along with the salad, but the salad is substantial enough to be eaten alone.
This recipe makes a lot of salad! If you are feeding a small family, I recommend storing the salad ingredients separately from the dressing and then tossing everything together with tongs right before you eat it so the greens stay crispy.
Chopped Salad with Lime Cilantro Vinaigrette Storage
If you are making this chopped salad ahead of time or for a work lunch, toss it right before eating it. If you toss it ahead of time the dressing will wilt the lettuce.
This is how I like to cut romaine lettuce for salads. Remember, you want the pieces to be bite-sized. For a long time, I didn't really care for salad, but chopping up the lettuce made all the difference, now I can't get enough of salad!
Chopped Salad with Bacon in a Cilantro Lime Dressing
Ingredients
3

heads of romaine lettuce

I buy them in a prepackaged bag

1

can of corn - drained

1

basket of cherry tomatoes - tomatoes cut in half

1

container feta cheese

4 or 6 ounces

8

slices

bacon - cooked and crumbled

1/2

red or white onion - thinly sliced

2

or 3 avocados
Instructions
Cut up the lettuce, place in a big bowl, and toss in the feta cheese. If you think you'll have leftovers, then keep all the other salad ingredients separate, it'll store fresher this way. If you are feeding a bunch of people, go ahead and toss everything together.

Prepare the dressing.

In a large bowl put an individual serving of lettuce/feta mix, add some corn, tomatoes, bacon, and onion slices. You could also add in some chopped avocado now, or you could just top the salad with avocado. Add two or three tablespoons of the dressing and toss with tongs. Transfer to a serving plate.
Sometimes I'll let my kids assemble their own salads, but when I do this, I do have to play the bacon police.


Taste the Lime Cilantro Dressing recipe before removing it from the blender or food processor, if it is too tart add another tablespoon of peanut butter or a little more parmesan cheese.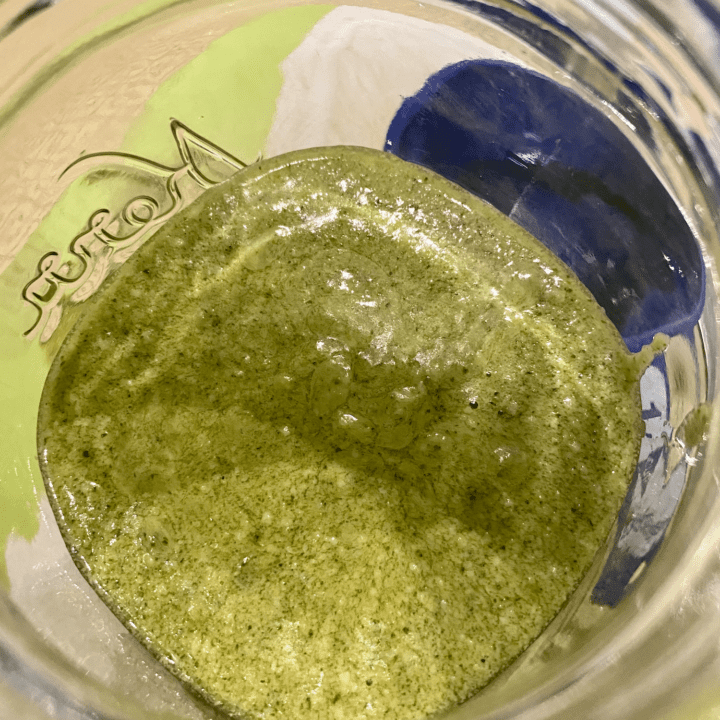 Cilantro Lime Dressing Recipe
Wonderful Cilantro Lime Dressing tastes so good with marinated chicken!
Ingredients
3

cloves

garlic - peeled

2

bunches cilantro - big stems removed

1/2

cup

lime juice

1 1/2

teaspoons

red vinegar

1/2

teaspoon

cumin powder

3/4

teaspoon

salt

1/2

teaspoon

black pepper

1/2

teaspoon

sugar substitute

3

tablespoons

peanut butter

1/2

cup

Parmesan cheese

1/2

cup

canola oil

1/4

cup

olive oil
Instructions
Blend all the dressing ingredients in a food processor or blender until smooth.
Optional chopped salad with cilantro lime dressing add-ins
Broken up tortilla chips
Avocados
Canned drained & rinsed black beans
Sliced radishes
Chopped bell peppers
Artichoke hearts
Drained garbanzo beans
Chopped hard-boiled eggs
Pepperchinis
Sliced black olives
Green or black olives
Cooked diced leftover meats
Marinated grilled chicken – roughly chopped
Copy Cat Chopped Salad Cheesecake Factory Mexican Tortilla Salad
This Lime Cilantro Dressing Recipe
Chopped Romain
Marinated Grilled Chicken Breasts – Chopped
Broken Tortilla Chips
Black Beans
Canned Corn – Drained
Avocado – Sliced
Mix individual salad portions into a large bowl. Add a few tablespoons of the Cilantro Lime Dressing and toss to coat.
Disclosure: This post may contain affiliate links.
If you like this recipe check out these recipes: