Harbin Hot Springs is located near Middletown, California. If Middletown sounds familiar it's because Middletown was all over the news last year when the Valley Fire hit and burned down 1,281 houses, killed four people, and displaced over 18,000 people from the surrounding areas. Middletown (population 1,320 pre-fire) is a two-stop light town in Northern California where I happen to live about 10 minutes outside of town. My husband and I have raised our four kids here on our little piece of land for the past 21+ years.
Harbin Hot Springs is a clothing-optional resort which is probably why I've never been there. I have ZERO desire to see strangers naked, to swim with naked strangers, hike with naked strangers, attend church with naked strangers, or eat in restaurants with naked strangers and I certainly don't want to do yoga with naked strangers. I'm just saying…

Our oldest daughter had a good friend all through elementary and high school who lived near Harbin and this girl's father was a specialist in some sort of naked swim massage at Harbin, called Watsu. He traveled the world teaching people his naked swim massage techniques. Oh, how my imagination runs wild wondering what his techniques are/were. I occasionally still see his (younger) wife (the girl's mom) while grocery shopping and I'm always tempted to ask her about her husband's massage techniques but I never do. For some reason, her being braless really intimidates me. I believe this is the dad in the video below.
My sister-in-law attended an alternative high school in swanky Sonoma County and visited Harbin Hot Springs as a teen on a high school field trip. I graduated from a public high school in Sonoma County but I don't recall going on any field trips, let alone a field trip with naked people in neighboring Lake County.
About 13 years ago my sister-in-law, Annie, told me stories of naked people at Harbin hanging out and how she and her friends wished they had blindfolds and that's all I needed to know that Harbin wasn't a place for me, but I was so wrong!
I don't have the sudden urge to run buck naked in front of strangers but after Harbin was wiped out by the Valley Fire on 9/12/2015, I visited Harbin's Facebook page and was intrigued by what I saw. Harbin's buildings and the grounds were quite beautiful. Harbin was super cool and visitors don't have to get naked unless they want to! Clothing is optional friends.
Harbin Hot Springs Reduced to Ashes
The good news is Harbin is going to rebuild! I can't imagine how funky and cool their new buildings will be.
My husband and I went out for a Sunday drive a few months ago and we ended up at Harbin's driveway. There was nothing there except two newer travel trailers (moved in after the Valley Fire) and an extremely friendly groundskeeper/guard.
The buildings are all gone, the trees are there but they are burned black and appear to be dead, everything is just gone. It's really sad, Lake County, surrounding counties, California, nudists, gawkers, and history lovers lost a real jewel when Harbin burned to the ground. The groundskeeper/guard told us Harbin plans to be reopened by September 2016, for camping. There are some really cool photos on Harbin's website.
Here's what Harbin Hot Springs Used to Look Like
Here's What Harbin Hot Springs Looked Like After the Valley Fire
Random Harbin Hot Springs Facts
Archibald Ritchie discovered Harbin's springs just before his death in 1856, but Indian Miwoks had known about Harbin long before and considered the springs a scared hot spot.
Harbin is named after James "Mat" Harbin who bought the land as a Mormon refuge, Harbin later became a hermit and lived in Mexico and in 1865, he passed the land on to two Welsh immigrants, Richard Williams, and Hugh Hughes
In 1894, Harbin burned down most of the resort was destroyed.
In 1869, Williams and Hughs developed the area into a resort able to accommodate 100 guests.
Lake County went dry in 1912, but Harbin continued to serve booze. This practice continued all through prohibition. I'm sure this made Harbin quite popular.
The Harbin hotel had illegal slot machines until the 1940's.
Harbin Hot Springs is over 5,000 acres! Over the past several years Harbin has been buying up surrounding large ranches.
Harbin is located 70 miles North of San Francisco over twisty mountain roads.
Harbin's Hot Springs pump 800 gallons of 113-degree water every hour into a series of hot and warm soaking pools.
95% of Harbin structures were destroyed in the Valley Fire.
Hot and Cold springs at Harbin were not damaged by the Valley Fire.
Harbin estimates half their trees were lost to the Valley Fire.
More than 100 separate sites at Harbin needed cleaning and debris removal after the fire.
Massages are available at Harbin.
Harbin had their own grocery store.
If you wanted to spend the night at Harbin you had many options, tent cabins, dorms, private rooms or cottages.
Harbin had over 100 residences who lived there full time. These people lost not only all their possessions and home but also their jobs. That just sucks.
It's believed Harbin was settled in 1856.
In 1969, there was a quarantine at Harbin that lasted six long days.
Here's the best write-up on the long history of Harbin. Mass LSD parties, cannabis grows, Harbinger University, a "Zendyne Zapper", squatters, commune history, 600-700 acid punch drinking naked hippies, etc. Really you should check out this article, it's quite interesting!
**** I just want to note that Harbin isn't the hippie druggie place it used to be, or at least, I don't think it is.
Old postcard of Harbin Hot Springs
1910's Harbin Hot Springs Hotel
1912 Harbin Hot Springs Stage Coach
1925 Harbin Hot Springs Swimming Pool
Harbin Hot Springs 1928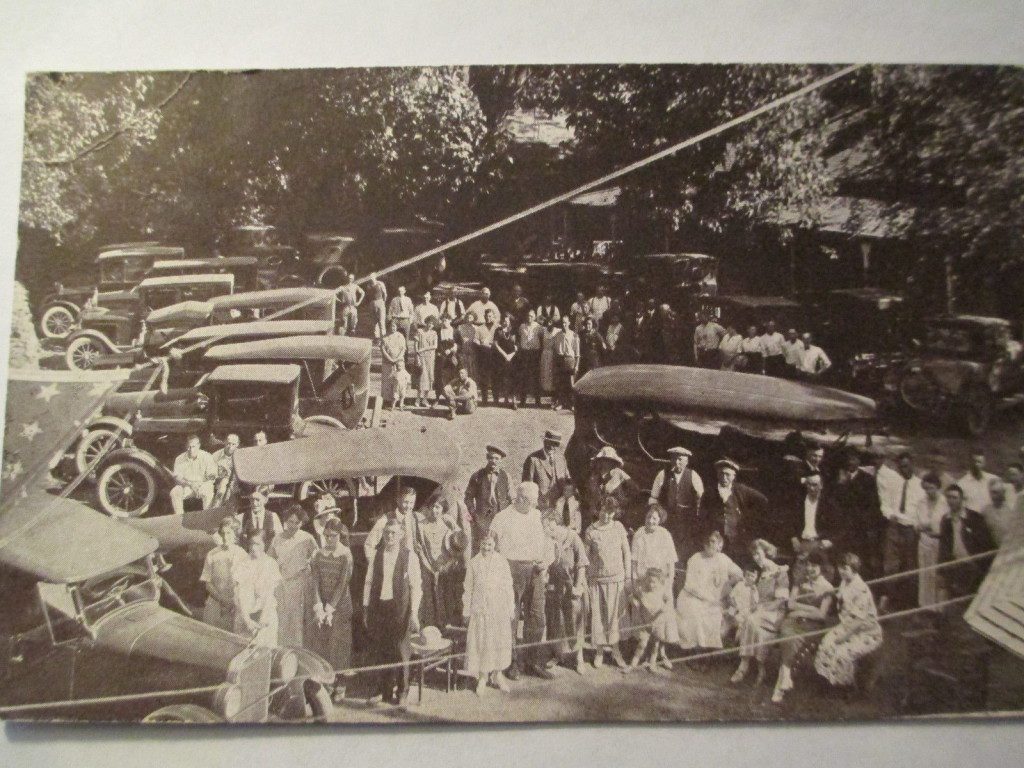 Harbin Hot Springs 1930's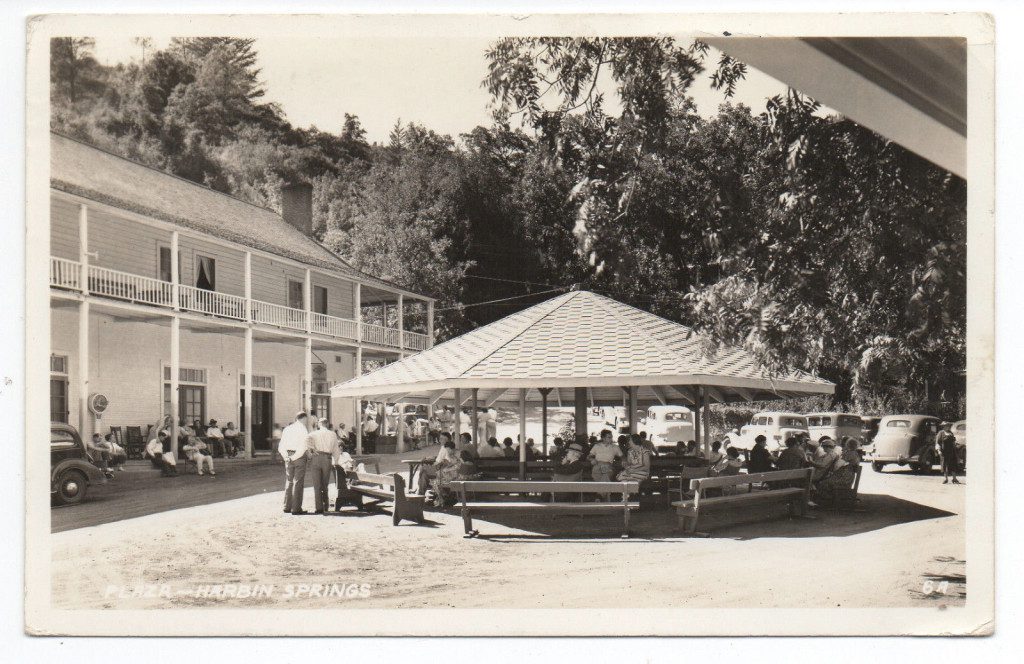 Harbin Lobby 1933.
Harbin Hot Springs 1940's.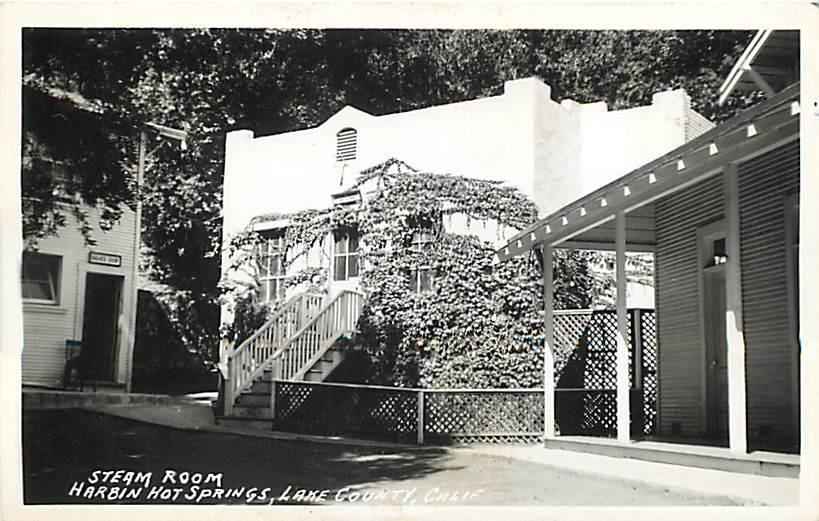 1940's Harbin Hot Springs Gas Pump. Currently (2016) we only have one gas station in Middletown so I'm surprised Harbin had their own.
Here's an old Harbin Hot Springs pamphlet. Harbin is/was the Switzerland of America!
More Harbin Hot Springs Information
Read Harbin Hot Springs news here.
Follow Harbin on facebook here.
Harbin Hot Springs Rates & Reservations here. Six-hour visits are available.
Read Harbin Hot Springs Reviews here.
I'm participating in the A to Z Challenge, and it's my first time! This Harbin Hot Springs post is my "H" post.