Today my son made this cute little Kirby from modeling clay. Isn't it cute? The little Kirby is lighter colored and is pinker in person.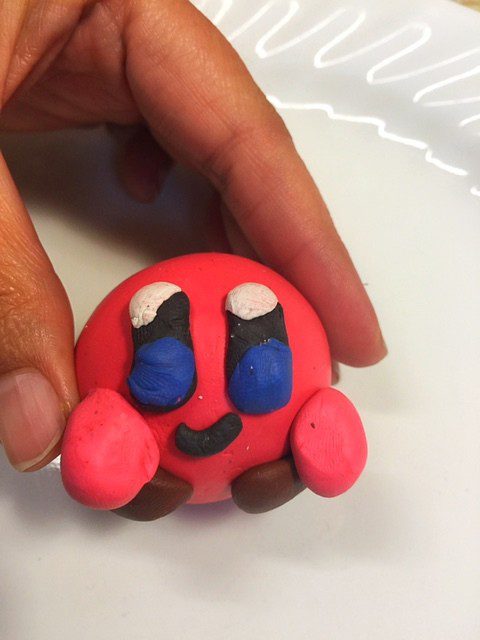 Random Kirby Facts
Kirby first appeared in 1992 in Kirby's Dream Land
Kirby was created by Masahiro Sakurai
During development, Kirby was known as "Popopo".
Kirby was named after John Kirby, an attorney who defended Nintendo in the Universal City Studios, Inc. v. Nintendo Co., Ltd. This case was over Nintendo's Donkey Kong game, which Universal thought was too similar to their King Kong. The case was a victory for Nintendo.
Kirby's appearance has changed over time, he has become rounder and his eyes have gotten bigger.
Kirby is supposedly 8″ tall according to a Nintendo.
Kirby inhales his enemies and as he does this he gets bigger.
In Anime Kirby is called a "Star Warrior".
Kirby is a Nintendo video game character that was created for the Nintendo GameBoy. There are a several wildly popular Kirby video games and Kirby makes an appearance in Super Smash Brothers.
June 10, 2016, Nintendo will be releasing a new Kirby game for Nintendo's 3DS called Kirby: Planet Robobot. If you pre-order the game from Amazon, it will arrive at your house on the same day the game is released.

I am participating in the 2016 A to Z Challenge. This Kirby Made From Modeling Clay is my "K" day post.
Disclosure: This post contains Amazon affiliate links.